Windows 10 offers some basic features like recycle bin and file history to recover files. They come in handy if you are swift, but if you accidentally delete files and only get to know about it later, there is not much you can do. The only option, in this case, is to recover deleted files using professional software like Disk Drill. The best part of Disk Drill is that it can recover data from any file system, including NTFS, FAT32, EXT, HFS+, and many other file systems. In this post, we will show how you can recover deleted files in Windows 10 using Disk Drill software.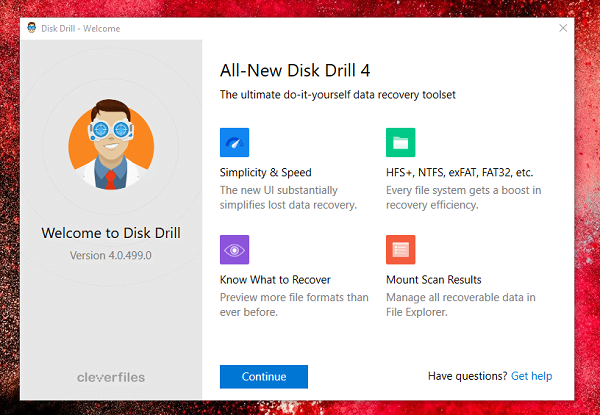 How to recover deleted files in Windows 10
Before we go ahead and show you, here is one fact you need to remember. When files are deleted, they are deleted from the index. There is no way to undelete files Windows 10, but that doesn't mean they are lost. Those files still stay in the same place, but there is no way to find them. This basic principle is used by professional software to recover deleted files. Also, the faster you act, the brighter are the chances to get back the file. If any other data overwrite the space used by those lost files, those files will be lost forever. That's why you should have software like this installed from day one.
1] Install Disk Drill & Enable Recovery Vault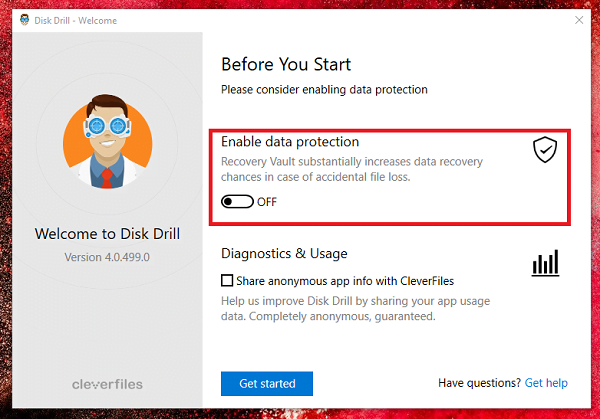 The first thing you should do is download and install Disk Drill for Windows. During the installation, you will get an option to enable Data Protection. Make sure to enable it. Data Protection offers Recovery Vault, which keeps track of the location of files even if they are removed from the Recycle bin. Since it keeps track, recovering files becomes a lot easier. The software offers you to recover 500 MB of data for free. Its can be an excellent option as anybody can test the software for file recovery.
2] Scan and Recover deleted files in Windows 10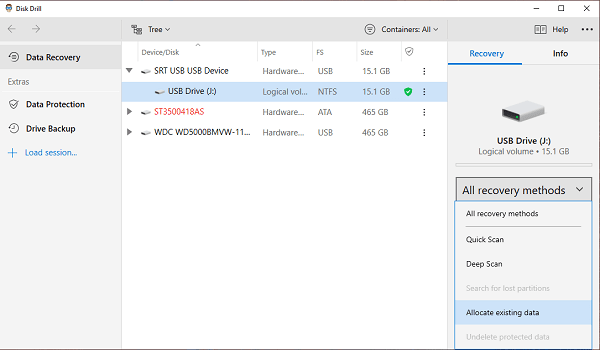 To start the recovery process, make sure the drive is connected to the PC, especially if its an external drive or USB.  Next, launch the software and switch to Data Recovery. It will list all the connected drives and its partition in Tree View. While you can change to detailed, I find it confusing. Tree view lets you explore partitions inside drives, which makes it easy to understand.
Select the drive or partition you want to recover files.
On the right pane, it will show the details of the drive and offer you the option to select a recovery method

All
Quick Scan
Deep Scan
Search for lost partitions (applicable for drive)
Allocate existing data
Undelete Protected Data.

I would suggest you let it run with the default method, but once you are through, you can always make a different choice.
Click on the search for data to start the recovery process.
Once the scan is complete, it will categorically display files, i.e. Pictures, Video, Audio, Documents, and Archives.
Like you can see in the image below, Disk Drill was able to recover two of the deleted files even though they were removed from the recycle bin.
Mouse hover on any of the files and then click on the eye like the icon to see a preview of files. If you are satisfied with the result, then you can either select the entire folder or individual file to export. Here is an example of how it will look like when you preview the file. Right next to is the drive from where the file was recovered.
While recovering the files, make sure to place it on a drive that is different from the source. During the scanning process, you will also see a Reconstructed section. It lists down files that are still under the process of recovery. If you cannot wait, click on "Show scan results in Explorer" to view data directly. It will only reveal files that can be recovered.
Next to recover files, mark the files as recoverable. You can do that by checking the box next to it or with a right-click.
Done that click on the Recover button to start extracting the files.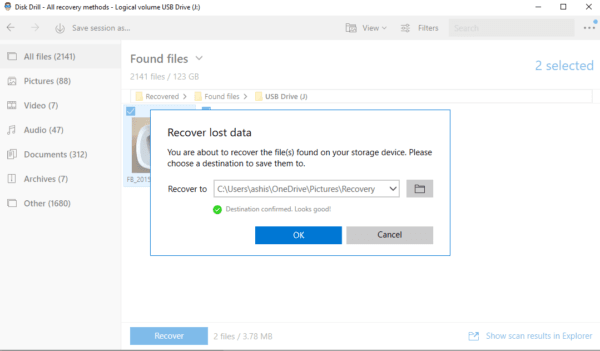 Here is an impressive part of the Disk Drill recovery process. Instead of saving it on a physical drive, it creates a virtual drive and keeps all the recovery data inside it. It makes sure the files do not overwrite any existing drive data if in case there is a recovery needed.
3] Search and Filter to find files
If your search result is enormous, then we suggest using Search and Filters to find the file or sort the files for the best experience. In the recovery result, look for View and Filters option on top.
View: You get to see folders and files in different formats, i.e. list, thumbnails, etc.
Filter: Here, you can filter out files according to size. Extremely useful if the result is full of data that are of zero bytes.
That said, we are glad to see that it is easy to recover deleted files in Windows 10 using Disk Drill. We highly recommend you to take a look at their tutorial for Windows 10.
DiskDrill Extra Features
The software goes beyond file recovery. It offers data protection for drives and folders, along with Backup solution. These features add to the value it already provides, making it a one-stop solution for those worry about data loss.
Enable Data Protection for Drives
A shield icon is available next to each drive. When you click on it, it will enable data protection. I would recommend you enable it for all your drives. Once enabled, it will keep track of all the files making a recovery a lot easier. So even if you empty the recycle bin, the protection will make sure to recover deleted files from recycle bin on Windows 10.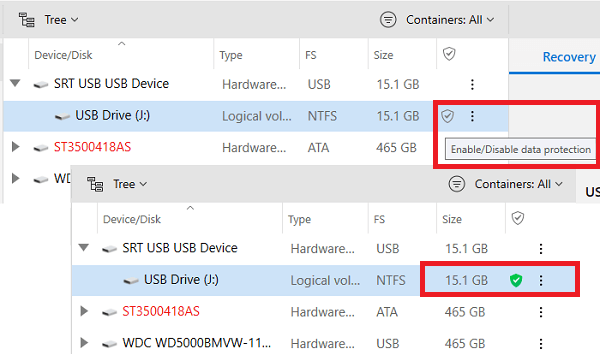 Enable Drive Backup
When you plan to use the software for the long term, I will suggest you also to use teh Drive Backup feature. You can always use it on top of an existing backup solution, including Windows 10 Restore files functionality.
We hope the guide helped you to clearly understand how you can recover files using DiskDrill on Windows.