OneNote is a major life line for many Microsoft Office power users, specially who want a completely paperless office.However there was no recovery system available for OneNote in 2007 because of which when you delete any page or the notebook it was completely out of your hands.
In Office 2010 there is a new feature, Recycle Bin for OneNote is added.  This feature is turned on by default fo any new OneNote you create or have converted from Office 2007. It is available under Share Tab of OneNote.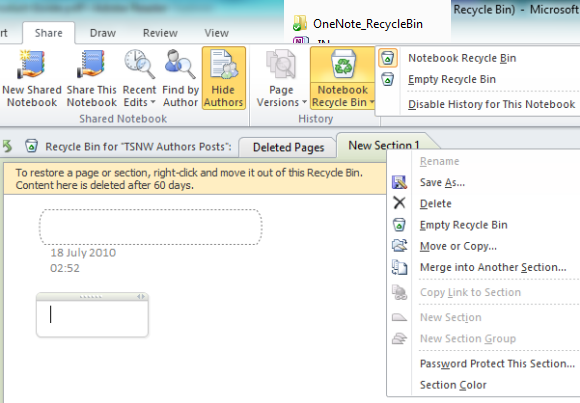 When you click on NoteBook recycle bin it will display all the notes which you had deleted for that notebook since last 60 days. Anytime you want to recover, just right click on that section and move, copy or merge into another section.  OneNote creates a recycle folder in the same folder where all OneNote section is kept.
Since OneNote Recycle can keep only for 60 days it is always advisable to back up it up using the inbuilt backup system of OneNote.  This backup system allows you to even save your document across network and configure how many backup you will need.
You also have option to completely disable Recycle Bin for OneNote if space is a crunch for you, however you can always optimize using the optimize All Files Now Option which is under Save and Backup.

Related : Quick Features of Office One Note 2010 to take notes faster