Audio plays a critical role in our experiences when using Windows. Whether it is listening to music, movies, or communicating with family and friends over Skype, your choice of audio output might be different depending on the type of computer you own. However, if you are facing Audio issues, then in this post, we will learn how to reinstall audio device in Windows 10.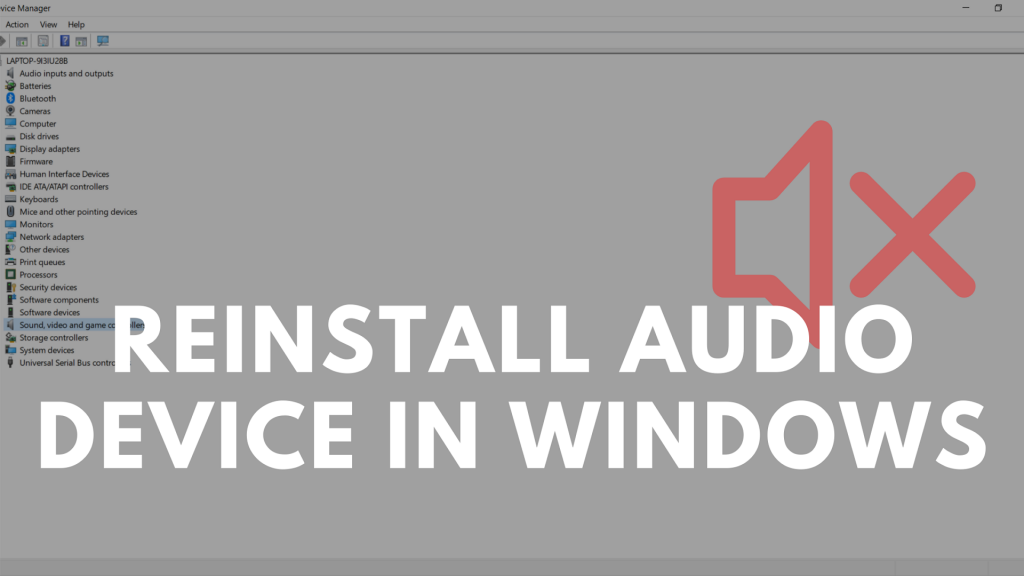 What causes an audio device issue?
Nothing is more frustrating when your computer doesn't work as you'd like it to. When the icon of your sound on your computer shows a red cross symbol, it means that your audio device isn't working. The main reason you are seeing the No Audio Output Device is installed error in Windows 10 and having a sound issue is due to outdated, corrupt, broken (that could have been caused by a Windows update), or missing sound drivers.
How to reinstall audio device Windows 10
There are three steps that you can follow to fix the No Audio Output Device is installed error:
Manually uninstall and reinstall the device driver
Re-enable the device
Automatically update your audio device drivers
You will need admin permission to execute the steps.
1] Manually Uninstall and Reinstall reinstall audio device in Windows
Installing an audio device on Windows 10 manually is easy as it doesn't require any technical expertise to resolve the issue.
Uninstall the Device Driver
Start > Device Manager > Expand Sound, video, and game controllers > Click on Audio Device > Uninstall. This will uninstall the device driver from your device.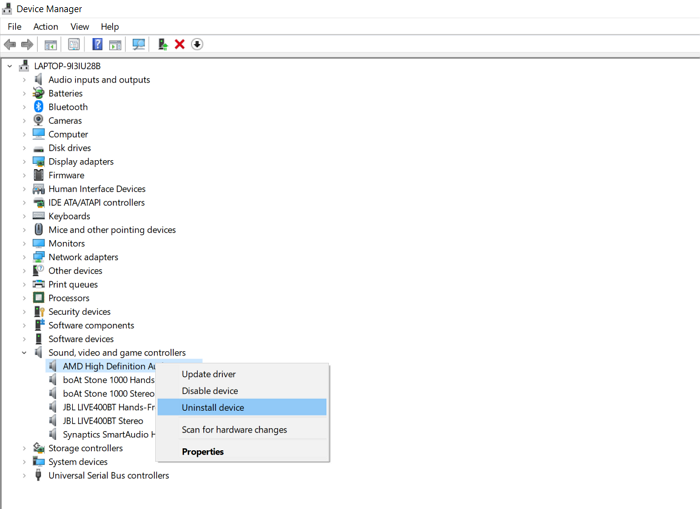 Restart your computer. Windows will automatically reinstall the audio driver. It may install the latest correct driver and hence may solve your problem.
(If restarting doesn't install the drivers on its own, try following the method below)
Reinstall the device driver
If you have successfully uninstalled the audio drivers, you can go to your system's manufacturer (OEM) website and search for your sound card's specific DRIVER. Download it and install it manually.
2] Re-enable the audio device
Your audio device can become disabled automatically if you're installing certain software. Therefore it's important to check if the audio device is disabled. To do that, follow these steps:
Press Windows Key + X > Choose Device Manager > Expand the Sound, video, and game controllers category > Right-click on Audio Device > Click Enable from the menu.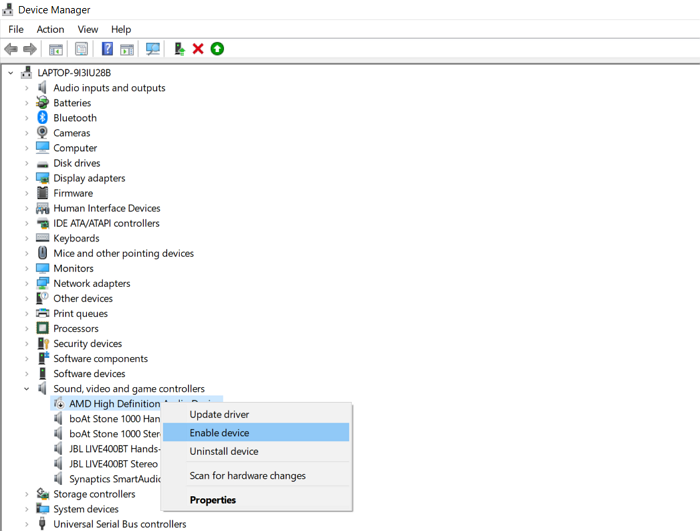 If the device is already enabled or the sound, video, and game controller option is missing, follow the steps below.
In the device manager, click on the Action menu and select Add legacy hardware (In case you only see one Help option in the Action menu, make sure you have selected anything from the device list tree)
Click Next to start the Add hardware wizard.
Click on the Select Search for and install hardware automatically (Recommended) option.
If the wizard fails to find any new hardware, click on Next.
From the list of hardware, select the sound, video, and game controller and click Next.
You will be prompted to select the model and manufacturer for your sound device, select it and click Next.
If the installation is complete, you can now see a sound, video, and game controller option in the device manager window. Follow the steps mentioned before you to enable them.
3] Automatically Update your Audio Device Drivers
Now that you have uninstalled the sound driver, maybe your windows now can't install the driver again on its own after a restart. In that case, it's time to download the latest version of the driver from the right place. You can either manually download from the first method mentioned above and install or let the Windows Update service download and install the driver.
The most relevant method to reinstall the audio device on your Windows 10 computer is the Windows Update process. To do this, you can follow the steps given below:
Go to Settings > Update & Security > Windows Update > Click on the Check for updates button.

Windows 10 will automatically download and install the latest version of the sound driver.
Here are some of the steps that may help you to reinstall an audio device in Windows 10. I hope this post will solve all your problems related to an audio issue.