Installing a new copy of Windows on your computer is a critical process, whether configuring a new device, installing a new operating system disk or troubleshooting an existing system. Instead of upgrading from a previous version of Windows, this guide will lead you through the procedures to reinstall Windows from BIOS. We do not advocate copying your current Operating System drive to a new drive because it can cause problems while booting from the new drive.
How to reinstall your Windows 11/10 version of ASUS, DELL, MSI, or HP laptops? You can reinstall Windows 11/10 from BIOS by booting to the UEFI or BIOS screen and resetting your Windows 11/10. So, in this article, we will discuss some things that will help you perform a clean Windows 11/10 installation from BIOS.
Can You Reinstall Windows from BIOS
If you are experiencing troubles with Windows 11/10 on your PC or want a fresh copy of Windows 11/10 without an overload of old data or programs, you can reinstall Windows 11/10 to resolve your problems and return your PC to a cleaner condition.
What exactly is a BIOS in a computer? A computer's microprocessor uses the BIOS (basic input/output system) program to start the computer system after it is turned on. It also manages data flow between the computer's operating system (OS) and attached devices such as the hard disk, video adapter, keyboard, mouse, and printer.
Can I reinstall Windows 11/10 from BIOS? The answer is no. One cannot reinstall Windows from BIOS. The BIOS is not how you install an OS; it controls certain devices' boot process. (Usually, the C drive is set to boot first.)
What to Do Before Reinstalling Windows
Before reinstalling Windows 11/10 on your PC, you should back up your data, as all personal files stored on your PC will be removed after you perform a clean installation. You can store your data using a USB flash drive or an external hard drive. A great way to back up your data is by manually copying it to external storage, using third-party tools, or using OneDrive as a backup.
Read: How to perform Windows System Backup
Reinstall Windows Using the Windows Media Creation Tool
In this method, we will explain how to reinstall Windows 11/10 using the Windows Media Creation Tool: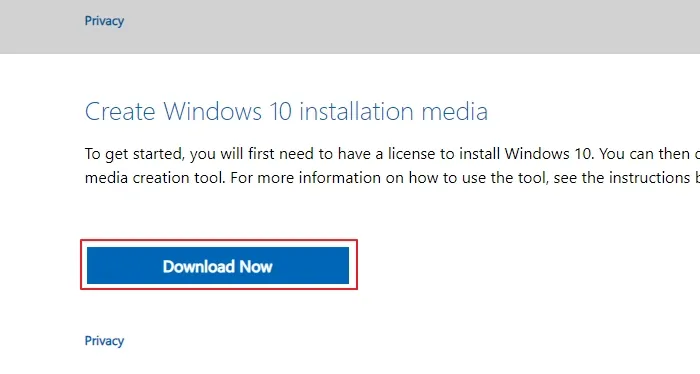 After you have downloaded the Media Creation Tool for Windows 11/10, we will prepare a bootable USB drive. Connect a USB drive, with at least 8 GB storage capacity, to your PC.
Next, open the downloaded Media Creation Tool. Click Accept in the Applicable notices and license terms window.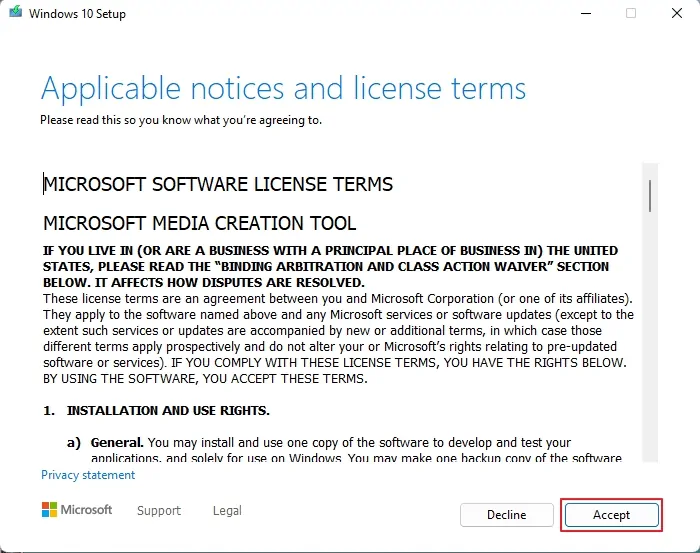 Choose the Create installation media (USB flash drive, DVD, or ISO file) for another PC option and click Next.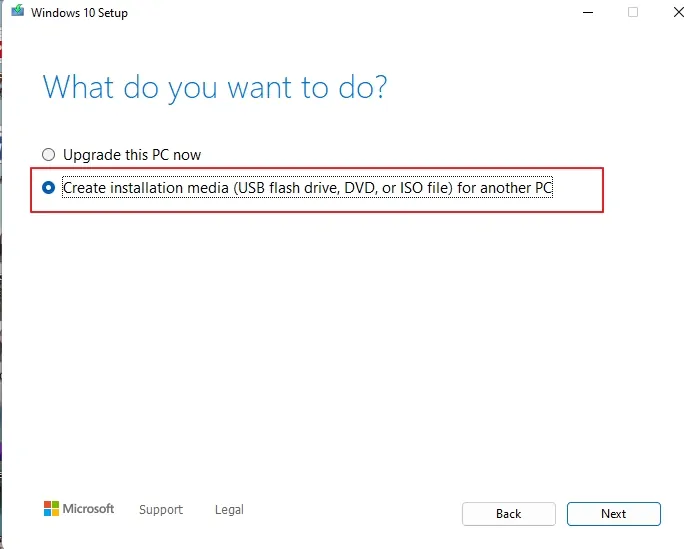 Select the desired Language, Edition, and Architecture (32-bit, 64-bit, or both) for the Windows installation, then click Next.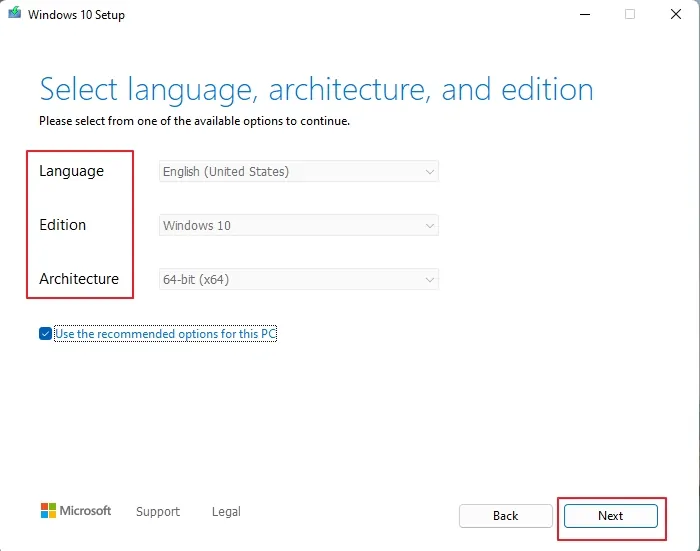 Choose the USB flash drive option from the next page and click Next.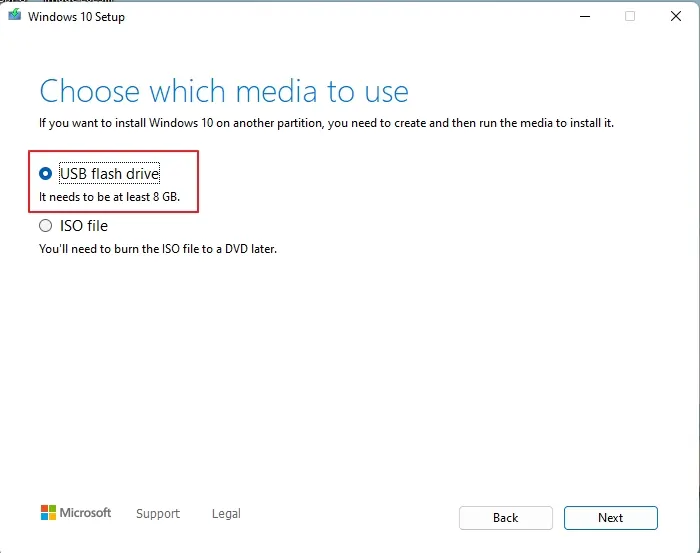 Select the USB flash drive you previously inserted and click Next. The utility will now download the necessary Windows files and generate a bootable USB drive. This process may take some time, depending on your internet speed and your computer's performance.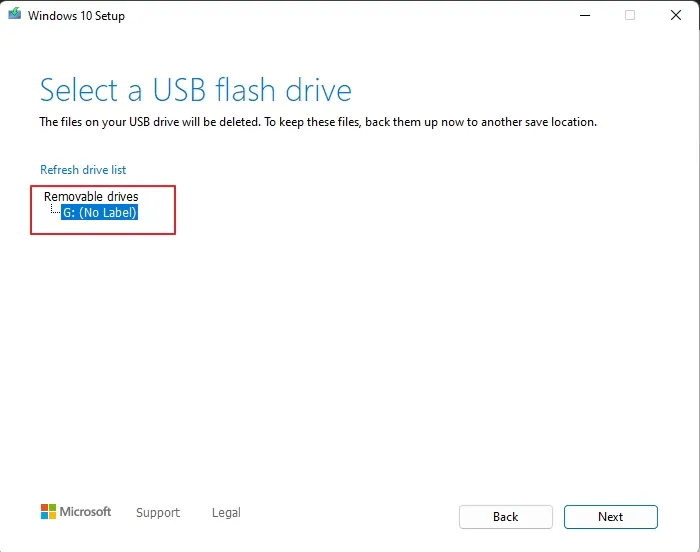 After the tool is downloaded into your flash drive, you can use the USB flash drive to boot from your PC
Insert the bootable USB drive into the computer where you wish to install Windows.
Restart your PC and navigate to the BIOS or UEFI settings. Usually, this includes pressing a certain key (such as F2, F10, or DEL) at startup. Refer to your computer's handbook or search online for device-specific instructions.
Navigate to the boot order settings and drag the USB drive to the top of the list.
Save your changes and quit the BIOS/UEFI. The computer should now start up using the USB drive.
Read: How to Update BIOS or UEFI on Windows PC
Each motherboard has a unique BIOS layout. Please consult your BIOS or motherboard handbook to validate the location of these settings. The next step is to install Windows on your PC:
When the Windows installation screen displays, choose your language, time, currency format, and keyboard or input method and click Next. Choose Install now.
Enter your Windows product key if you have one. If you do not have a product key, click I don't have a product key to continue. You can later activate Windows using a valid product key.
Select the Windows edition you want to install and then click Next. Accept the license conditions and proceed by clicking Next. Choose Custom: Install Windows only (advanced).
Select the drive or partition where you wish to install Windows. Use the available options to create a new partition or format an existing one. Please remember that formatting a partition will delete all data on it.
To begin the installation, press the Next button. During the installation, the computer may restart many times.
Read: How to find your Product Key.
After the installation, you will be requested to configure your settings and establish a user account. To customize your Windows experience, follow the on-screen instructions.
Reinstall Windows from Settings
Resetting your PC will reinstall Windows on your PC. This is how you reinstall Windows 11/10 from Settings:
Open Settings and navigate to System > Recovery.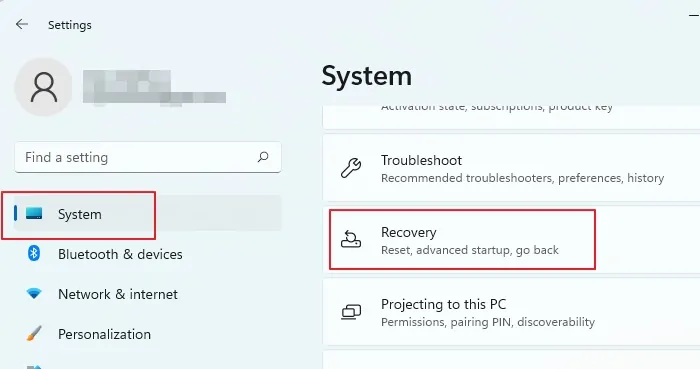 Click the Reset PC button on the recovery page next to Reset this PC.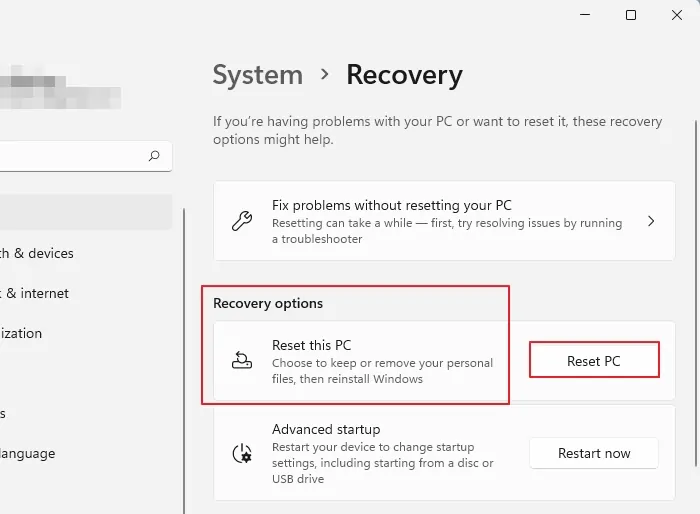 A blue pop-up window will appear asking you to choose an option: Keep my files and Remove everything.
If you want to reinstall Windows 11/10, choose the Remove everything option to continue resetting your PC. When ready, select the Cloud download option and click the Reset button to begin the procedure. Remember to back up all your data before this process to avoid loss.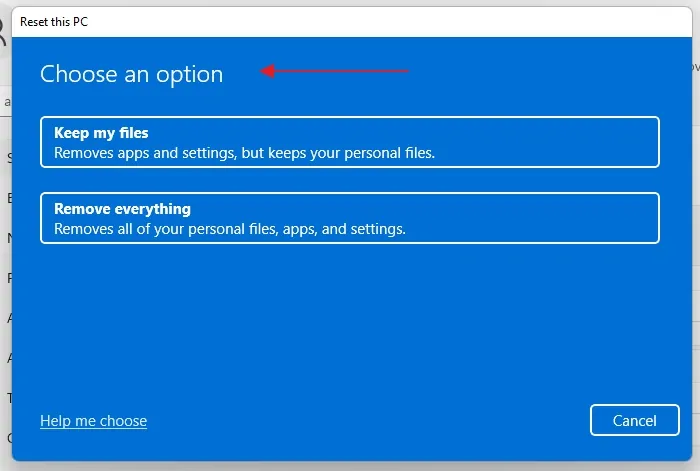 Conclusion
So, I hope you understand how to reinstall Windows 11/10. You can return your PC to a fresh state by reinstalling Windows 11/10. You can perform the reinstallation via Windows Media Creation Tool or from Windows Settings. Before performing reinstallation, remember to back up all your data, as you will lose them after performing a Windows installation. We recommend users download and use the EaseUS Todo Backup tool to help users to back up their data before reinstalling Windows.
FAQs on How to Reinstall Windows from BIOS
How do I reinstall Windows 11/10 from a USB in BIOS?
To reinstall Windows 11/10 from a USB in BIOS, make a bootable USB drive that contains the Windows 11/10 installer. You can do this with Microsoft's Media Creation Tool. Turn off your computer and then on again. Press the key that brings up the BIOS menu, commonly the Delete, F2, or F10 keys. Navigate to the Boot section once you are in the BIOS menu. Save your changes and exit the BIOS menu. Your PC will now boot from the USB drive.
How to reinstall Windows without losing programs and data?
While using an installation media to reinstall Windows, to decide what to keep, choose the option to keep personal files and applications. This will ensure that your data, apps, and preferences are not lost.
How do I reset my computer from BIOS?
Start the computer. Press the F2 key multiple times until Entering Setup appears. Reset the BIOS to factory settings. Select Save and exit or leave by using the Esc key. To save all changes and exit the BIOS setup screen, press the Enter key. The computer will restart.
Does BIOS Reset remove Windows?
No. BIOS is separate from the operating system (Windows). BIOS regulates the hardware in the computer during the first boot-up until it is ready to look for a device from which to load the operating system. Resetting the operating system does not affect the BIOS.