Gmail has introduced another great feature in Gmail which restores your contact list to a recent date if you have accidentally deleted a couple of contacts and want to get them back in your address book. However it is not possible to only restore certain number of contact it works as a whole. This feature is similar to what Windows Restore and Apple Time Machine does.
Go to Gmail Contacts.
Click on More Actions – > Restore Contacts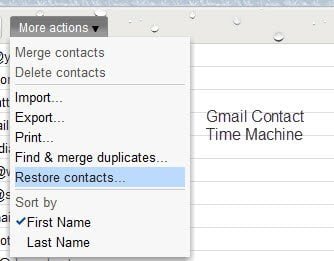 This will open a popup and you will be asked to a time which can be as precise to minutes and your contacts will come back like it was at that time.
What if you want to undo  this restore ?
You get a notification once contact list is restored. You can click on undo to undo the restore.

Now according to the Restore Help below is the rule for Chat contacts:
When you delete a contact in Contacts, it will also get deleted from your Chat list. After the contact is deleted, Chat still remembers the invitation status for that contact for another 24 hours. So if you restore a deleted contact within 24 hours, it will be fully restored in Chat. But if you restore a deleted contact after 24 hours, you'll need to re-invite that person to your Chat list.