So last week we got Nexus 7 (Check out the Unboxing) and today after exploring it for long, we are going to root it. So in this post I am sharing the easiest way, to root Nexus 7 with least complexity and its using the same tool which I had used to root Nexus S.
What is different when using Windows 8 :
In Windows 8, installing drivers which are not signed is difficult in normal mode. You will have to boot Windows OS into advance recovery mode and choose disable driver sign check and then install the Nexus 7 Driver.
Requirement :
Download the Rooting Toolkit from here. This tool is developed by WUGFRESH.
Also download the Factory image of your Nexus 7 from Google's Official Page. This is for WIFI Only Model, and this is for 3G or HSPA Model. Make sure to check your Model number against the device. To know what's your device model no, Go to Settings > About Tablet >Build No. This will be used only in case something goes wrong, and you need to recover back.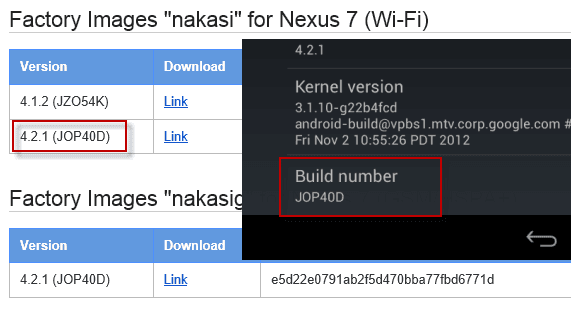 After all the download is complete, I will suggest you to copy it to a separate folder and name it as Nexus 7.
Drivers installation :
Run the toolkit executable and install the tool kit. Next it will ask you select your device model number and type. Like I said above, find the device model number from the about section.
After that, the tool kit will ask you to turn on the developer mode in Nexus 7. This can be done by hitting the Model Number seven times. You will get a message saying that you are a developer not. Now go back to settings and you will see developer option. Select and then choose to turn on Debugging mode.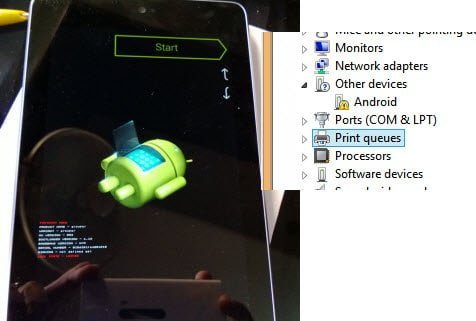 Like I said any noob can also Root any nexus Device, We will use this Toolkit Automatic and Step by Step Instruction to root the device. Hit on the button which says so and these all well happen :
It will ask you to remove any old Nexus 7 Drivers you had installed. Use the USB debugging view to remove them followed by a restart of the computer.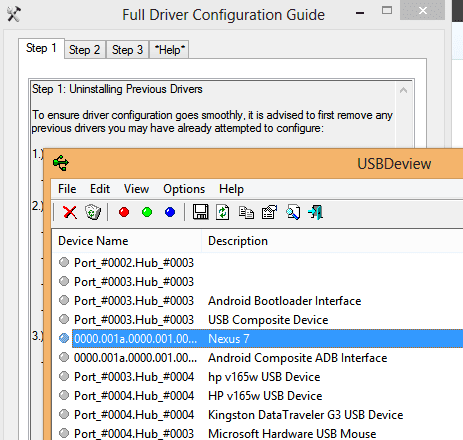 Next Step is the USB driver installation. Depending your OS and Device type you will be suggested which is the best driver to use.
For Windows 8, you will have to install RAW drivers. To do this, you will have to restart Windows 8 with Driver checking disabled. Follow the steps as below :

 WinKey+C > Settings (Gear icon)
 Change PC Settings
General > Advanced Startup > Restart now
Troubleshoot > Advanced Options
Windows Startup Settings > Restart
Wait for the computer to restart.
Select 'Disable driver signature enforcement'.
Now you can proceed to install these drivers.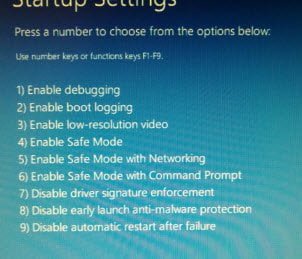 After restart come back to the toolkit again and now select to install RAW drivers again. This time you will get a clear instruction on how to do it with the snapshot from the kit itself.
Once driver installation is complete, it will be booted into Fastboot mode, and you will have to install the drivers again following the method above.
Next it will confirm if your device is ready as Developer device. So expect a couple of reboots, flash boot check etc.
Unlock and Root :
Now before, you go ahead for rooting or even unlocking, make sure to backup the device and data. This can be done using the same toolkit. You can choose to backup all data like SMS, Contacts, SD card Backup, Nandroid Backup etc. Or simple backup.
Next go ahead and first unlock your device using the Unlock Button. This will wipe your device, and you will have to go through the setup process again.
Make sure to enable the Developer Mode again and enable USB debugging mode. Right after, setup is complete and its time to use the Root option.
A custom recovery i.e. TWRP recovery which is a touch based recovery solution
CWM Super Users.
A modified version of Nakasi depending on your version number.
This script is designed to help you root your device without overwriting the stock android recovery with a custom one. Done this your Nexus 7 is rooted.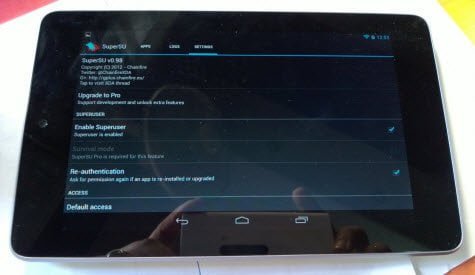 In case anything goes wrong and you want to get back to stock rom, follow the Back to Stock + Unroot option and then use the Relock. This will make sure your nexus is back to where you started with. Good Luck!!