WebP is a new format to display images with the same quality. The primary reason why they are used is that the size is a lot less, and helps websites load a lot faster. However, they are not supported by native Windows or any OS editor, and hence the need for a converter that can Save WebP Images as JPG and PNG or any other format.
How to Save WebP Images as JPG and PNG
You can use these four tools to convert or save WebP images into an image format such as HPG or PNG so you can view them on the computer.
Change extension in the URL
MS Paint
Zamzar
WebP image converter
You can use any of these tools based on your convenience. There is no major drawback with any of them.
1] Change extension in the URL
Most of the websites dynamically replace the JPG or PNg extension with WebP extension. So if you have the direct URL of the image, you can replace "WebP" with "JPG" or "PNG." Once the image loads in the browser, you can download them on your computer.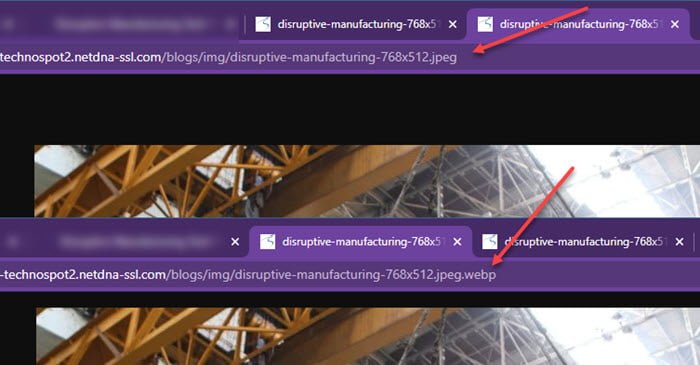 2] MS Paint
Microsoft in-house classic image editor, MS Paint, can open WebP files. Once you save the image on the computer, open it in MS Paint, and then save it as PNG or JPG or any other format.

3] Zamzar
It's an online converter that offers a brilliant service to convert any format to any format. One such service is converting WebP images to JPEG or PNG for those who are too lazy to edit in on the computer.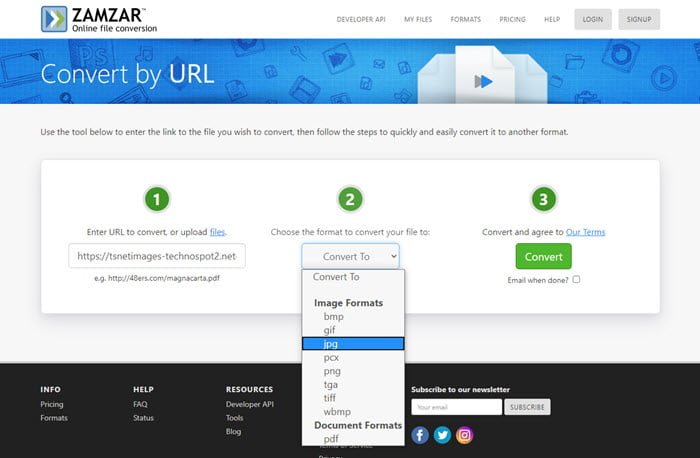 Open https://www.zamzar.com/ on your browser.
Copy the WebP image URL from the browser. You can right-click and open the image in a new tab.
Click on Add files if you saved it on your computer or click on the add links option.
Select the image format, and then click on Convert. Once done, you will be able to download the converted image.
4] WebP image converter
Google offers a WebP image convertor that you will need to extract from its libraries. It is useful when you want to convert images in bulk, but it will require a technical understanding of how to execute the command and so on.
The command-line tool is called dwebp, which can convert WebP image files to the PNG or PPM format. You can convert a WebP image file, say image.webp to a PNG image with the command:
dwebp image.webp -o image.png
Read more about it here.