Windows 10 offers a built-in Security, and Anti-Virus solution-Windows Security-which offers features like Ransomware protection, file and data protection, virus scanning, device performance check, firewall, and network protection. While the system performs a regular scan of files, if you need to scan an item, i.e., one single file with Windows Security in Windows 10, here is how you can do it.
Scan an item with Windows Security in Windows 10
Windows Security or Windows Defender Security Center allows you to scan a specific file or folder and warn you instantly if there is any threat, i.e., virus or malware, or anything that poses a security threat.
To scan specific files or folders, right-click the ones you want, then select Scan with Windows Defender. When the scan is complete, you'll see the Scan options page letting you know the scan results.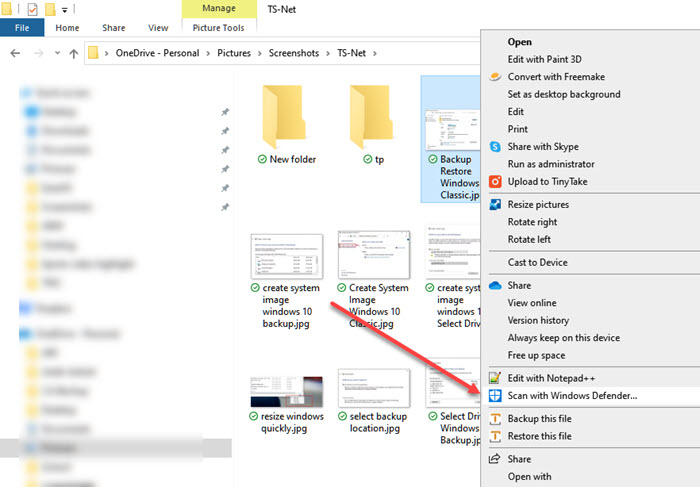 Setup a Real-time Scan with Windows Security?
While the manual scan is a good option, a Real-Time scan is important. It's not an option anymore, but mandatory. In case you have it disabled, make sure to enable it. It will ensure all files that are downloaded on the computer is scanned immediately.
Go to Settings (Win + I)
Update & Security  > Windows Security > Virus & threat protection.
It will open Windows Security. Click on Manage Settings under Virus and threat section.
Toggle On Real-time protection.
It says—Locates and stops malware from installing or running on your device. You can turn off this setting for a short time before it runs back on automatically.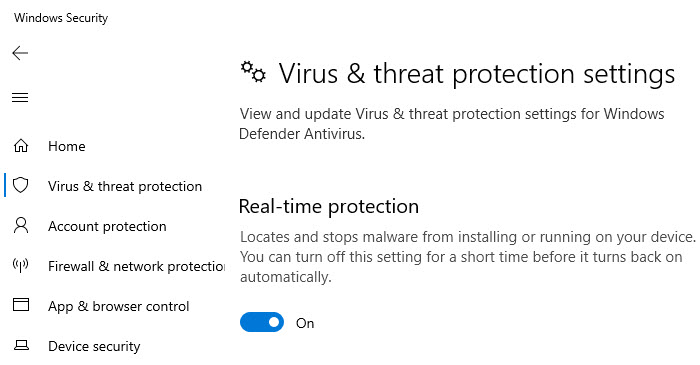 The option to turn off is only there in case of false positive. If you are downloading a file in which you are sure that it's safe, but the antivirus is claiming it to be, then you can turn it off and download it. While it is best to turn it on manually, Windows Security will make sure it happens anyway.