Most of the Document editing tools like Office application come with an inbuilt utility to find and replace text. Still, when it comes to search and replace text withing multiple text files or even HTML files, there is hardly any option. Most of the applications can work only with one open file. In this post, we will share applications that can search and replace text in multiple files.
How to Search and Replace text in multiple Files
There are two utilities that I would recommend for a different user level. One that programmers or advanced level users would love and is much powerful. Another is a stripped-down version but a different application for regular users. It is also much simpler.
1] NotePad ++ (Advance)

This open-source application has an extraordinary search and replaces tool inside which lets you search and replace :
Within multiple open files.
Search in any given folder with support for subfolders and hidden folders
Use Regular expression and Filters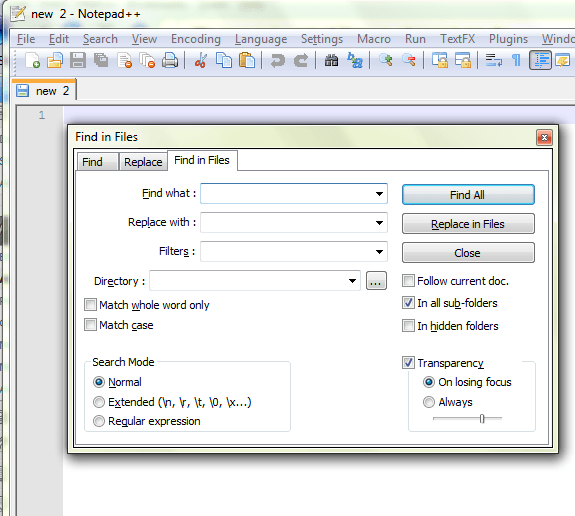 Apart from this, it's a must-have application if you have to deal with TEXT files every day. It offers rich editing and supports many other formats where syntax highlighting is essential.
2] Magic Search and Replace : (Normal)
Magic Search and replace is an excellent application that lets you find and replace text from multiple files. It also enables you to create a backup of these files if you want to revert. This feature is beneficial for people who don't have a habit of backing up data or forget, though it's not a good habit. It also lets you do search within the search result which you got from the previous search. I like this a lot.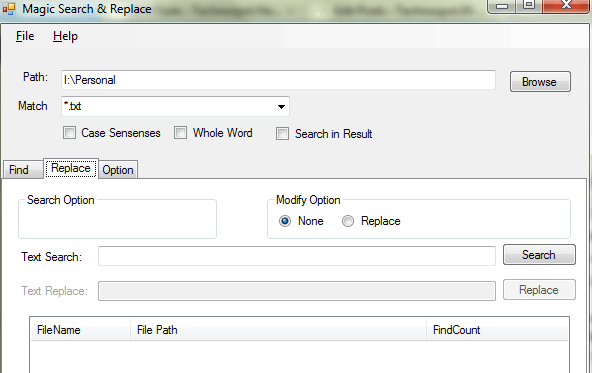 Download Magic Search and Replace
3] Notepad (Basic)
Simple at its best. Use Ctrl + H to launch the search and replace tool, fill in details, and get text replaced. It doesn't regular support expression but comes in very handy if you want to remove formatting issues of a text you copied from the internet. Also, since it doesn't support rich text, anything you paste here will retain no formatting. Limited to a single file.
I hope one of these tools was able to help you to Search and Replace text in multiple files.