Gmail is the most widely used email service around the globe, with tons of valuable features. But one feature lacking for a long time is the ability to quickly select more than one email. You may receive hundreds or thousands of emails every day, and not being able to select them in bulk can be a huge problem. This article explains how to select multiple emails in Gmail quickly. Please make sure you stay tuned till the end of this article.

How to Select Multiple Emails Quickly in Gmail
It is an easy process, and doing so should take you not less than a few seconds to get it done; here are the methods we'll be discussing:
Using Keyboard Shortcuts
Using Checkboxes
Let's have a closer look at these methods.
1] Select Multiple Emails In Gmail Using Keyboard Shortcuts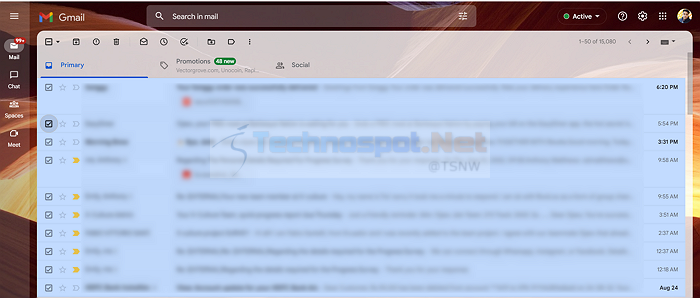 Now, you can select multiple emails in Gmail using your keyboard and a few mouse clicks. Here's how to do it:
Open Gmail.com on your desktop and head over to the primary inbox.
Now while holding the Shift button on your keyboard, proceed by clicking the checkbox near the mail you wish to select.
It will be the one end of the range of emails you wish to select. While pressing the Shift button, tick the checkbox on the other end of your email selection range.
Now, you'll see that all the emails between the ones you've selected while holding the Shift button are also selected and have a blue tint over them.
And that's how you select a range of emails in bulk in Gmail. Now you can perform all the bulk actions we already talked about. There is a slight disadvantage to this option. You may select the emails you did not want to since all the emails in the range are selected. If you wish to select some specific emails and perform bulk actions, proceed with our following method.
2] Select Multiple Emails In Gmail Using Check Boxes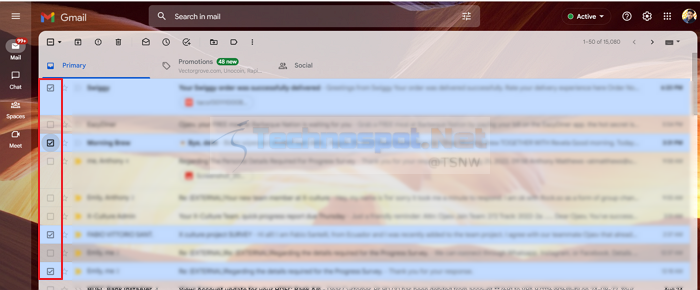 Using checkboxes to achieve this in Gmail isn't much of a science. All you need to do is click the checkboxes next to each email you wish to select, and then you can perform your desired bulk actions. The checkboxes feature a relatively new one. Previously there was not quite a way to do it.
Here is a quick video
Conclusion:
Knowing little tricks and ways around things can make our work much easier, boosting productivity and saving time. We hope you found the article helpful. Please make sure that you share it with everyone.
Why Select Multiple Emails In Gmail?
It can save you a considerable amount of time as it will allow you to instantly delete multiple emails from a specific day, event, or period. You can archive these emails or perform other actions like Reply all, Forward All, Move All, Mark As Read or Unread, and many others. This feature is handy for administrators or people who have to answer multiple emails in the same way.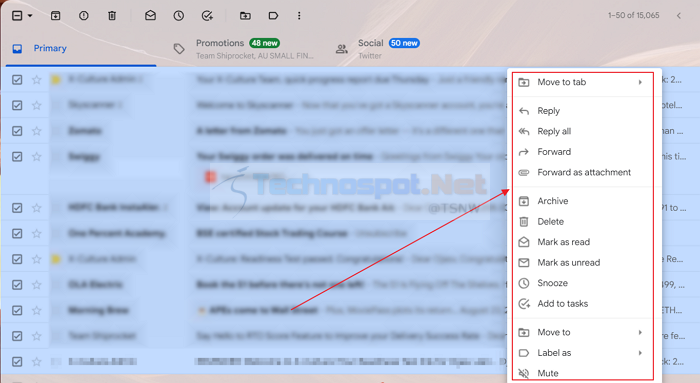 How To Select Multiple Emails In The Gmail App On My Smartphone?
Selecting multiple emails on the Gmail app is simple. Just long press one email of your selection, and once it is selected or highlighted in blue color, tap on other emails to select them.
How To Send The Same Reply To Multiple Emails In Gmail At Once?
To send the same reply to multiple emails on Gmail. Select all the emails you wish to reply to. Then, right-click on the selection and select the Reply All option. Once selected, this will open small reply windows for each sender arranged at the bottom of your screen. Now, all you have to do is paste the messages and send them accordingly.