Many a time you need to send an SMS at a particular time, but if you have a busy schedule, it becomes nearly impossible. While you can schedule emails, we don't have the option in the SMS app as of now. In this post, we are sharing an online service which can send SMS at a scheduled date and time.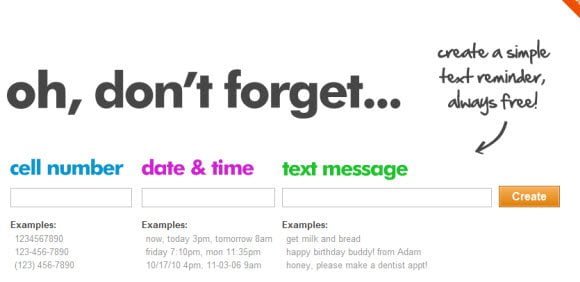 How to send scheduled text messages at low cost
OhDontForget is a website + Service which solves your problem to almost anywhere in the world. All you need is to enter the phone number, date and time, and your text message. In just one step, you can ping your boyfriend to remind him about your gift or even wish your friend a happy birthday, while you are attending a meeting.
Its a paid service that costs as low as 1 cent per message, and it is available for the US and Canada. When I first wrote about it, it used to offer free Service which one can use once in a while, but now its paid.
It does not contain advertisements along with SMS you had sent.
You can create recurring reminders, so you never forget your anniversary.
You have an Address book feature where you can store your number.
You can also check sent SMS, i.e., using Logs.
Apart from this :

Supports 'ported' and non-US numbers: If you want to send a message outside the US, add a number and select the service provider. I don't see all the services, providers but most commonly used are available.
Automatically detect your time zone based on your location.
In case somebody is spamming you using this Service, you can contact OhDontForget to know the number. However, only if the user has used a premium service, a number can be detected.  Keeping this in mind, they can add your number to DND if you send out a request.
They do not allow bulk SMS, but if you want to use it in your application or professionally, they do have a commercial API.
Check out OhDontForget