You sent a file of 20 GB, and that was quite an easy task. Right? What if you have a file to share, which is 49 GB? Was this time it was a cakewalk? No frustrations? Of course not. That's why you are here reading this helpful article. Don't worry. This post will guide and introduce you to services that can Send Or Share Very Large Files.
However, some platforms don't allow you to share large files or have a limit, which is relatively more minor when working remotely. We have researched on five best websites that can offer you more space to transfer your large files, even if you have a limitless file size. So let's continue reading this article and figure out these unique websites to make your work easy. Let's know about each tool and its features in detail.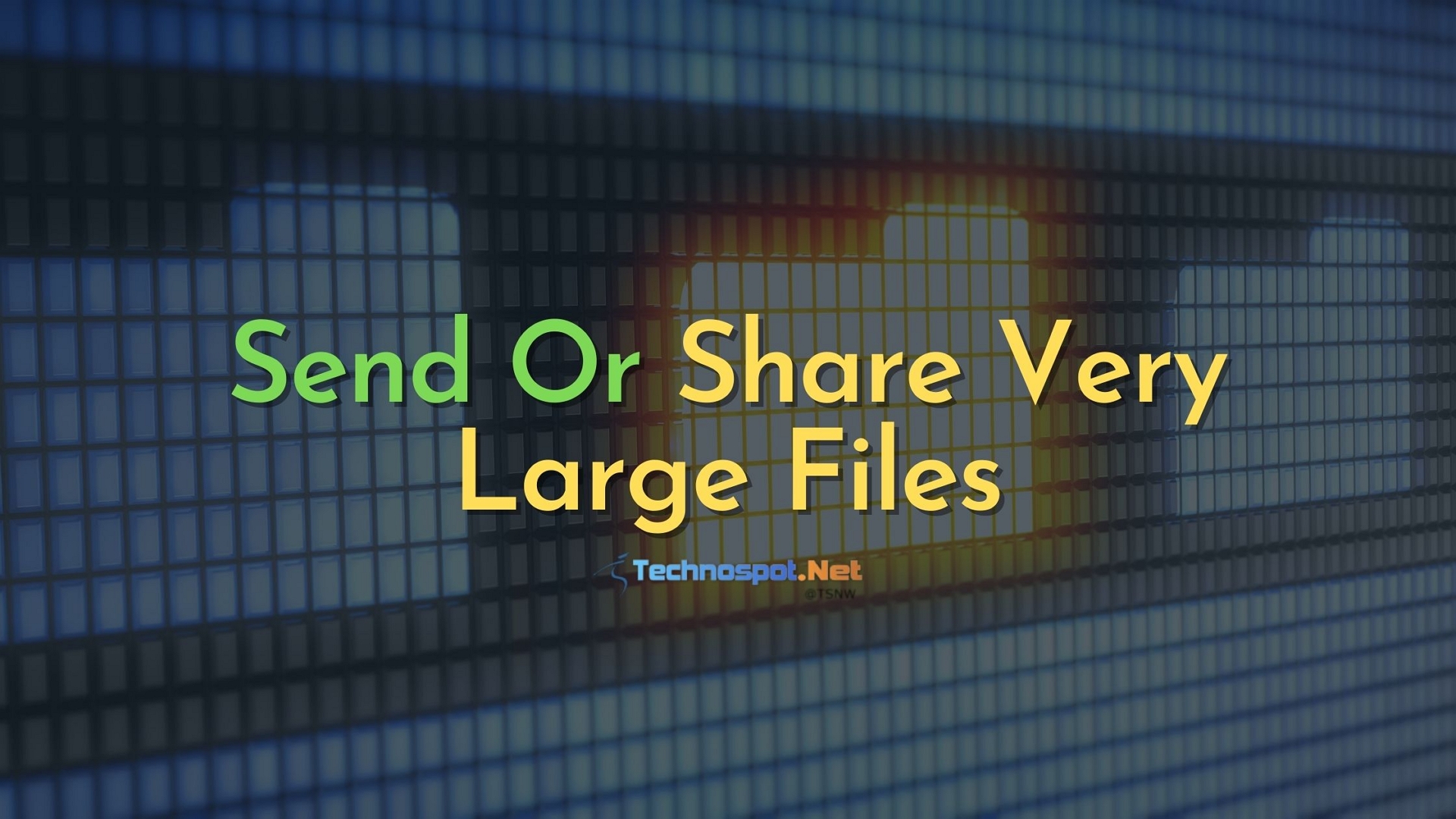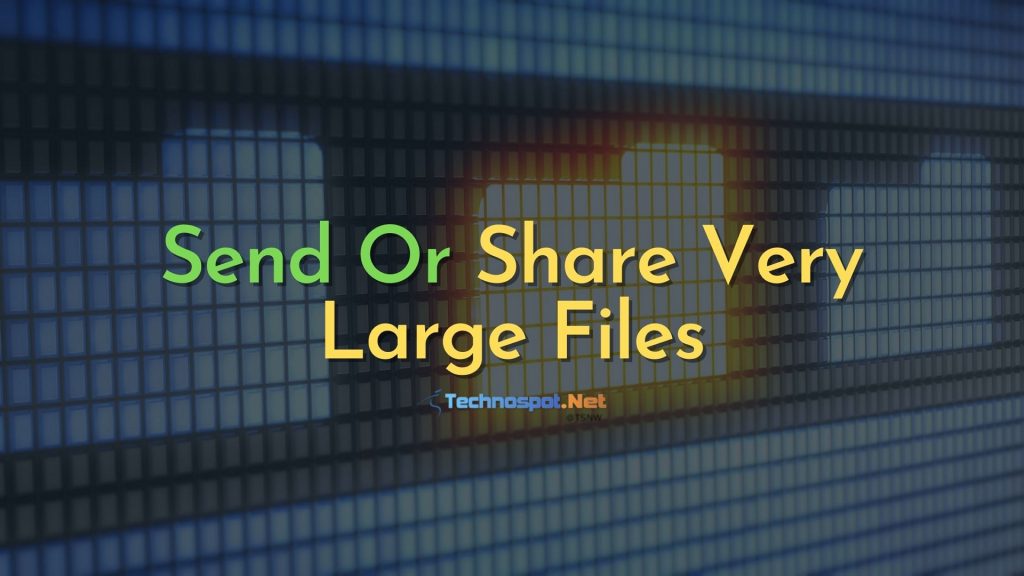 Why Do We Need To Share Big Files?
Do you get tired while sending individual files of different sizes? You must wish to send them all together by merging the related files. We need to share the large file to save time and go easy at once.
We have seen that some platforms such as Gmail or Yahoo have a limitation to the size. It is only 25MB, so you cant send a 100MB video file. So it is clear that emails cannot provide the best file-transfer services. Hence we have listed several ways to send large files in this post. Continue reading.
How To Send Or Share Very Large Files (Multiple Services)
Sharing large files is the most straightforward task with our unique collection. So, in this article, we highlight the five best websites to share the big bulky files online. These tools/software will allow you to transfer at least 40 – 50 GB files or even limitless with its size. Read the interesting facts about some special tools in detail. Here it is below:
Raysync
DropBox
MASV
Mega
Filemail
Let's know more about these services and their features.
1] Raysync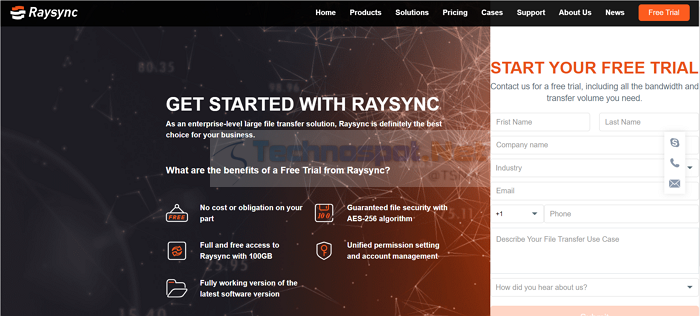 It provides fast, cost-efficient, and stable file transfer services. It transfers the large high-speed data for whatever the file size is. The UDP transfer protocol doesn't optimize data transfer but eliminates the traditional network and hardware. Raysnyc does help small to medium businesses to share
Features
High-speed File Transfer Protocol: Raysync has the solution of slow file transfers protocols caused by network and hardware. The transfer speed can be increased by 100 times as compared to FTP. The file speed up is available of any file size. It almost provides a 96% bandwidth utilization rate to compare the files intelligently.
Point to Point Transfer: Without going through the server, it directly transmits between the files. Raysync provides Point-to-point transfer by adopting user ID, avoiding intermediate transfer for fast sharing. You can save time by providing end-to-end file transfer via user ID and key.
File Synchronization: As the transferring task is executed periodically, you can set a sync schedule and support bi-directional syn and automatically upload, download, and customize the synchronization time.
2] Dropbox
Willing to send large files effortlessly? Try DropBox. If you want to keep your important documents and images safe without being lost, you may go for it. Send files up to 100 GB or even more up to 250 GB (Using Creative Tools Add-On)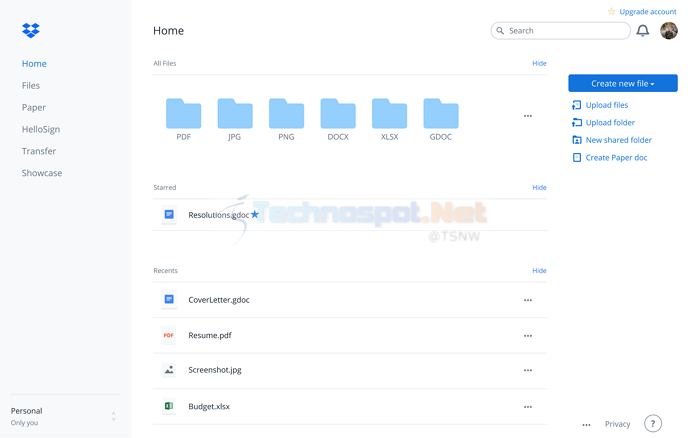 Features
No switching between tools: DropBox has many solutions from sharing, creating, editing docs, sheets and slides, and much more. So you don't need to switch from one window to another as everything can share the platform.
Secure sharing of big files: Despite Google is providing the facility to file share even to edit them, file sharing with Dropbox doesn't allow editing. I wondered, is it possible? Your files can be viewed, commented on, downloadable using DropBox, but nobody can edit your original file.
Collaborate anywhere: With a secure file transfer, Dropbox Transfer even allows you to collaborate anywhere, anytime. It gets easy access to files and sharing manners from one computer to another, mobile, or other devices.
3] MASV
This ultra-fast Large file transfer tool is helpful for creative media professionals. Videographers trust MASV to send large files. When they need to transfer large volume files (20GB +), MASV gives an encrypted and secure transfer for every massive file transfer. It has No file size limits, no software or plugins to install. Much faster and super easy to use, what else do you want?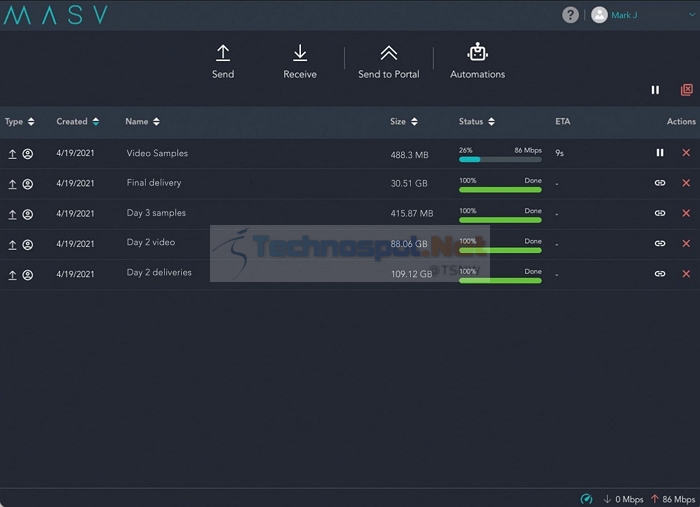 Features
Upload and Download Speeds: What a wonder it does when sending 100GB+ files! Over 150 global servers worldwide, you are so close to the maximum transfer speed.
Security: Security is predominant when you need to protect your content. It gives encrypted security from both ends, including password protection.
Brand friendly: MASV does respect your brand, so the global visibility. Customization is available to the visual elements to match your brand account.
4] Mega
Mega is the shorthand for Mega Encrypted Global Access. It is a new sharing service with 50GB free storage space, with encrypted cloud services including voice calls, emails, instant secure messaging.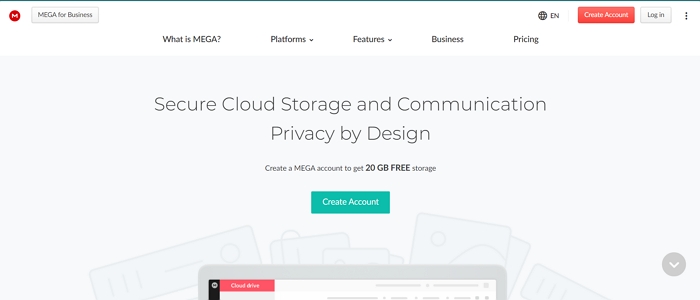 Features
Chat security: Share your videos, audios, or do a group call with MEGAchat without fearing security issues.
Easy backup: It allows you to get your files whenever you need them, automatically backing up your computer data.
Secure share: Securely share your data with your contacts on MEGA.
5] Filemail
Say hello to free-faster and secure file transfer again with our last tool. Although it has a limit for 30GB data transfer loading, it also has some good features, which are as follows.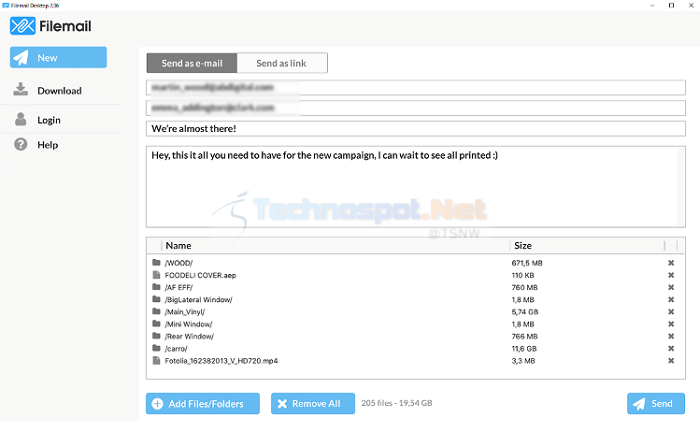 Features
Secure file transfers: Among all of the tools mentioned earlier, we have seen that security key service. Filemail allows you to share secure files using end-to-end encryption.
No size limit: You can add as many recipients you want to share your essential files.
Track your shared files: You can easily keep track to check how many times the file has been downloaded.
Looking for service but not as significant as this? Check out the Best File Sending And Sharing Services for Windows 11/10
Conclusion
When you have to share large files very often, from small businesses to media or entertainment industries, you can find these tools, as mentioned earlier, helpful. Try the paid versions of these services if you are looking for more features. I hope you found this helpful. Enjoy file sharing!