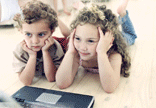 Children Safety, In this term, there are 2 different perspectives to see. First is on their mental problem when exposed to the adult sites and videos. Second is the Logical stress facing the malicious scripts (Viruses, Spyware, and so on).
Vista has a great Parental Control for your children. Parental Control is design for your Children Safety and avoids them from any harmful contents and sites.Vista has done a great move in this section.
By integrated the system with an advance but easy navigated parental Control, Vista make every parent feel "safe" using them as their children's PC OS.
What you can do with Vista's Parental Control ?
With Vista's Parental Control do the following task easily:
Parent can define which site their children are restricted (Normal Parenting Control)
Parent can limit the download processes (this one sound's interesting because you can prevent your children to download adult movies that have a big sizes)
Parent use the "Time limit" for each of the computer user (this sounds promising because if your children interact to much with computer, there will be a health problems occur)
One more interesting feature that Vista has is that it can block application from running without permission. This is practically important because if you manage to lock all media player for playing movies, you can decrease the "opportunities" of your children to open adult movies.
Below is the mini guide to set your parental control in Vista:
From the 'Control Panel' Window, Choose the 'User Account' and click the 'Manage Another Account'
Choose and click on the desired account (example: 'Jennifer')
Click 'Set up Parental Controls'
Choose one account that you want to control (example: 'Jennifer') and Vista will pop-up the Parental Controls setup window
Click 'On' in the Parental Controls. And all components will light up (including an option labeled 'Up to ADULT ONLY')
Choose 'On' in the 'Activity Reporting' option
Click other option, like 'Web restrictions'. After the process, the next window will come up
Choose 'On' again at the option 'Do you want to block some web content?'
Next, decide which content that you want to block in the 'Web Contents' list (You may choose: 'Pornography' and 'Sex Education')
Click OK to close the window and at the same time, 'Jennifer' has been protected!
Written by Ken Xu, blogger in Web 2.0, and Money Making Tips, Tips and Tweaks on Blogging. Do visit his site and ask him questions regarding his posts. He will tell you for sure. I hope you enjoyed the post