Are you bored of entering a password or PIN to sign in to Windows PC? Switching away from passwords can bring numerous advantages, such as more accessibility, a reduction in the risk of human error and limitations, improved usability, and more. In addition, windows Hello provides quick access to your Windows device using facial recognition and fingerprint technology. Here's all about windows Hello and how to set up Windows Hello in Windows 11/10.
What Is Windows Hello?
It's a security feature for Windows 11/10, which brings biometric security to the latest operating system by Microsoft. This feature makes it unnecessary to log in to any Windows device with passwords and is a safer method to log in with any Windows device, app, or service.
Windows Hello supports facial recognition and operates by scanning the Iris. It also accepts fingerprints. The main benefit is its Infrared Technology support that allows the facial recognition feature to function in various lighting conditions. Therefore, the change from the standard routine of entering your password each time you sign in to your account is appreciated.
Why Do You Need Windows Hello?
In the current time of increasing passwords, security-minded users understand that using a fingerprint scanner or facial recognition scanning of the iris to access devices or accounts and even data could be a better option.
The majority of Microsoft Office apps support Windows Hello and third-party tools like Dropbox, Google Chrome Microsoft Edge offer authentication of transactions when you use the browser on Windows. In addition, Microsoft has partnered with an increasing number of service providers to provide its users with a smoother method of authenticating several accounts with Windows Hello.
Check Your System Compatibility for Setting Up of Windows Hello
Your device needs to include a Windows Hello compatible camera and a fingerprint scanner that capture two-dimensional infrared spectrums. It should also meet the other Windows Hello requirements. Windows Hello has a relatively low barrier to entry; however, it has specific hardware specifications. Windows Hello is compatible with Microsoft's Surface Pro, Surface Book, and most Windows 11/10 PCs.
Microsoft is also working with manufacturers of devices to ensure consistent performance and security to all Windows Hello users and establish high-level benchmarks and design guidelines to establish the baseline standards.
PC Health Check, a free program provided by Microsoft, can help you check if your system can run the latest software. Microsoft suggests a computer with a processor of 1GHz with 4GB of RAM and 64GB of memory; however, a great experience will require higher power and dedicated equipment.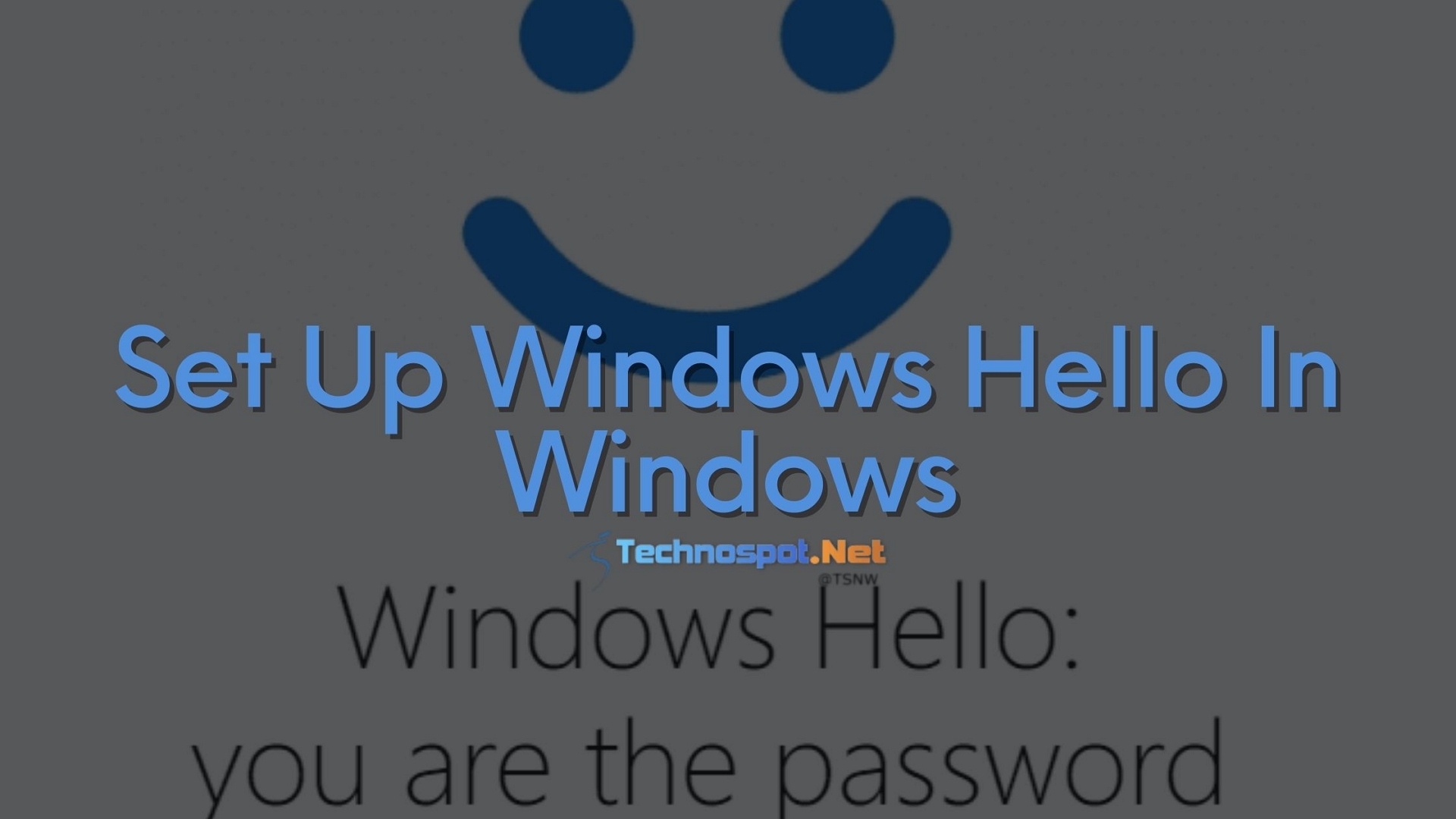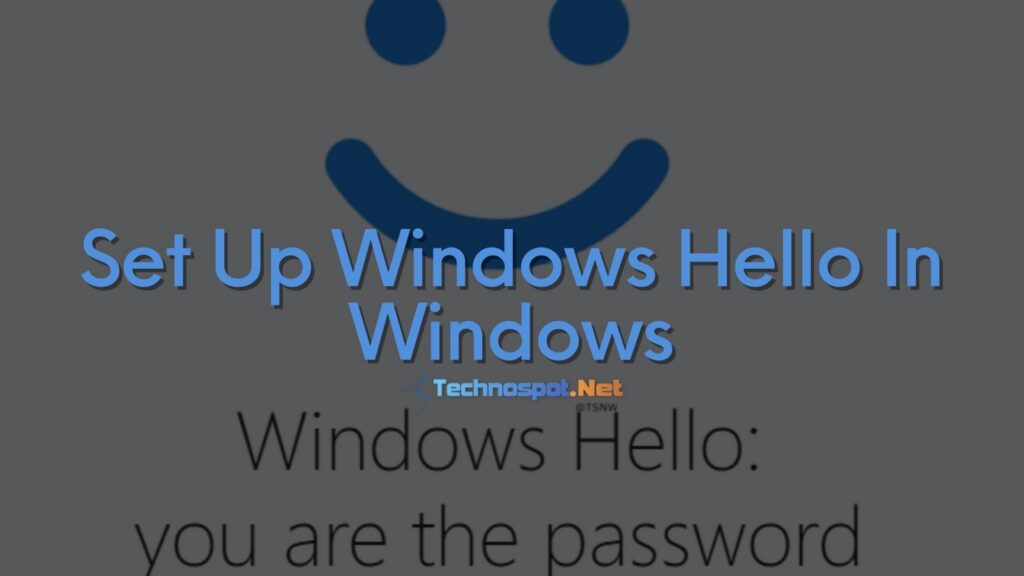 Setting Up and Using Windows Hello in Windows 11/10
Windows Hello is a security feature that allows facial recognition by scanning the eye. In addition, it also will enable fingerprints. Therefore, creating a password to sign in to your computer or any app or website is not required.
At present, Windows Hello has three different options for authentication. These includes:
Windows Hello Face
This Windows Face Recognition feature will allow you to access your laptops or computers using external and in-built webcams. Follow the directions as given on the device screen to set up Windows Hello on it. To recognize your face, it is necessary to align your face with your fingers and then shift it.
Windows Hello Fingerprint
It can be used to perform fingerprint recognition. A lot of laptops today come with an inbuilt fingerprint scanner. Most laptops incorporate their fingerprint reader into the power button. However, some laptops may have it in the touchpad or beneath the keyboard. To recognize your fingerprint, you will need to tap repeatedly on the sensor to register your fingerprint in various positions to identify your fingerprint.
Windows Hello PIN
If your Windows Hello PIN is yet not set up, you must do it first. This PIN is only a number. However, you can also use numeric, alphabets, and alphanumeric pins for signing in. You will likely want it to be distinct from the password for your Microsoft username.
Once you have set up your Windows Hello face, finger, or Pin, you can add another biometrics or pins so that multiple users can open use that device.
How to Setup Windows Hello on PC or Laptop
If you purchase a brand new PC, and yet you haven't set it up, the most efficient method to get it set up is to do it during the initial Windows installation procedure. After you have created a Microsoft account, you will be able to set up a PIN, which is required to enable Windows Hello. If your computer is equipped with Windows Hello hardware, you will be able to use either your fingerprint or face to activate Windows Hello. Then, follow the below-given process for set up: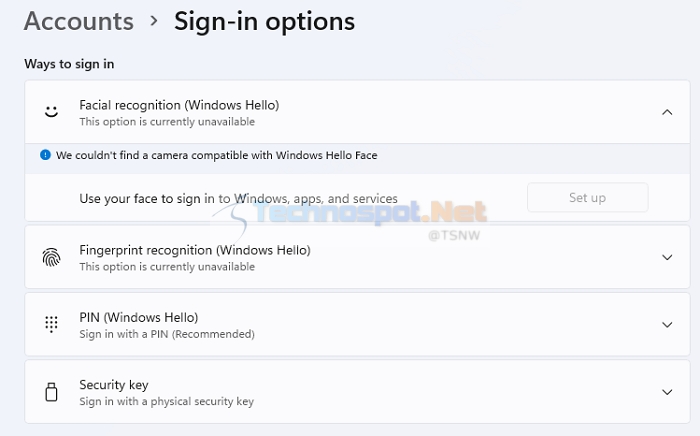 Open Settings.
Go to the Accounts page.
Click on Sign-in options. All the settings of Windows Hello are available at the top of the page.
Select the Windows Hello device you have and then click Set-up to start. If fingerprint and facial recognition are not present on your device, you will receive a notification. It will tell you whether your device is equipped with any of these features integrated into it.
Set up your Windows Hello login face or fingerprint or Pin.
Now you can utilize your fingerprint or face to unlock your computer. You can use Windows + L keys to access your lock screen and then test the functionality of Windows Hello. Tapping your finger to the fingerprint reader or being in front of the camera will unlock your device automatically from now onwards.
If you do not want to use Windows Hello, you can go back to the same page under Settings and uninstall Windows Hello as a sign-in option. It is possible to continue using the PIN to substitute your Microsoft username and password password password. However, it can be more secure and simpler to remember.
That's it. When you've completed all of the steps above, Windows Hello is set up on your device, and the next time you will want to type a pin or password, it can be easily used.
Is Using Windows Hello Must On All Windows 11/10 Systems?
When you try to boot into your Windows 11/10 computer on the first attempt, it will prompt you to create the Windows Hello creation, but there's an alternative to skip this procedure, and it is up to the user to go for it or ignore it.
Is Windows Hello Secure To Use?
Windows Hello uses fingerprints or facial recognition technology to safeguard your device, not just a six-digit PIN. It ensures that your credentials aren't stolen.
What Kind of Camera Is Required for Setting Up Windows Hello?
For using the Windows Hello biometric feature, you will need one of the Intel RealSense or 3D Camera support for your device, or you can also use an external webcam. Additionally, not every camera will be compatible in conjunction with Windows Hello.
The Windows 11/10 operating system, Microsoft has bought in numerous changes and has introduced various options, and Windows Hello is one of them. It provides biometric security to your Windows device. Windows Hello is similar to opening your iPhone or Android device using biometrics. With this feature, you will be able to use different methods like face, fingerprint, or PIN of logging into your device, apart from using a highly safe and secure password.