Parental control is a necessary step required to limit your kid within safe boundaries and usage of Windows and internet.  Windows 7 comes with a parental control which is an effective way to keep your kid off the trouble.
First start by creating an account for your kid. Parental settings are applied on per account basis.
Once you are done select the account which is listed under Parental Control under Control panel Control Panel\All Control Panel Items\Parental Controls
If parental control is already enabled you would see it being mentioned for the user.
Select the kids account.
Here you would see various settings like :

Time Limits: Which lets you set duration for each day of the week i.e. You can set it for 2 hours of usage after your kid is back from school.
Allow and Block specific Programs.
Games :  Which games the kid can play. I will dive into more details in here.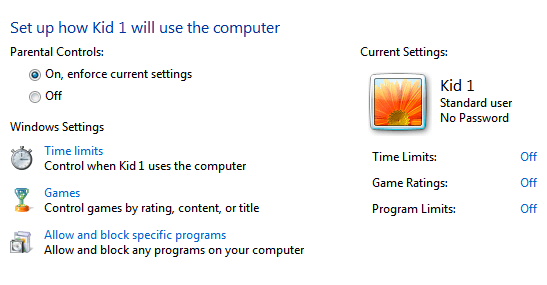 Most of kids get on computer to play games which is even mouth tempting for people at any age. However if you want to restrict your kids from playing adult games or block specific games, The Games's restriction is a perfect way to deal with it.
Game Restrictions can be applied in two ways. First is by restricting the program itself and secondly by using Game Ratings system.
You can restrict kids not to play any games which do not have any ratings.
You can select an age group restriction i.e. Teen, Adult, Early Child hood, everyone 10+ etc which has been defined by Entertainment Software Rating Board.
And lastly you can block content types which include alcohol, adulatory, intensive voice, language used etc.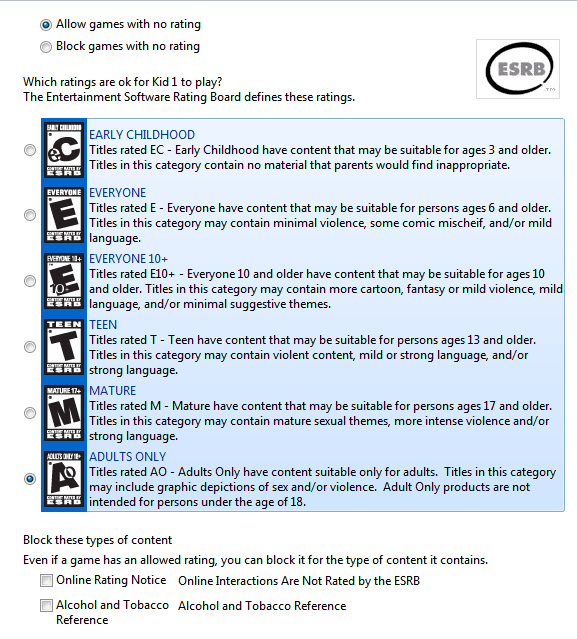 I did not find anything effective on how to do a parental control for Internet in Windows 7 now and is my to do task for next post on this topic.