When you want to access a website on your Firefox from your phone, which you usually do from a PC, you might need to remember the URL. Further, if you have a profile set up in it, then you don't know the login details. You would have bookmarked the site or saved the password using Firefox for PC. This is where Firefox Sync features come into the picture. It allows you to sync Firefox across devices. This guide will share how to setup sync in Firefox on Windows, Mac, Android, and iOS.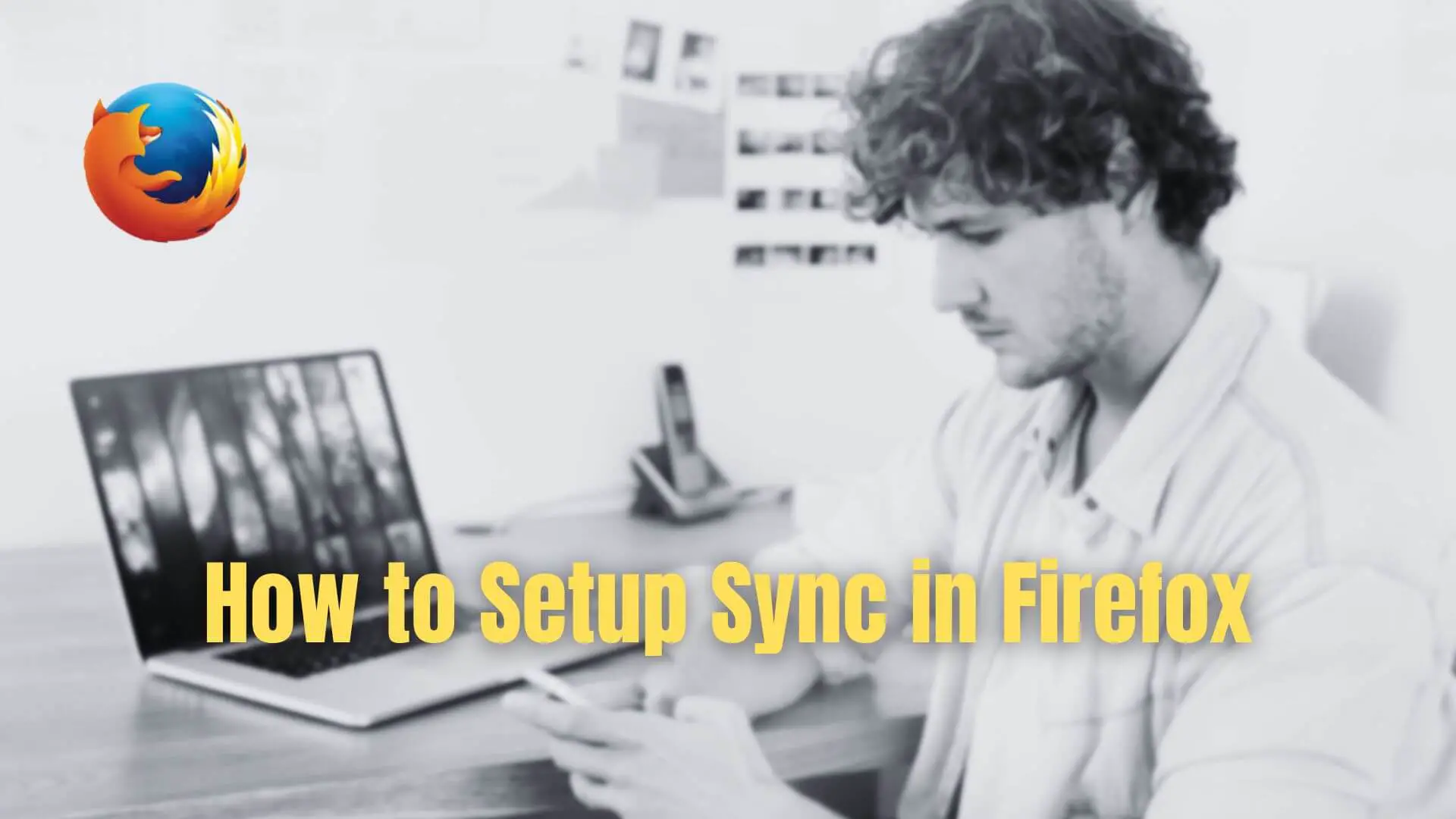 How to Setup Sync in Firefox?
There is a comprehensive method to follow while setting setup sync in Firefox. To avoid confusion, here's a 4-step process to do so:
Create a Firefox Account
Select the Data that you want to Sync
Setup Firefox in the Device where you want to Sync
Disable Sync for Previous Devices Connected with Firefox
Let's dig into the details!
1] Create a Firefox Account
Before setting up Sync, you must ensure you have a Firefox Account. If not, then here's how you can create it!
Here's how you can do so:
Tap on the three-lined icon at the top-right to open Menu.
Press the Sign In button, which you see near the Sync and Save data option.
A new tab opens, where you have to press the sign-up or sign-in and complete the process of your choice.
Further, add a password, input your age, and select Create Account.
After creating your Firefox account, you must configure the sync per your preferences. The following steps will help you proceed with it.
2] Select the Data that you want to Sync
After creating an account, your next step should be choosing what to sync. Many of you would want to Sync only specific data rather than all. Hence, it's crucial to select. The methods for doing so differ on PC, Android, and iOS.
Here's how you can do so for each of them!
Windows PC or Mac
Open Firefox, tap the three-lined icon to open the Menu and go to Settings.
Select Sync to open Sync Settings.
You will see Syncing: ON; click on Change near it.
A Choose What to Sync popup opens; click on the checkboxes to select your preferences.
Now, click on Save Changes to save them.
Android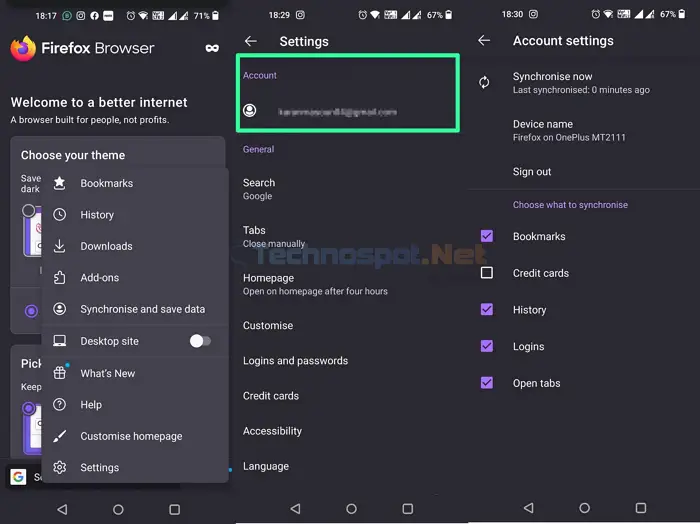 Head over to Firefox and tap on the three-dotted icon.
Select Settings from the Menu And navigate to your Account.
Select what you want to Sync in Account Settings.
Choose What to Sync checkboxes and done.
iOS
Tap on the tri-lined icon at the bottom-right of the screen to open Menu.
Select Settings and tap on your email id beneath your Firefox account.
You will see a list of things you can sync and toggle on per your requirements.
It's noteworthy that Firefox automatically saves these sync changes. However, we recommend you refresh the browser to save the changes manually afterward. It's because an unstable internet might disrupt the process of automatic syncing.
3] Setup Firefox on the Device where you want to Sync
Since you have set up sync, you can access the information from any other device. To do so, you have to configure your profile here, also.
Follow the steps given below to do so:
Download Firefox on your device and open its Menu
Press the Sign In button and sign in with your profile where you had set up the sync
Tap on Sync Now, and it will sync all the data that you select.
Thus, you have successfully set up sync on Firefox.
4] Disable Sync for Previous Devices Connected with Firefox [Optional]
If you have used Firefox sync before, you would know how to do so. However, there are instances where you won't need to Sync on your devices anymore.
If you have synced for any previously connected devices, you must log out of your account from that specific device.
Follow the steps given below to do so:
Open Firefox
Select your Firefox account and press the Sign Out button.
The Sign out of Firefox account dialog box appears; click Sign out from.
While doing so, ensure that the checkbox says Delete data from this device (logins, passwords, history, bookmarks, etc.) Is disabled.
The Conclusion
You would have gotten your answer when looking for how to set up sync on Firefox! Doing so is simple and involves a series of steps. You must create a Firefox account, choose the items you want to sync, and save changes. Further, log in with your Firefox account from that device whenever you want to access the synced data.