Last week I got my Zune and would be sharing how to configure Zune with Windows 7, Syncing it etc.   Zune has Wireless inbuilt and you should take advantage of it to synchronize songs, pictures, videos and podcast without connecting it through wire. However  since Zune doesn't have a way you can do it directly from it you will need to set up wireless sync for the first time using the data cable that comes along with it. Here are the steps :
Getting the software :
Before connecting your Zune to your PC, first get the software required to configure and install Zune drivers from here. Installing it is very simple and will take few minutes.
Getting the Initial Setup done :
Once installed connect your Zune with PC using the data cable. In case you don't have any charge on your Zune, connect and leave it for charging for at least 2 hrs. Once it is charged turn it on. Launch the software if it is not running already and this will make sure that correct drivers are installed in your computer.
This process will also check if your Zune has the latest software installed. When I connected my Zune software was upgraded which took around 30 hrs but could be less for you for when depending on your internet connection.
Setup the Wireless Sync :
This process is very easy and I will just talk about how to set wireless sync and not how you sync. Turn on the wireless network you wish to sync with, preferably your pc. Now go to Settings > Software > Wireless Sync in your Zune software. The settings menu is available on top right.
Now click on Setup Wireless Sync which will start the network search.
If you have properly turned on your network, a list of available network will be displayed and you will need to select the right network. Make sure you know the SSID of the network.
Click on the network and you will be prompted for password. Key it in and if the password is correct you should be connected.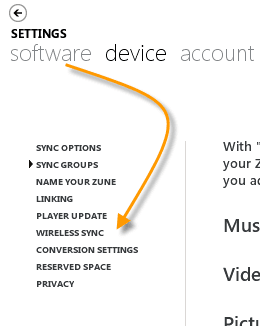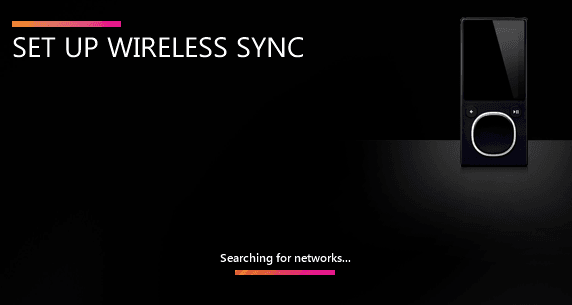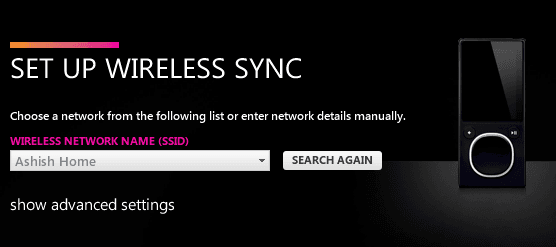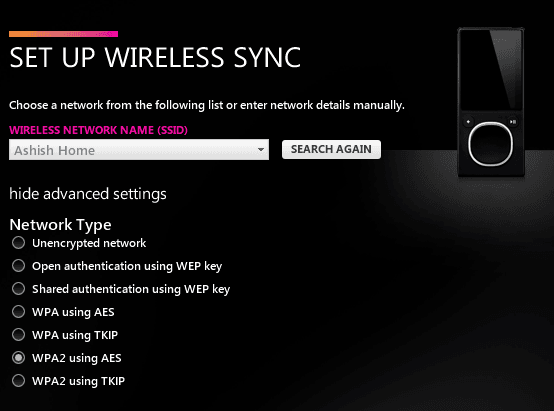 Turning on the Sync from the Zune :
Once you had configured it from the software it will turn of your wireless of Zune. Unplug it completely and grab your Zune.  In the Zune  go to Settings >Wireless
Turn Wireless ON.
Go to Networks find and join it. You will not be prompted for any password here. This is because when you were setting up the network from the PC it was already pushed into the device memory.
Next go to Sync and select  Sync with PC.
Thats it the synchronization will happen and you will have the songs, videos etc in your computer.
Let me know if you get stuck anywhere.