Today, 19th March is the day when the Moon will be close to earth  in 10 years and for photographers, Super Moon is the best time to take a great shot of the moon.  Though  most of the people are fearing what effect its gonna cause on Earth , like Big Tidal waves and all and probably assuming what natural disaster it can cause , after The Tsunami Japan faced a few days ago . But we are looking at the Positive side , this gives us chance to capture the White Beauty into our Cameras .
Hi People this is Kuntal Gupta from Kolkata , I am lot into photography and super moon was the best time to start.  I will be sharing some tips for you related to Photography in coming weeks but for now lets get started with this one.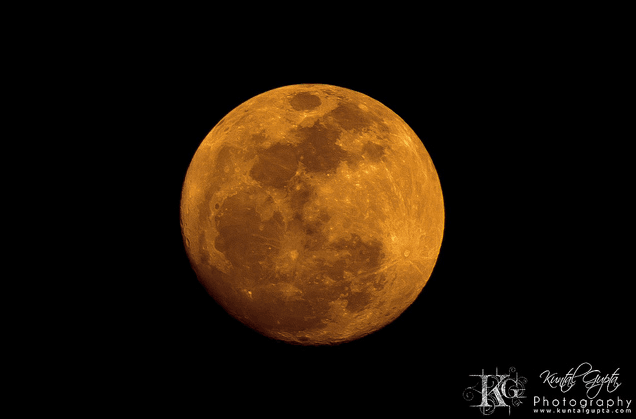 My Setup to shoot the Super Moon :
I am Assuming that you have got a dSLR or a Digital Camera with Manual Controls , as with Full auto modes on most of them its difficult to get the right image after a single click , so I will tell you what I did to get a good shot of the Moon .
Tripod
Canon EOS 500D
55-250mm with UV HAZE (Though not required , but I keep them placed all the time)
and a Shutter Release Cable (If you ask why then the reason and setting are below)
Now I am assuming that for a dSLR you will have a Good Telephoto (Zoom) lens for us to achieve this , for those who Own a Point and Shoot , a Camera with Mega Zoom is acceptable. Also we will be needing a Tripod and thats important as at Larger Zoom Level even a shake of 1mm at my end can result into the moon getting shook in Image for over a meter (or Kilometer for some really giant Zoom Lenses) , So a Tripod !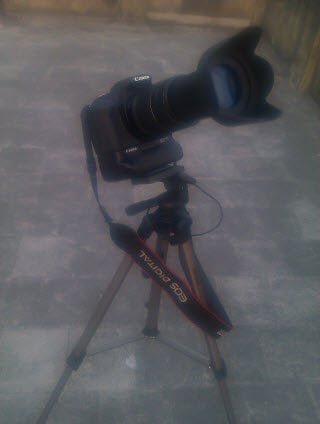 Without a Tripod it will be hard for you to keep the Camera Stable , again for a Point and shoot there isn't much of Shutter Release available , so you have to use the Self Timer (upto 10 Seconds to negate the Shake caused by you when pressing the Shutter)
Instructions to shoot the Super Moon :
Step 1:
I placed the the Camera on Tripod , Disabled the Auto Shut (Power) Off in Camera , as I was going to shoot in Live Mode with too much of constant adjustment going on  and placed the Shutter release in place.
For Point and Shoot you can use the Large Display (Live View) for Composing your Shot.
Step 2 :
Now I Shot at Extreme Zoom (250mm – For my Lens that is ) With full extended barrel. The difficulty was the Wind making the lens vibrate much.For most dSLR Lens its a pain.
Point and Shoot being compact in size has a Plus point that way .
Pro Tip : If you tend to use your Digital Zoom after Attaining the Optical Zoom at Highest level , then Simply Don't ! . Digital Zoom Works by simple technique of Cropping the Image what you get at Max Optical Zoom. So basically its the Max Optical Zoom of your Cam with a portion (Depending on the Zoom) cropped out . You can do this later, for most of our use , don't use Digital Zoom at all , it makes the image crappy by cropping and stretching it.
Step 3:
Then I had set my camera to Manual Mode. You can do the same by going to the 'M' Mode in your Camera , M for Manual in both Point and shoot and dSLRs.  Then do the settings as below :
Set the ISO to lowest value available for your Camera because the lowest means more fine details of the Image while the Highest means more grainy Image. For me ISO was set at 100.
Next comes Aperture, which was set between 32-19  (Sweet spot was around 22+) – You can go lower . I did this because I wanted the Moon to be in extreme focus so closed the aperture as much I could.
If your Camera or Lens doesn't support this much higher Aperture value then no need to worry. Keep the values at medium amount , say if your camera has a minimum aperture value of 3.5 (Wide) and 5.6 (Tele) then You can go to around 12 (or Higher) in most cameras , keep it around 9-10 or calculate the medium value yourself.
Step 4:
In Live View , I tapped the Zoom Button twice to Zoom the Image 10x , If your Camera allows you to zoom digitally for Composing , Do it , this is not for taking pictures at Digital Zoom though , this is to get the sharpest Focus we can attain.
Focus was set at Manual as the Target was very tricky for the camera. The Auto focus of Camera often fails at such subjects so Manual Focus is preferred and after you set the focus to manual , keep tweaking the focus till you get the sharpest Image ,
Also for me the Metering was set to Spot Metering , this is how the Camera Understands how to calculate the exposure values .
Adjustments :
At this setting the Camera was telling me that the Image was under exposed (Point and shoot won't tell you , you will be able to know if a Image is Under exposed if the Picture comes Darker than what you call a perfect shot ) . So I had to set the Shutter Exposure to around 4~1(or1/8)  Seconds (Fiddled with Aperture also) again do fiddle with the Shutter Speed and see if the Moon isn't showing up too Bright (Almost white).
If it is pure white , then we would need to make the white a bit greyish , what we call In technical terms as Under exposing the Image , this is done in case you wish to Bring up details when you are Post Processing Images.
P.S : The Tripod what I am using resembles one like Simplex 333 , So its light , the issue is with the head , the Tilt and Pan head is a pain for minor adjustment , so If any of you haven't bought your Tripod yet then I Suggest Buying a Strong Tripod preferably with a Ball and gear head , the adjustments are just 'makkhan' with it 🙂 .
By Doing this I was able to get a few good snaps, now these settings will work for most of us.  So once all the setup is done, stop reading , grab your Camera and go shoot !
After you are done , do Share the Images with us by linking them in comments , also If you have any doubts regarding anything I wrote above , do let me know through comments and I will try to answer ASAP . I will share Super Moon photographs with you all in this very post tomorrow.
I have this Post as a Note on my Facebook Fan Page, do join me there if you like Photography 🙂 and wish to explore more.