We all are familiar with sorting in excel most of the time but what if you have a table in Microsoft office Word and there is no reason for you to use Excel at that moment . This question came up while discussing with my friend online and he asked why Word doesn't have sort. Well even I did not knew at that time but yes Word has sorting feature, just too small to find it.
Where is sorting feature in Microsoft Office Word 2007 ?
In ribbon menu > Home Tab
Under Paragraph Section look for small icon which has A-Z written and with an arrow mark.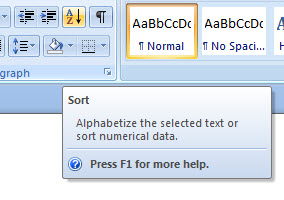 How to use sorting feature in Microsoft Office Word ?
Step1 : As we are talking specifically about Tables here so let us start with that. Create a table which has proper labels i.e. Label at top for every column.  The header labels will act as sorting parameter and type of text i.e. numerical or alphabets.

Step 2: Now select the table and hit the sort button which I mentioned earlier in the post.The sort window which you should be seeing now has Fields which act as parameters and Type which act as type of value in the columns which can be number or text or date.
Now since we are sorting labels here, select the option of " My List has > header row ". This makes the sort function to treat the first row as Fields. You should be seeing them appear once you have selected the option mentioned above.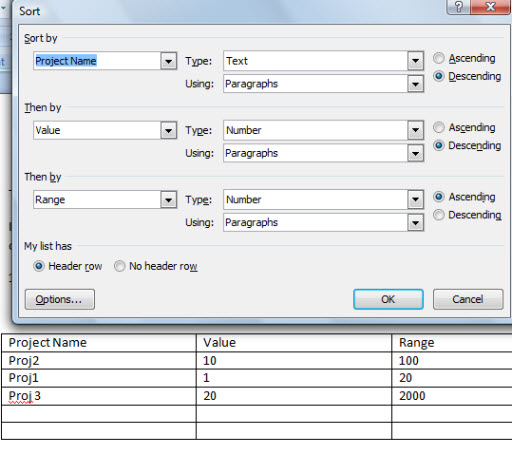 Now its easy, just select the proper types and labels with option of sorting ascending and descending option. You are done.!!!
Now since you know how to sort in office word 2007 here is small task for you.
How do you sort a list with no numbers i.e. You made a huge list but you want to re-arrange it without cut, copy, paste.
How to sort paragraphs ?
If you can do this share it with us in comments and we are rolling out more features like this in this coming week. Just stay tuned!!!