Windows get updated frequently like 4-5 times a week and with patches and add-ons. We generally use Windows automatic update feature, but what if you have to reinstall the system again. All the updates of Windows is lost. But now there is a solution. Some of the updates issued by Microsoft, such as administrative updates or network do not require an Internet connection present during the installation process. The user, however, will have to answer to a series of (for the most part identical) questions. Even these are very annoying. In this post, we will share how you can download and install Windows Updates Offline.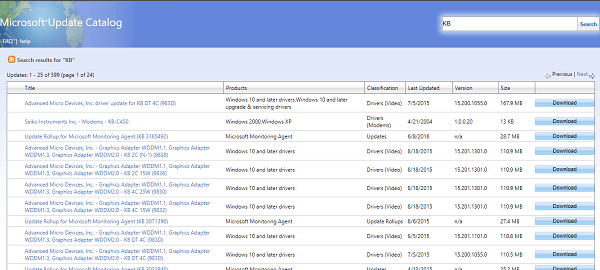 How to download and install Windows Updates Offline
There are two ways to download and install Windows Updates offline. First is Windows Update Catalogue and second is through WSUS tool.
1] Windows Update Catalogue is a collection of updates where anyone can download and install Windows Updates offline. However, the only trouble is you need to have a list of updates which was available before you perform a Windows reset. You can even choose to put them on a DVD or USB drive and install them one by one.
Go to Windows Update catalogue download and choose the version, language and type Downloading will take time as it will depend on which type you have selected. You can choose among 2000, XP, Windows Vista, Windows 7, Windows 8 and Windows 10
After your download is complete, extract the file's contents
Run the files one after the other, and install the updates. Even if you do not have an active internet connection, the installation will work without a problem
Windows Update Catalogue provides a listing of software updates. It is usually meant for corporate who needs to distribute updates to multiple computers, but you can also use it.
2] WSUS Offline Update is a handy tool because it can build a redistributable package which one can use on any number of computers. It downloads updates for Windows and Office from Microsoft and creates a package.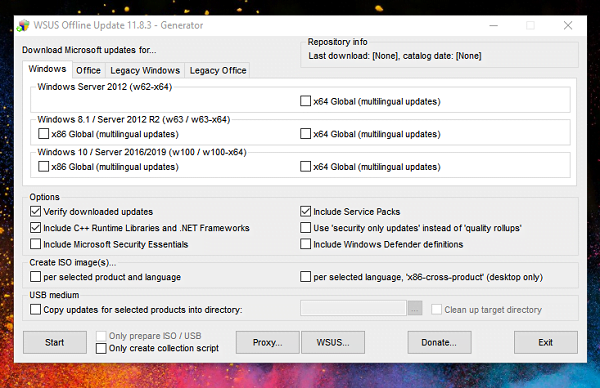 Download the software from here, and run the UpdateGenerateor after extracting it.
It will display options in various tabs—Windows, Office, Legacy Windows and Legacy Office
You can choose between Windows Server, Windows 8.1, Windows 10, and between x86x and x64.
Once you are done with making choices, make sure to choose between these options to include or exclude

C++ runtime libraries
Microsoft Security Essentials
Download only security updates
Create ISO images or USB medium
Once you are done making choices, click on Start and it will open a command prompt and execute the script, download the updates. Later you can use the files to install office offline depending on the choices you made.