Problem Reporting is one of the feature of Windows  which collects data when the installed program behaves abnormally. This data is sent over to Microsoft anonymously and when a solution is find you are notified through action center. We have talked about it in detail here.
Now what if you have programs for which you do not want Windows to collect any sort of data. This is useful when you are developing a custom application for which problem reporting does not make any sense. Action Center allows you add such programs and applications as exceptions.  Below are the steps :
First find the executable ( EXE ) of the application. Copy the path from the browser window.
Type Action center in Start Menu.
Click the Action Center item displayed in search result. You can find this in Control Panel also.
Select Change Action Center Settings.
Under Related Settings of the next window, choose problem reporting settings.
Here you will find a link, Select programs to exclude from reporting.
This will take you to the exception list where you can browse and add a program.
Use the copied path to directly go to the application and select.
Click OK and save the settings.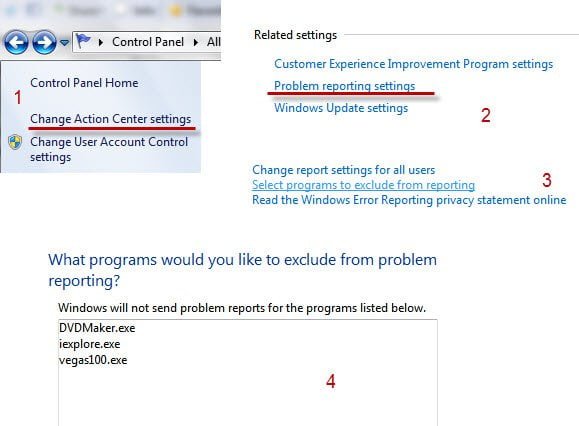 Done this, Windows will no longer track that particular program. Below is a video demo of what I have said above.
Video ( Direct Link )
Related : How to record and report problems using Windows 7 Problem Step Recorder