Do you want to share your chats, capture details, or record essential discussions and procedures? If so, you would use another mobile to capture images or videos of your phone's screen for any of these tasks earlier. However, such pictures or videos were blurred and needed better color quality.
For this reason, screenshots and screen recording features were introduced in smartphones like Android. In this article, we will tell you how to take screenshots & record videos of Android phones and the best tools.
How to Take Screenshots & Record Video on Android Phones?
Most Android Phones have built-in features to take screenshots or record videos. But, the technique for doing it can be different. For instance, on some phones, you can press the power button for a few seconds; in others, you need to scroll down three fingers on the screen to capture screenshots.
To capture screenshots in Android for OEMs like Samsung and One Plus
Press the volume down and power button simultaneously for a second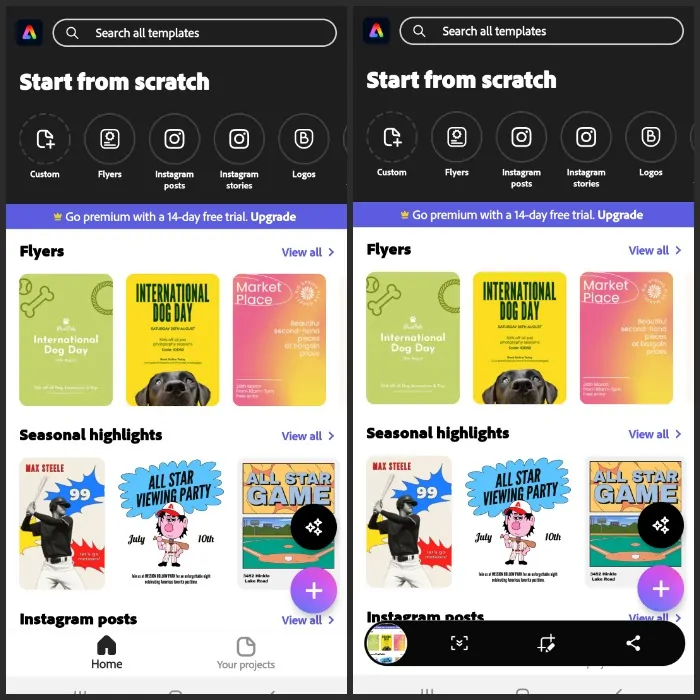 It will notify you of the screen capture.
For screen recording on other Android
Swipe down from the top of the screen to open Quick Panel
Navigate and tap Screen Recorder
A prompt box appears to select Sound Settings and then tap Start Recording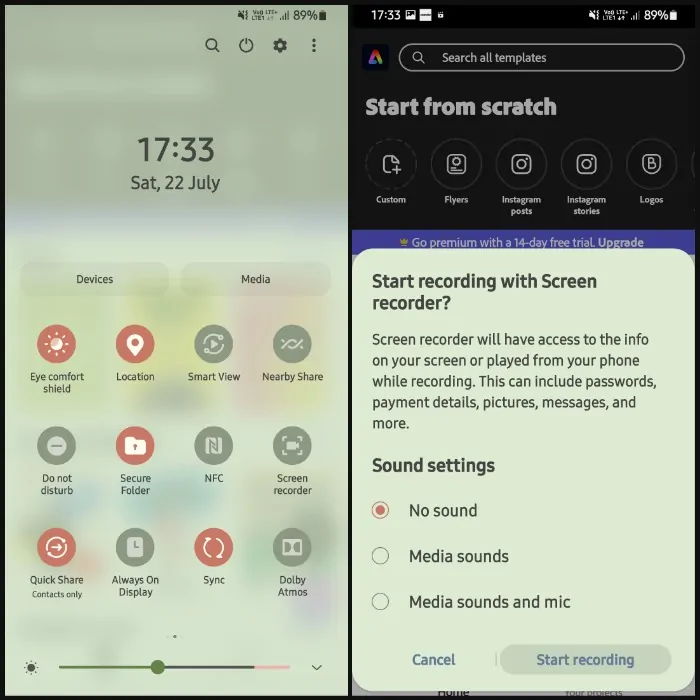 A countdown displays before the recording starts; you can prevent it by pressing the Skip Countdown button
After recording, tap the "■" shaped icon floating on the screen to end the recording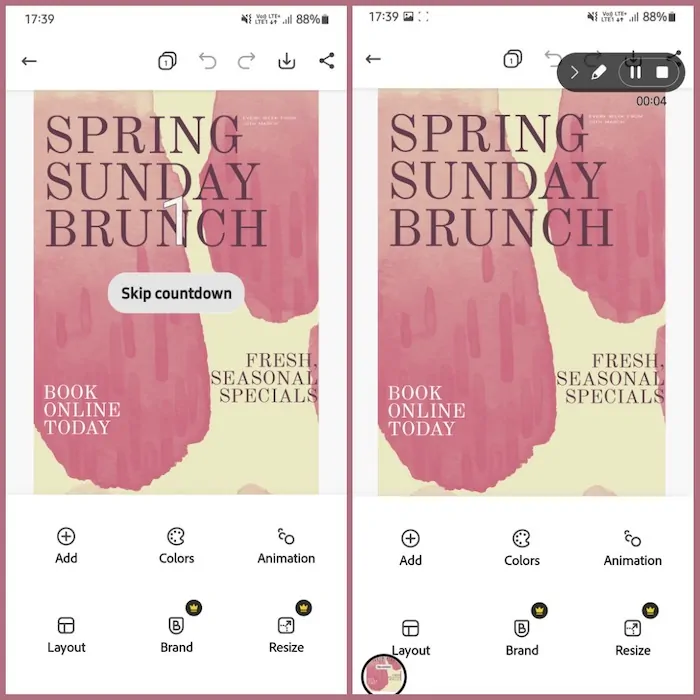 Yet, many times, these actions are difficult to manage and control. Moreover, it would be best if you had more options to edit. To overcome these shortcomings, you can use external tools to make your task easy.
Best Apps to Take Screenshots and Record Videos on Android
There are several apps to take screenshots and record screen videos on your Android.
But, we have listed the five best tools that will help you quickly take high-quality videos and screenshots. You would also have multiple options to edit or share it.
Below-mentioned is a list of the same:
X Recorder
Screenshot & Screen Recorder
Screen Recorder by Vidma
Pro Screen Recorder Screenshot
Loom
Let's dig into the details!
1. X Recorder
Are you looking for a tool that will help you take screenshots and videos without watermarks?
If so, you must use the X Recorder, which helps you easily capture smooth, high-quality images and videos. It does not have any specific time limit for recording a screen video. Moreover, it has a simple way to begin, pause or stop video recording.
Tap on its floating button to perform these functions and record HD videos. So you will get all the essential detail in a video discussion or call.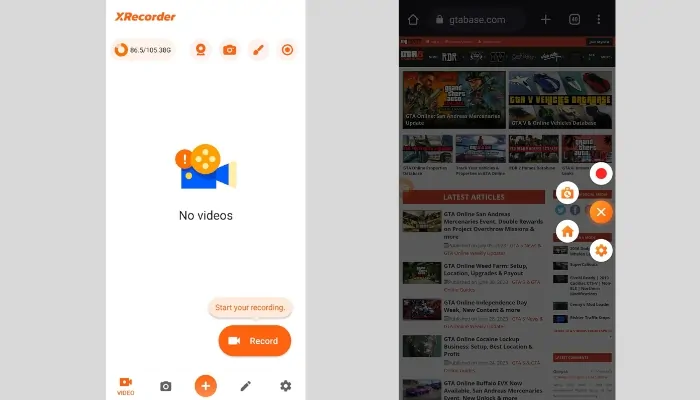 Features
Record gameplay- It helps you record your games by saving a video of your performance.
Captures Internal audio recording without noise- You can easily capture video calls or meetings with clear audio and eliminate external noise.
Export Full HD video with custom settings- Once you are done with recording, this tool helps you easily export the video in Full HD Quality. It supports 240p to 1080p, and 60FPS, 12Mbps speed.
Floating window with control buttons- It adds a special floating window panel on a screen to help you control your video recording experience.
You can check it out here.
2] Screenshot & Screen Recorder
Are you looking for a tool that helps you take a screenshot and screen recording with a single tap?
Screenshot and Screen Recorder is a tool that helps you capture and share screenshots or videos with a single tap option. Also, it enables you to edit those videos easily after recording them.
The tool records high-quality videos and screenshots. Moreover, it puts the record button in the notification section providing easy access.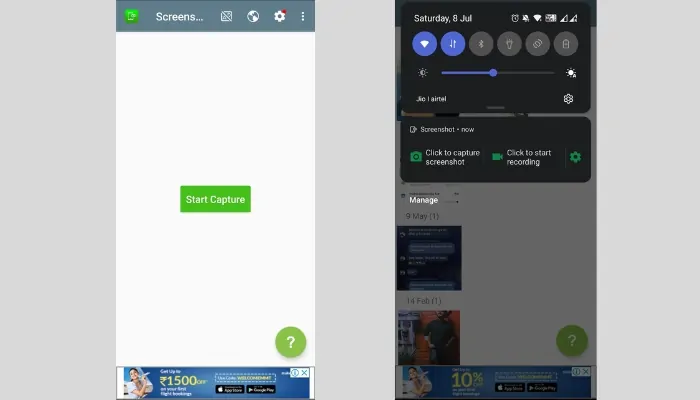 Features
Browse and edit History- If you need to access a previous screenshot, it lets you browse and edit its history.
Option to add different elements- You can easily add stickers, music, or text to the videos during editing.
Floating button to take screenshots- For capturing screenshots, it puts a floating button on the screen for quick use. It is optional to use it.
You can check it out here.
3] Screen Recorder by Vidma
Are you looking for a free screen recording app?
If yes, then you must try using a screen recorder by Vidma. It is a game and screen recording app. The tool enables you to capture live HD videos. In addition, it captures videos with watermarks for a clean recording.
Vidma allows you to clear sound without noise, which makes it useful for gamers, vloggers, and storytellers. Moreover, it puts the record button on the screen to help you quickly capture the exact moment in the screenshot.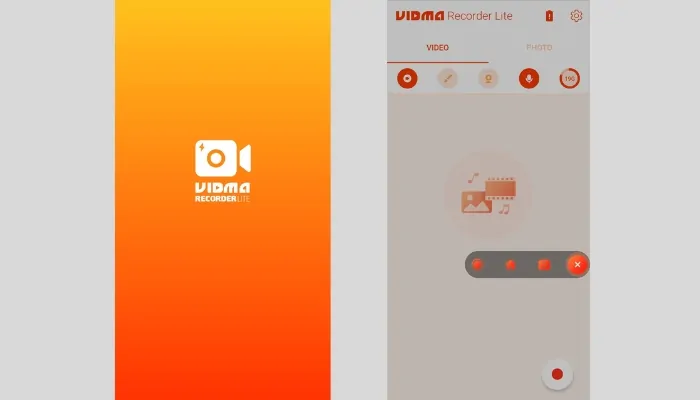 Features
Free screen recorder- You can access all valuable features like video resolution, frame rate, and video quality without spending a single penny.
Supports facecam recording- You can record your screen and visuals from the facecam simultaneously to record interesting reaction videos.
Improved privacy- Vidma prioritizes security and privacy. So, all your screenshots and videos are stored in your local storage. No one else has access to your recordings.
Easy share- You can easily resize your video using it. Plus, it helps you share HD videos on any social media platform.
You can check it out here.
4] Pro Screen Recorder Screenshot
How about a tool that helps you customize the frame rate and resolution of your screen recording?
Pro Screen Recorder screenshot is a tool that enables you to customize the frame rate and resolution of your screen recording. It is a suitable high-quality recording tool, especially for gamers, content creators, or general users.
It has a simple user interface that makes it easy to start, pause and stop screen recording. In addition, you can customize your record settings and share them easily.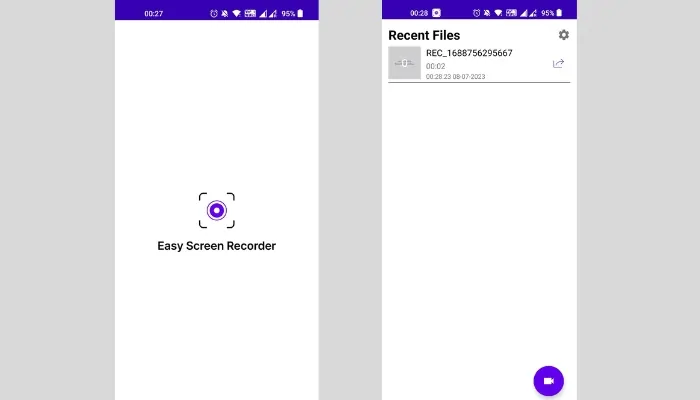 Features
One-tap use- You can record screenshots and screen recordings with a single tap.
Multiple Edit options- The tool helps you to easily edit your screen recording by offering numerous built-in features like cropping, trimming, and adding text and stickers.
Easy Share options- You can easily share high-quality screen recordings on social media, messaging apps, or email.
You can check it out here.
5] Loom
Are you looking for a screen recording tool that helps you work with your team?
If so, then you must try using Loom. It helps you record the screen and camera with a single tap and coordinate with your team. Loom is one of the most popular screen recording tools because of its collaboration tools.
As it helps you work with a team, you can add time-stamp comments to share your reviews or feedback with them. So, it quickly saves your screen recordings and generates a single link to help you share them anywhere.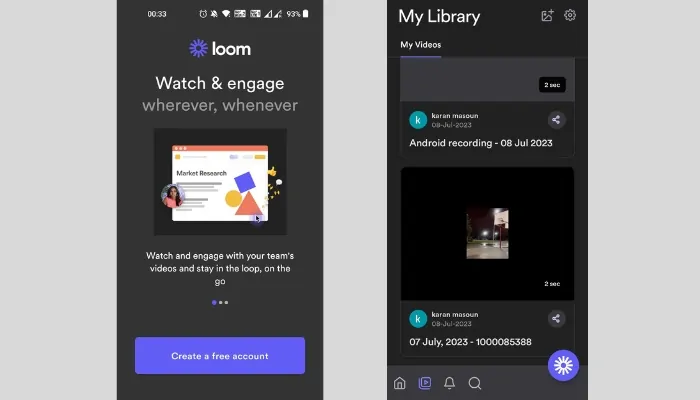 Features
Automatic save option- It automatically saves videos on your cloud, and you can generate its link to share.
Notifications on updates- The tool alerts when anyone from your team views it or leaves any comment or reaction.
Change playback speed- Based on your preference, you can easily change the playback speed of your screen recordings.
You can check it out Here.
Conclusion
You can quickly screen record your video calls, meetings, games, and content or capture conversations, technical issues, etc, using tools.
Further, they take high-quality captures, eliminating the need for using in-built features; and so you can turn off gestures. If you are a novice, you should go for Vidma Screen Recorder. Else, if you have collaborative needs, then Loom works the best!