WhatsApp is one of the most popular messaging platform which is available on all the platforms. The software supports almost all types of file transfer, allows video and audio calls making its importance in many small business houses. I have seen a lot of small businesses running their work using WhatsApp. That said, even though it is available across all the platforms, it doesn't offer an option to transfer all the WhatsApp data. So if you are switching platforms, there is no way to transfer WhatsApp from Android to iPhone. Thats where you need professional software solutions like MobileTrans – WhatsApp Transfer. It will help you to transfer your WhatsApp between Android and iPhone.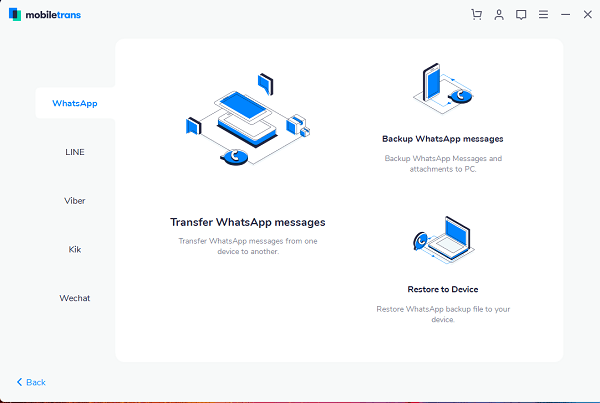 How does WhatsApp Backup work?
WhatsApp offers an inbuilt backup solution that can automatically backup all images, text, and videos. When on Android, it stores all data in Google Drive, while on the iPhone, it uses iCloud. If you are transferring between Android to Android or transfer WhatsApp from iPhone to iPhone, it can restore all the data, but not between the platform. So if you want to transfer data between iOS, Android & Windows Phone, here is how you can do it.
How to transfer your WhatsApp between Android and iPhone
First, download and install the MobileTrans WhatsApp Transfer solution from here. Its a small setup, and will be ready to use soon. Done that, launch the software.
1] Preparing for transfer
Before we go ahead, I will strongly suggest making a backup of WhatsApp using the inbuilt solution. Its only a precaution, and having an extra backup doesn't harm anyone. The  software offers three options
Transfer WhatsApp messages
Backup WhatsApp messages
Restore to Device.
Next, connect both the phones to the computer. Make sure to have WhatsApp installed on the new phone, but do not set it up.
2] Initiate Transfer of WhatsApp Data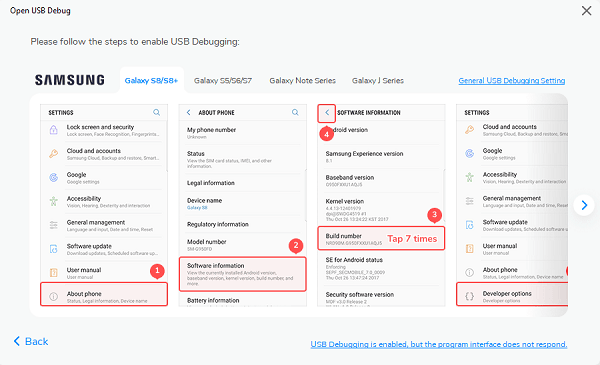 Next, click on Transfer WhatsApp messages, and the next screen will ask you to enable a few settings on your phone. If you are using an Android phone and planning to transfer WhatsApp to new iPhone, then make sure to enable USB debugging. It will allow the software to access app data, which is usually prohibited.
The software lists some of the popular phones, and how you can enable it. If your phone is not on the list, click on General USB debugging setting link to get the steps. The software offers steps based on the Android version as well.
3] Choose the type of WhatsApp data to move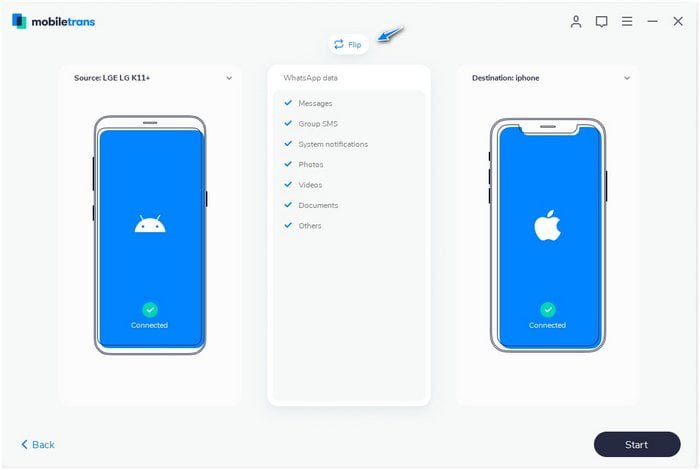 The next screen will offer you to choose the type of data before you start to move Whatsapp from Android to iPhone. The options include Messages, Group SMS, System information, photos, videos, documents, and others.
Click on Start, and it will complete the process in three steps.
Backup data on the target device
Generate Restoration data
Restore
As you can notice, it always creates a backup of existing data and creates a restoration data separately. These data match with the format that works on the iPhone.
If you are planning to move Whatsapp chats from iPhone to Android, you need to click on the Flip option to reverse the process. The only major difference is when you choose to transfer whatsapp chats from iPhone to Android, it will merge both chats, i.e. Messages and Group chats.
How to Backup WhatsApp Messages?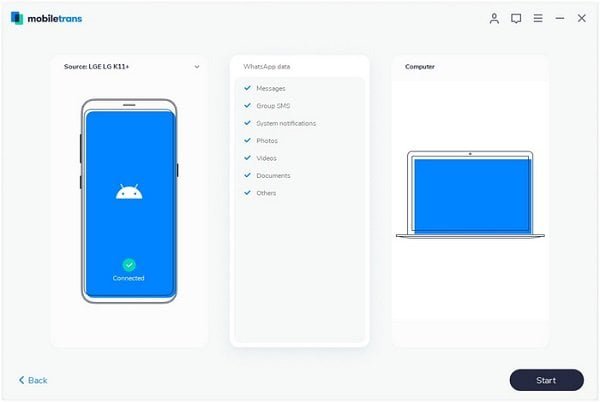 Now that you know that the software can restore WhatsApp messages between platforms, here is an important thing. It can also create a backup of your WhatsApp messages. Its important because if you ever accidentally delete your messages, you can restore it using MobileTrans.
Launch the Software and choose WhatsApp, and then click on Backup WhatsApp messages
This time you would see your phone and a computer instead.
Select the messages, and media type you want to backup and click on Start.
When using the iPhone, you do not need anything extra, but when it comes to Android, there are few manual steps.
The guide will ask you to generate a backup on the Android phone manually. When the backup is complete, it will copy the back to the computer.
Not only you can have an additional backup, but when switching phones, you can just use it instead of waiting for all media files to download, which takes time. If you do not delete anything from your WhatsApp messenger, then restoring can be painful, and it also consumes a lot of data.
How to Restore WhatsApp Messages on your Phone?
You can use the MobileTrans WhatsApp Transfer solution to restore WhatsApp messages from your computer to your phone. It uses the same method which WhatsApp does on its own when it finds a local backup on the phone.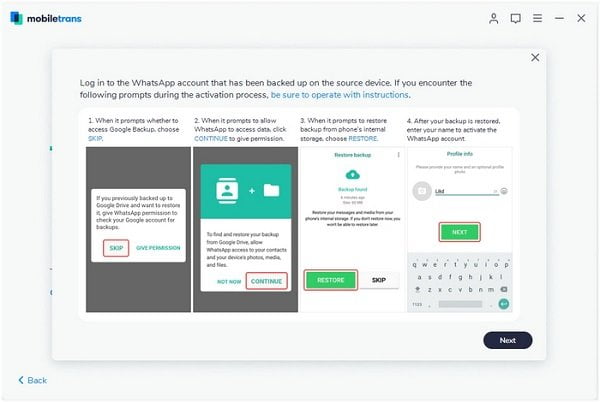 It will copy the backup and place it in the WhatsApp folder. When you register your number, and it matches with the local backup, WhatsApp will restore everything. You will get to choose any previous backup, which is one of the biggest advantages of this software.
Other Features of MobileTrans
Apart from WhatsApp backup, the software also offers the same feature for other social networks which includes Line, Viber, Kik and more. However, if you are looking for only WhatsApp, you can buy it separately.
That said, the software can be used on a daily basis to backup your phone data. You can choose to sync Contacts, Call logs, alarms, apps and more. So if you are switching phones, this can speed up everything. If you are using an iPhone, you can use iTunes backup data to iOS as well.
What makes MobileTrans stand out?
While there are many solutions available, MobileTrans stands out because it makes the whole process lot easier, and offers just more than moving WhatsApp data. During the restore process, it makes sure to take the backup of the existing solution and during restore converts the data according to the format the platform can understand. It makes sure that data is not lost, and you are able to access all your data and messages as you had before moving it to a new phone.