When it comes to performance in operating systems, Windows does have the upper hand. As you can customize your PC as much as you want, you can get a more powerful processor or graphics card whenever you want to improve performance on your old computer. Well, there are other ways as well to utilize the PC's performance resources more efficiently and give a boost to the overall performance. This article will discuss how to turn on hardware acceleration in Windows. The article applies to Windows 11, Windows 10, and any version up ahead.
What Is Hardware Acceleration In Windows?
Hardware acceleration is one of the best ways to take some load off your CPU and assign it to dedicated hardware components to boost the performance of your computer. Previously, the CPU was used to process the information for all the dedicated hardware components on the computer, like the Sound card and Graphics card.
With advancements in technology, the updated GPUs, Soundcards, and other important components can now process their functions without offsetting the load to the CPU. Turning on hardware acceleration boosts the performance by reassigning some processing functions to the dedicated hardware components.
Now that you have a detailed idea of how hardware acceleration works in Windows let's look at how to turn hardware acceleration on in Windows.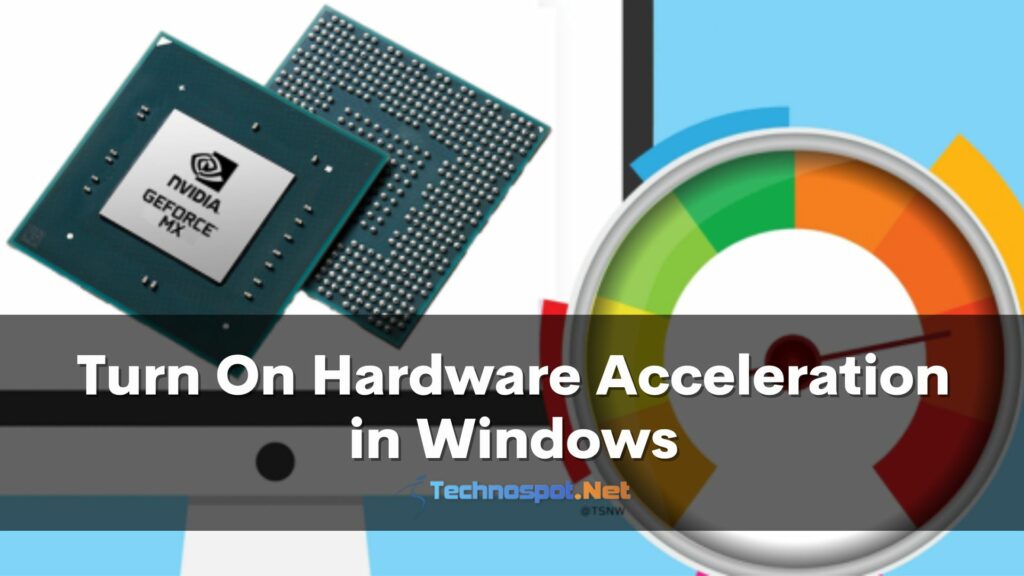 Turning On Hardware Acceleration In Windows
Turning on hardware acceleration is quite an easy feature to enable. However, please ensure that you have a dedicated GPU installed on your PC before proceeding. Here are the methods we'll cover.
Windows Settings
Registry Editor
You will need admin permission to execute these suggestions.
1] Turning On Hardware Acceleration In Windows Using Windows Settings
Turning on Hardware accelerated GPU scheduling using the Windows settings is the most straightforward method. Here's how:
Open Windows settings from the Start menu or press the Windows+I button on your keyboard.
Now, in the windows settings, head over to the System settings from the left pane and then open Display.
Now, scroll down to find Graphics in the Display section and open.
Click on the Change Default Graphics Settings option.
Then toggle Hardware Accelerated GPU scheduling.
1] Turning On Hardware Acceleration In Windows Using Registry Editor
Turning on hardware acceleration in Windows using the registry editor can be a little tedious process. But it is good to know it since this will help you enable the feature when the same does not show in Windows settings, even after fulfilling all the requirements for the feature to be there.
Note: Make sure to create a System Restore point before going ahead. If you accidentally delete or change something in the registry, it can result in unexpected behavior. You can also back up the registry and restore it later in case of any problems.
Here's how to do it:
Open Registry Editor by searching for it in the Start menu.
Now, in the Registry Editor, head over to the following path:
HKEY_LOCAL_MACHINE\SYSTEM\CurrentControlSet\Control\GraphicsDrivers
Now, you will find a D-Word entry named HwSchMode. If the same is not present, right-click on the empty area in the destination folder, and create one. Choose D-Word 32-bit from the context menu.
Once done, double-click the HwSchMode D-Word and change the value data to 2.
To disable hardware acceleration, you can set it to 1.
Conclusion: 
Microsoft keeps adding new and useful features to Windows, which many users usually miss because of a lack of knowledge. It is always recommended to check the Windows updates changelog once in a while to know about new OS changes and bug fixes. We hope you found the article insightful; please make sure that you share this article with everyone.
Does Hardware Acceleration Affect Battery Life In Windows?
Hardware acceleration in Windows does not considerably affect the battery life as it only leads to the more efficient allocation of the PC's resources. It can improve the battery life in some cases. But the net effect is almost insignificant.
Is Hardware Acceleration the Same As Software Acceleration?
Hardware acceleration is not the same as software acceleration. Software acceleration improves resource distribution and performance by prioritizing crucial processes and giving them access to more resources. While Hardware acceleration uses the processing capabilities of dedicated hardware components to take some load off the CPU.