In the How to tweak your Vista performance Part -1 of this series, we covered the following vista tweaks to increase performance A) Disable some useless startup items first. B) Disable the not required services. C) Disable UAC (user account control) in Windows Vista. D) Disable Network Printer Search. Now let's move on to a few more tweaks to increase the performance of Vista.
UPDATE: New article written on Vista Tricks and Performance.
How to tweak your Vista performance Part -2
E) Disable Welcome Center
As soon as you install Windows Vista, you are bombarded by the Welcome Center that is designed to help beginner Windows users easily configure their new computers. This new welcome screen is a nice feature the first time you start using Windows Vista but quickly becomes annoying. Disabling the Welcome Center is very easy to do and can speed up your boot as well. How to do it.
Open Run prompt and type Regedit followed by Entering key to open the Registry Editor.

Navigate through HKEY_CURRENT_USER > Software >Microsoft > Windows > CurrentVersion >Run.

Right-click on the WindowsWelcomeCenter key and select Delete.
That's all, the next time you restart, the Welcome Center will be gone.
F) Speed up Start Menu Search
When a user enters text in the search box on the start panel, Windows automatically searches the file index as well. The file index includes all of the searchable files on your hard drive and can be quite large. One way to speed up searching through your start menu applications is to narrow the scope of the search so that it does not include hard drive files. Prevent Start Menu Searches from searching the File index. How to do it:
Open Registry Editor (Regedit) as above.
Navigate through HKEY_CURRENT_USER > Software > Microsoft > Windows > Current Version > Explorer > Advanced.
Find and right-click on Start_SearchFiles and select Modify.
Set the Value to 0.
Restart the Explorer.exe process or just reboot your computer.
#Extra Tips on Vista
A new article was written on Vista Tricks and Performance. Creating symlink, using checkboxes for selecting, etc
G) Uninstall / Turn off unneeded features
There are many new features in Windows Vista that are installed by default that you may not need. These extra and un-needed features can slow down your computer and take up more storage space. If you would like to uninstall, or turn off, these additional features, this tip is for you. Windows Features can be uninstalled using the Windows Features utility. Follow these steps to uninstall applications such as the Windows Fax and Scan and many more. How to do it:
Click on the Start Button and select Control Panel.
Under Programs, click Uninstall a program.
On the side menu, click on Turn Windows features on or off.
Scroll through the list as shown below and remove the check from any feature you do not want to be installed.
Click OK when you are finished making your changes. The features will now be uninstalled.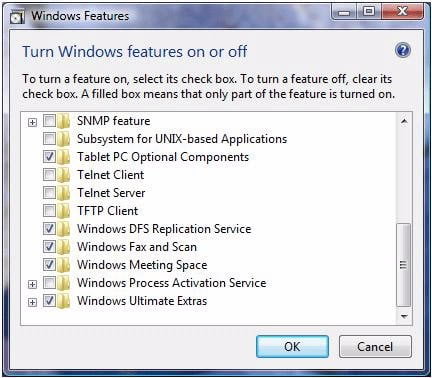 H) Disable Vista Graphics
Don't be surprised, but this is required if you are running software that might take enormous CPU resources or memory. You can disable it for some time, so your work is completed fast. This setting, however, will change the look of windows vista drastically, but in my opinion, this setting is the most efficient setting for increasing the operational speed of windows vista. How to do it:
Right-click on desktop go to personalize.
Now go to color and appearance settings
Then go to classic windows appearance settings and select windows traditional or windows standard display settings.
I) Disable Superfetch Service for low memory systems
This service learns what programs you use most and loads them into memory at first sight of your desktop when starting up. If you have 2-4gigs of memory, then leave this service on because it is beneficial. And if you are an Administrator, there is a better way of turning off the "Welcome Center," There is a "Turn on and Turn off" checkbox at the bottom left corner of the Welcome Center screen. I believe it's called "Load at Windows Start-up."
After you have finished your work, you can again enable it by undoing in a reverse manner. It was the second post in How to tweak your vista performance series. If you have missed the first post read How to tweak your Vista performance Part -1This post is contributed by Abhishek at TechnixUpdate