Many hidden techniques make Windows XP run faster than usual. At Microsoft, the folks are more focused on giving us many features. They pay less attention to optimizing it for faster performance. This article gathers top-notch tricks that boost Windows XP speed dramatically. All these tricks are tested at the TechnoPark office with 4 XP systems. Here are the best tips to tweak Windows XP performance.
Best Tips and Tricks to Tweak Windows XP Performance
1) Overcome the Indexing annoyance.
XP comes with an Indexing system to help us perform a faster search for files in the system. It is pretty useless. It consumes vast resources, but its usage is minimal. Disable it without a second thought. Here is how you do it:
Go to Start
Click Settings
Click Control Panel
Double-click Add/Remove Programs
Click the Add/Remove Window Components
Uncheck the Indexing services
Click Next.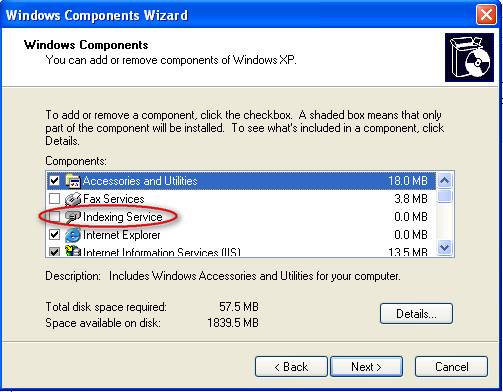 2) Optimize the PageFile
There is a reserved portion in the HardDisk called PageFile or SwapFile. This portion of HardDisk can be used as an Extension to the actual Physical Memory (RAM). In XP, the PageFile is, by default, allocated 1.5X times of physical memory. We can optimize the PageFile based on the amount of physical memory. Usually, if the Physical Memory is more than 512 MB, we need not have PageFile 1.5X times of Physical Memory. Rarely will we need that much PageFile. The best optimization for systems that have more than 512 MB of memory would be to have a 1:1 PageFile. For systems with less than 512 MB RAM, keep the default setting.
Here is the procedure to change PageFile Size:
Right-click on My Computer and select Properties
Select the Advanced tab
Under Performance, choose the Settings button
Select the Advanced tab again and under Virtual Memory, select Change.
Highlight the drive containing your page file and make the initial Size of the file the same as the Maximum Size of the file.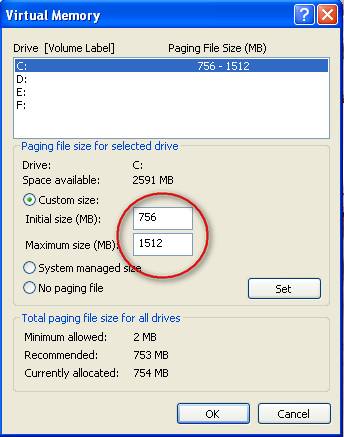 3) Faster Menu Loading
This tweak removes the slight delay between clicking on a menu and XP displaying the list.
Go to Start, then Run
Type Regedit then click Ok.
Find "HKEY_CURRENT_USERControl PanelDesktop"
Select "MenuShowDelay"
Right-click and select "Modify.
Reduce the number to around "100″
4) Make use of the DMA Mode
XP enables DMA for Hard-Drives and CD-Roms by default on most ATA or ATAPI (IDE) devices. However, sometimes computers switch to PIO mode, which is slower for data transfer – a typical reason is because of a virus. To ensure that your machine is using DMA:
Right Click My Computer
Click Properties
Select the Hardware tab
Open Device Manager
Double-click IDE ATA/ATAPI Controllers
Right-click Primary Channel and select Properties and then Advanced Settings
In the Current Transfer Mode drop-down box, select DMA if Available if the current setting is PIO Only.
5) Avoid Time wasting Display effects
Windows XPs Rich visual effects are much-hyped but less used. Most of the impact eat resources. Here is the Optimization:
Go to Start
Click Settings > Control Panel > System > Advanced tab
In the Performance tab, click Settings
Leave only the following ticked:

Show shadows under menus, under the mouse pointer, translucent selection rectangle
Use drop shadows for icons labels on the desktop
Use visual styles on windows and buttons
6) Faster Folder Operations
You may notice a slight delay whenever you open folders in the system. This is because XP automatically searches for network files and printers whenever you open folders. Here is the optimization to overcome this:
Open My Computer
Click on the Tools menu > Folder Options > View tab.
Uncheck the Automatically search for network folders and printers checkbox
Click Apply
Click Ok
Reboot your computer
Other Important dos:
Free Up Disk Space
Speed Up Access to Data with Disk Defragmenter
Detect and Repair Disk Errors
Protect Your Computer against Spyware Spyware
This post is contributed by Ramanathan.He is from Chennai, India. He is a full time blogger. He was with an MNC for more than 3 years. Driven by the passion of blogging, he quit his day job. His blog, TechnoPark is reality now in the blogosphere and he has developed a substantial reader base. He is a serious tech geek. He writes about Softwares, Internet, Web 2.0, Security and many more.