Are you multilingual, or perhaps you are learning a new language and want to use a virtual keyboard to type content in your preferred language? You can refer to the four different virtual keyboards mentioned in this post. You do not need to purchase a new physical keyboard as you can quickly type your preferred languages on these cost-free online applications.
What Are the Advantages of Using a Virtual Keyboard?
It prevents hackers from stealing passwords or personal information using recording software or keyloggers.
If your physical keyboard has any defective keys or the keyboard is not responding, you can use a virtual keyboard with the help of a mouse.
Virtual keyboards can be used to type multiple languages quickly.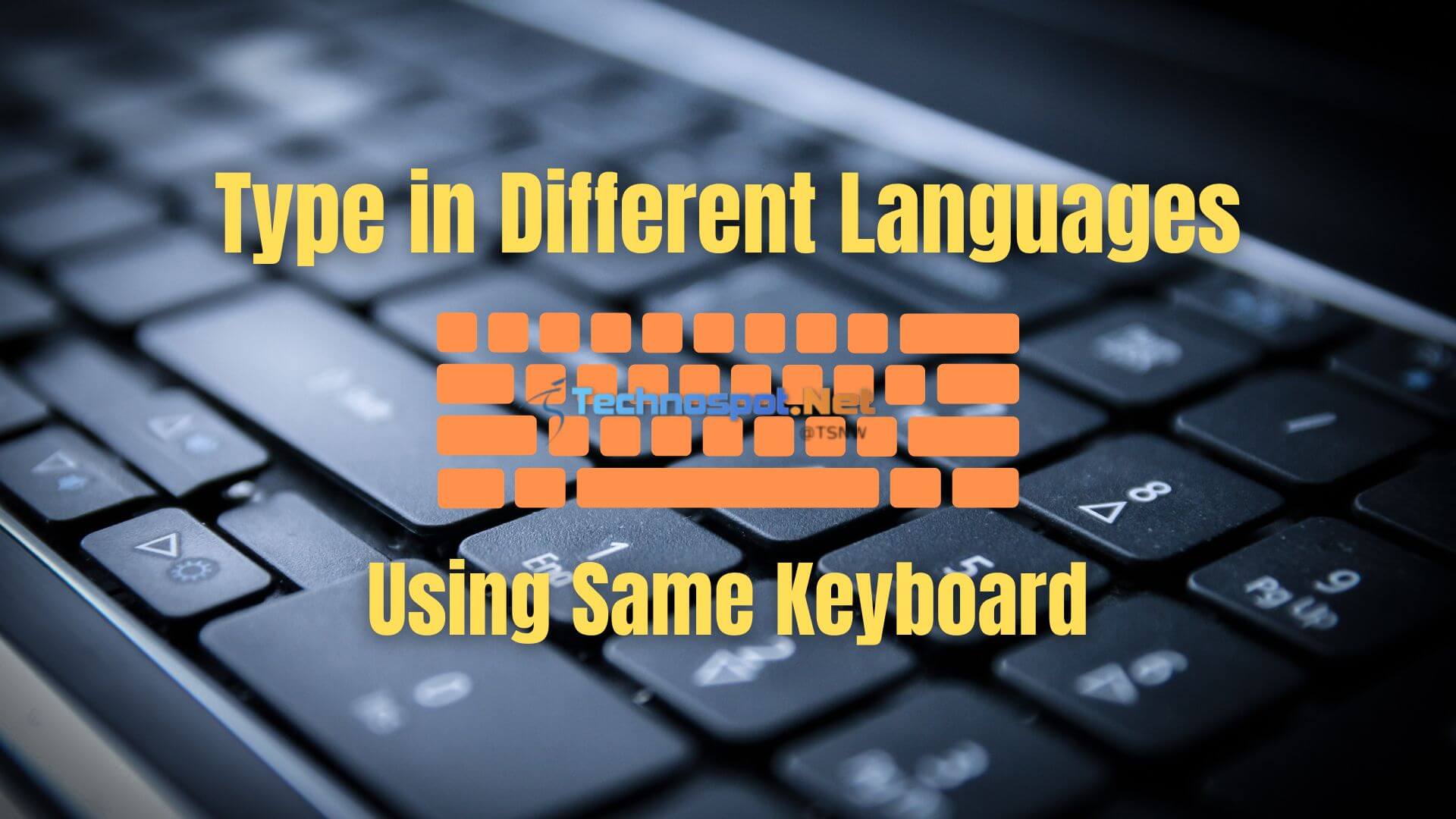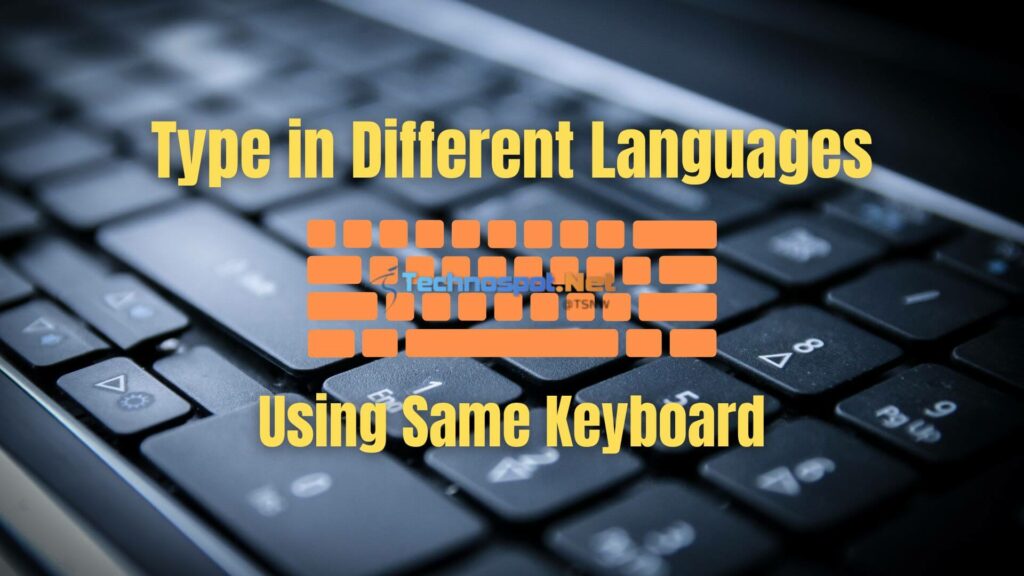 How to Type in Different Languages Using US Standard Keyboard
Virtual keyboards make it easy to type in different languages using the same physical keyboard. These tools can be handy if you are using a US standard keyboard and need to work in different languages.
Typeit
Gate2Home
Language Bar in Windows
The first three tools are convenient for Windows users with a single language license, as Windows doesn't allow installing additional language. The last point in this section is for those with support for multiple languages on their PCs.
1] Typeit
Typeit is a virtual online US keyboard that enables typing accent marks, diacritics, and other characters online. You can go to their website, enter the information you need to input in a text box, and then copy the text and paste it wherever you need it—into your word processor, an email, etc. It supports over 29 languages, along with currencies and Math symbols.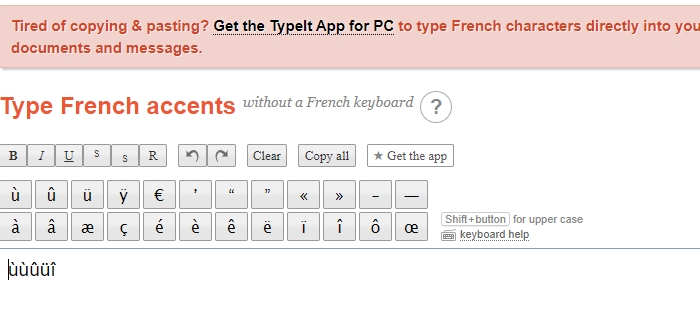 Features
Keyboard shortcuts: The virtual keyboard has simple-to-learn, useful shortcut hotkeys, making typing easier.
Choose between languages: Quickly switch between languages when tying, i.e., you can type partly into Russian, partly into Romanian, and so on.
A rich text editor: It includes curly quotation marks and other typographic elements.
Easily saved: If you accidentally close the window, your text is saved in the browser.
Pros
Can switch to different languages within seconds.
Includes Maths and Science symbols as well.
Cons
You can't type faster than on a mechanical keyboard.
2] Gate2Home
Gate2Home is an online virtual keyboard that lets you type several languages to write emails, essays, etc. You can click on the drop-down menu on the home page to choose the language you want to type and click the Continue button. The screen will display a virtual keyboard with keys that display the letters of your chosen language. You can start typing right away!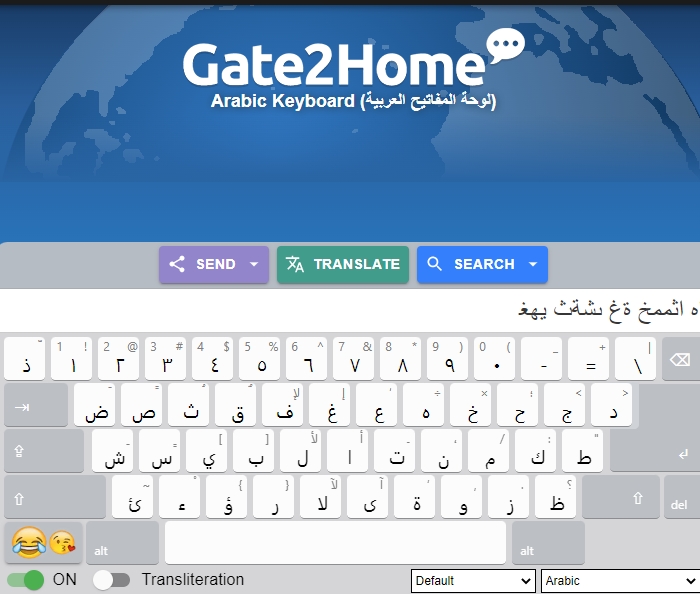 Features 
Send anywhere: You can send the content in your preferred language via WhatsApp, Facebook, and even Emails, directly from the virtual keyboard.
Translate: You can translate what you typed into English, which you can do directly from the keyboard.
Search: You can search for the word or sentences you typed in your preferred language on Amazon, Google, Wikipedia, and YouTube.
Smileys: The keyboard has a wide variety of smileys available.
Pros
User-friendly and easy-to-use interface
Hundreds of languages are available
You can type using the physical keyboard as well
Cons
Time-consuming as it is difficult to type fast
Difficult to type in Japanese
3] Lexilogos Keyboard
Lexilogos is yet another virtual keyboard that offers hundreds of languages to choose from to type the content you require. Let us take a look at the features this virtual keyboard has to offer. You can also use old and alternative characters if it's available for the language.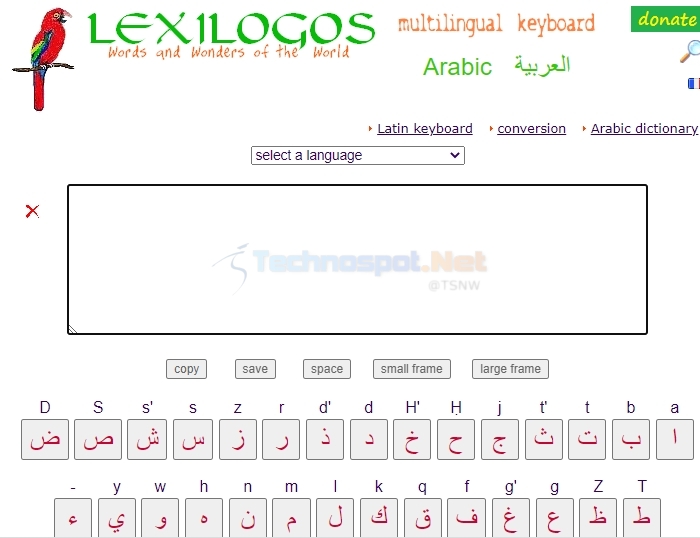 Features
Multiple languages: Offers hundreds of languages to choose from
IPA: Provides virtual keyboards in International Phonetic Alphabet (IPA)
Latin keyboard: Offers Latin Keyboard for the Western languages and option to apply diacritic signs
Lowercase to uppercase conversion: Has the option to type in small letters, which converts the content into capital letters simultaneously
Other features: It offers extra features like dictionaries and alphabets in all languages and an online calculator.
Pros
It provides about two hundred languages to choose from
You can type fast using the physical keyboard of your PC
User-friendly, clean interface
Cons
The home page can be more organized
4] Language Bar in Windows
If you have a Windows PC, you can switch between languages to type the content in your preferred language while still using the US Keyboard. The only thing you need to make sure of is that the language is installed.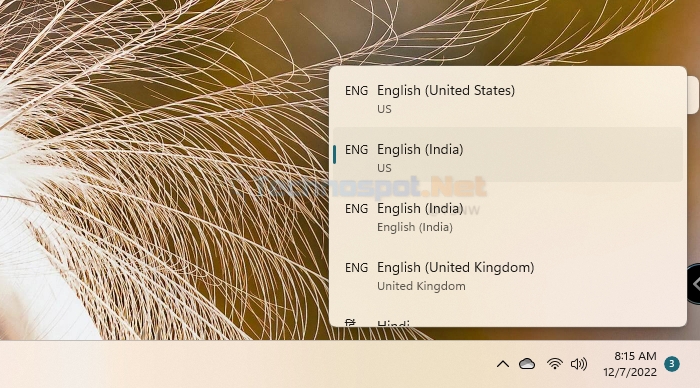 Once done, you can switch between different languages using Win + Spacebar and press the spacebar to select a different language.
Floating Language Bar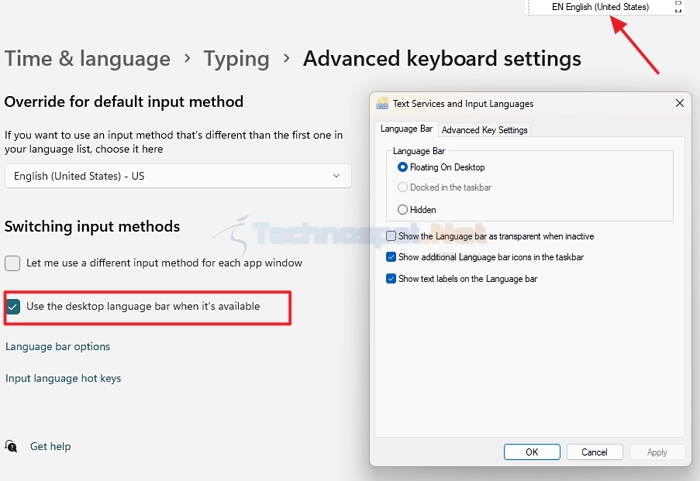 It's another tool in Windows that adds a language bar on the top-right of every application.
To enable the floating language bar, go to Settings (Windows key + I) > Time & language > Typing > Advanced keyboard settings. Click on the checkbox next to Use the desktop language bar when available.
For additional settings, click on the Language bar options below. In the pop-up window, click on the Floating On Desktop option, press Apply, and OK.
The language bar will become visible on any window where you can type. You can switch it on and then change the language. You can also right-click on the language bar and select Settings to install your preferred language.
Features
Multiple languages: You can choose from more than a hundred languages.
Windows display language: You can choose your preferred Windows display language, where you can view and read everything on Windows in your preferred language.
Typing suggestions: It has options to show text suggestions while typing on a physical keyboard, multilingual text suggestions, highlight misspelled words, etc.
Pros
Safe, as it is an in-built application of Windows
Variety of languages to choose from
You can switch between languages quickly, as the language bar can be pinned on the taskbar or the top of your screen.
Cons
Switching between languages is cumbersome.
Conclusion
If you have a client in another country or if you are required to write essays or emails in another language, Typeit, Gate2Home, Lexilogos Keyboard, and Language Bar in Windows are available for free to use so that you can use them to type your content in any language, anywhere and anytime. I hope the article helps! Happy typing!