The Windows operating system comprises countless foreground and background components. One part of the background components are the Windows services, which facilitate working various Windows features. The Background Intelligent Transfer Service (BITS) is used by apps that need to download small information packages to keep you updated. If the services stop functioning, all the apps that require background syncing will stop updating, resulting in a delayed information reach. This article will teach us how to use the Get Help app for BITS troubleshooter in Windows.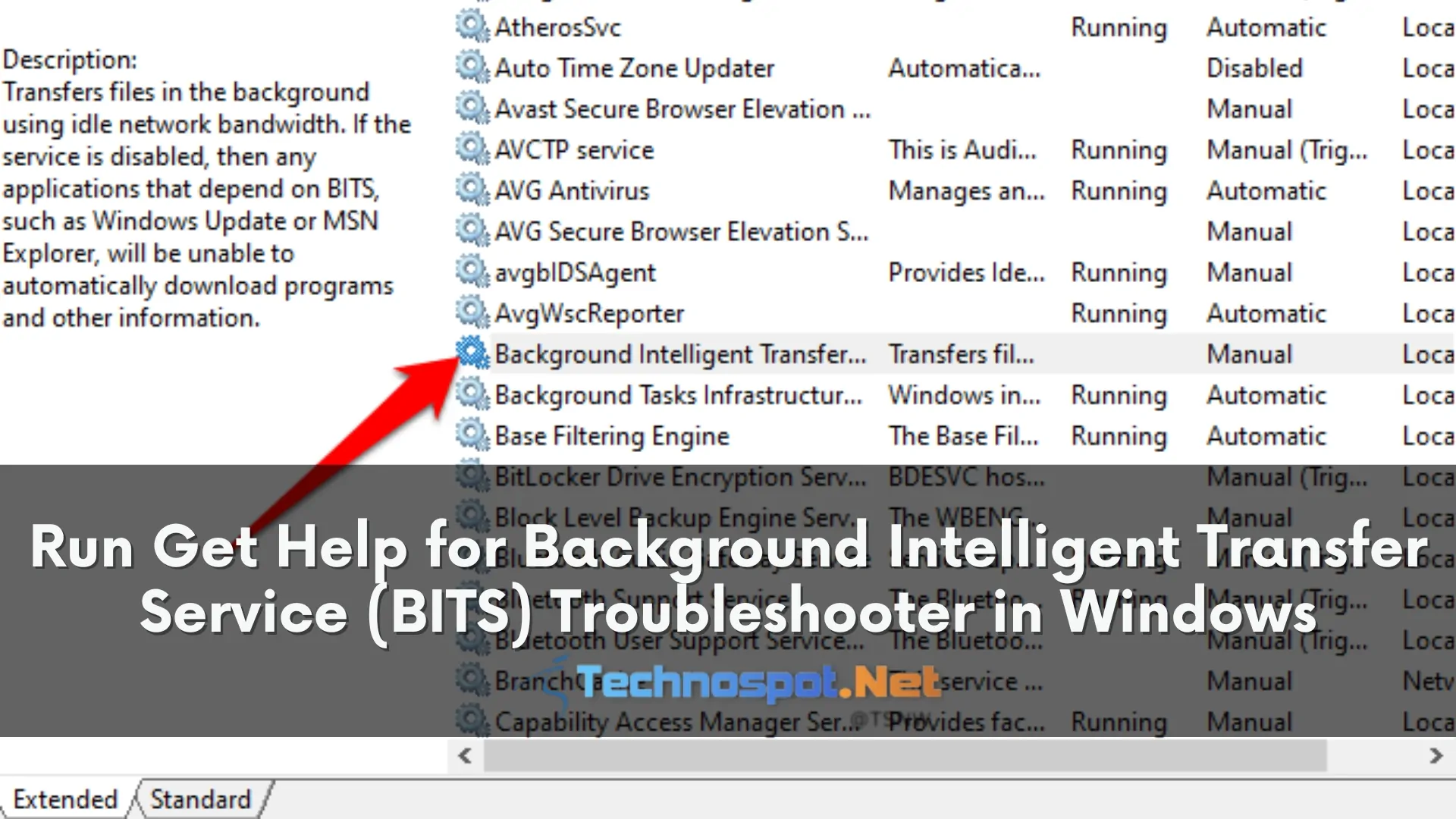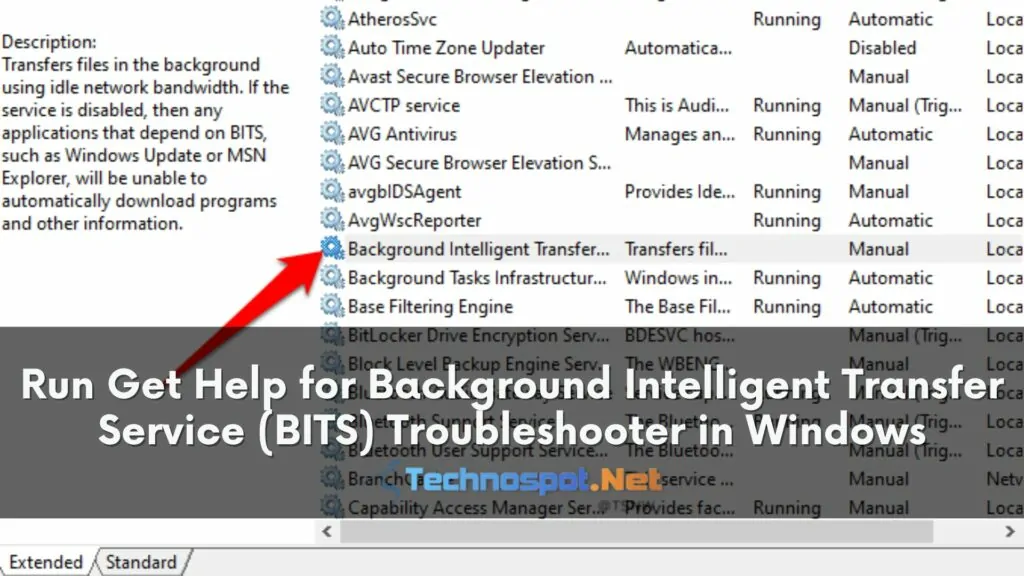 What Is Background Intelligent Transfer Service Troubleshooter? What Issues Can It Solve?
Troubleshooters are pre-installed and specifically designed utilities for diagnosing, fixing, and finding solutions related to the Windows operating system and its components. One such Windows troubleshooter is the Background Intelligent Transfer service troubleshooter, which diagnoses and fixes issues with the Windows BITS service.
It works by scanning for corrupt files and registry entries and replacing them with fresh and right ones. So, if you were wondering, Is background intelligent transfer service necessary? The answer is yes. Here are the issues the Background Intelligent Transfer Service Troubleshooter can solve:
BITS service is not starting or stopping unexpectedly.
BITS service has incorrect security settings or permissions.
BITS service has corrupted or missing files.
BITS service has invalid or missing registry entries.
Now that you understand the problem with BITS service when it's not running, the whats and hows of the Background Intelligent Transfer Service (BITS), let's learn how to run the Windows BITS troubleshooter.
How to Run BITS Troubleshooter in Windows (Get Help)
Windows is a highly user-centric operating system where users can quickly diagnose and fix issues without contacting a technician. To keep the same reputation, Microsoft has made the Get Help app the one-stop for solutions, fixes, and troubleshooters for all the issues related to Windows and its components. Some users even call it the Self-help option in Windows.
Here's how to Get Help for Background Intelligent Transfer Service BITS troubleshooter in Windows:
Open the Get Help app by searching for it in the Windows Start or the Windows search.
Search Troubleshoot Background Intelligent Transfer Service issues on the app's homepage and press enter.
Now, the app will ask for your consent to run automatic diagnostics, click Yes.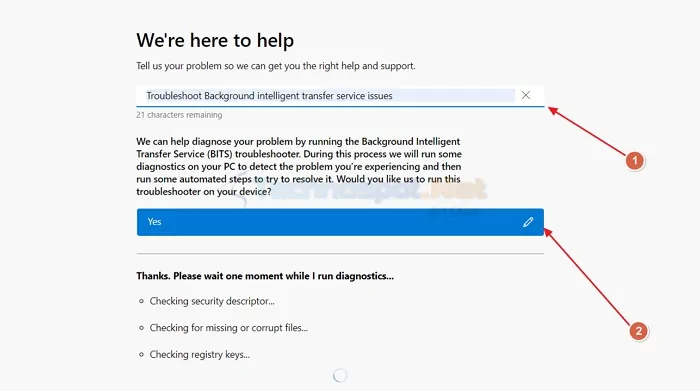 The app will look for corrupt files, discrepancies, or faulty registry entries in diagnostics. If they are present, it will possibly fix them for you.
The issue should have been resolved. If it persists, refer to the Self-help articles below the automatic diagnostics section to run the Windows BITS troubleshooter.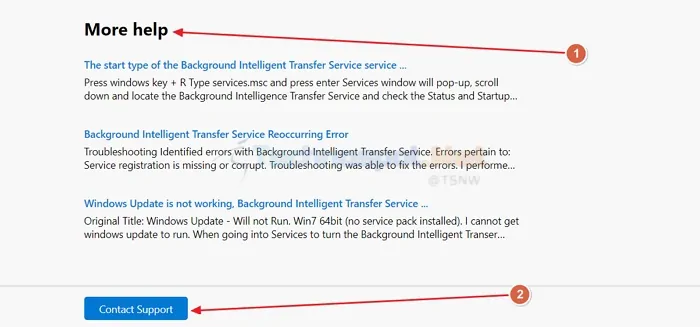 Additionally, you can reach out to the Microsoft support team via the Contact support button in the bottom left corner.
On-chat and call support options are also available. However, you can only use the on-call support option if you are a Microsoft 365 subscriber.
And that's pretty much it. You've now successfully troubleshot issues with the Background Intelligent Transfer Service (BITS) using the Get Help app. If the background intelligent transfer service keeps stopping, then this will help you fix the problem.
Conclusion: 
This article taught us how to use the Get Help app to run Windows's Background Intelligent Transfer Service troubleshooter. Most Windows services are crucial for the proper functioning of all Windows components. It is highly recommended not to tamper with the settings of any of these services unless necessary.
We hope you found this article helpful, and if the background intelligent transfer service stopped, this will fix the problem.
Is It Safe to Disable BITS in Windows?
Disabling the Background Intelligent Transfer Service in Windows can cause problems. It's used by Windows Update, Defender, Edge, and other programs to download files without interrupting foreground tasks. Disabling it may stop these programs from updating properly or functioning at all.
BITS optimizes bandwidth and power usage by transferring files only when idle and plugged in. So disabling it could negatively impact performance, security, and device battery life.
Background Intelligent Transfer Service Is Consuming Too Much Bandwith, What Should I Do?
Though BITS can use lots of bandwidth for Windows updates and apps, it's vital not to disable it. Doing so could cause system functions and updates to fail. Instead, limit BITS bandwidth: Open Local Group Policy Editor, go to Computer Configuration > Admin Templates > Network > BITS. Enable the Limit maximum network bandwidth setting. Specify the limit and time range. This will control BITS bandwidth use without disabling it.