LastPass is one of the most incredible service that you can use for storing your passwords securely, specially if you have lot many to remember. In Windows, it can be easily used with most of the browser in form of the extensions, but for Windows RT users where the IE App is not allowed to have extension, it becomes a little dicey. Good news is that LastPass has their Windows 8 App that can be used, but I have received lot many emails asking me how to actually use it.
Now the real problem faced by user over Windows RT is because we expected LastPass to be integrated within the browser app, which sadly is not the case. So this post is dedicated for users having trouble knowing how to use lastpass in Windows RT.
Source of Confusion :
Apart for expecting, that lastpass will be integrated with IE, most of the user after installing the app did not look around much to find that LastPass has a browser in built. After you login to your account, the only thing which you get to see is the vault, and there was no direct icon or pointer which told you that there is a browser.

Launch the Browser :
To do this, you need to either right click or slide up from bottom to bring the menu bar of the app. Right there you will get to see the browser icon. When you launch it, you get to see an address bar where you can type in the URL of the website you want to visit.
Once you do that, if a username / password is associated with that URL, it will indicate that lastpass has the data for you. In fact, this browser is very much similar to regular desktop browser experience.
Directly Login :
Another quick way to launch the browser is first selecting the site from last vault and then choose the browser icon from the menu bar which pops up instantly. It will then take you to login page and fill in the username and password for you.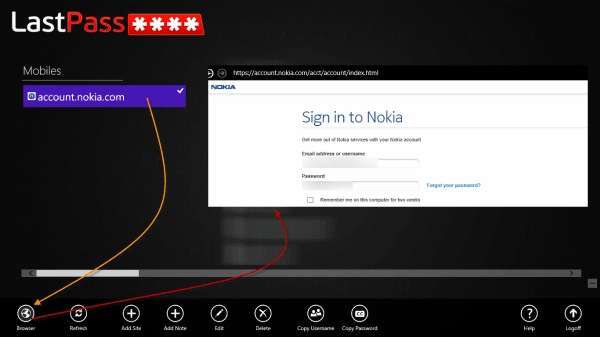 How to use LastPass App with Default IE App :
You cannot but then you can use the data. When you select any of the sites under your lastpass vault, it gives you option to Copy Username and Password, one at a time, and then you can paste in the default IE App with that site or anywhere you want.

Conclusion :
Now since, most of the Windows RT user will be using the IE App, the lack of integration has not only created confusion, but it's also not very convenient to use LastPass. I really hate that I cannot use the IE App, and end up in using the lastpass browser which in turn make me miss all the IE App features.
Not sure but if Its Microsoft limiting the Apps or there is something wrong with LastPass integration, but overall its not a smooth experience using this service on Windows 8 RT.