Did you know that you can connect your Windows PC to an entirely different PC and take control over it via the other one? Although not very common, there are instances where computers are connected with an entirely different remote computer that has established a connection with all of them to execute a task collectively. Let's learn how to use a remote desktop to connect to a PC (Windows 11/10).
Purpose of Connecting a PC With a Remote Desktop
Connecting to a Windows PC via a remote desktop opens the gate to a tonne of possible functionalities depending on how that connection is established. There are different ways of establishing a connection between a remote PC and other computers, and these different ways also lead to differently available features. The most common purposes include bulk software installation, troubleshooting, system checks, maintenance runs, application deployment, etc.
In this article, we'll be learning how we can go about establishing a connection between a remote desktop and a Windows 11/10 PC and how we can control the PC using the remote desktop. So without any further delay, let's begin.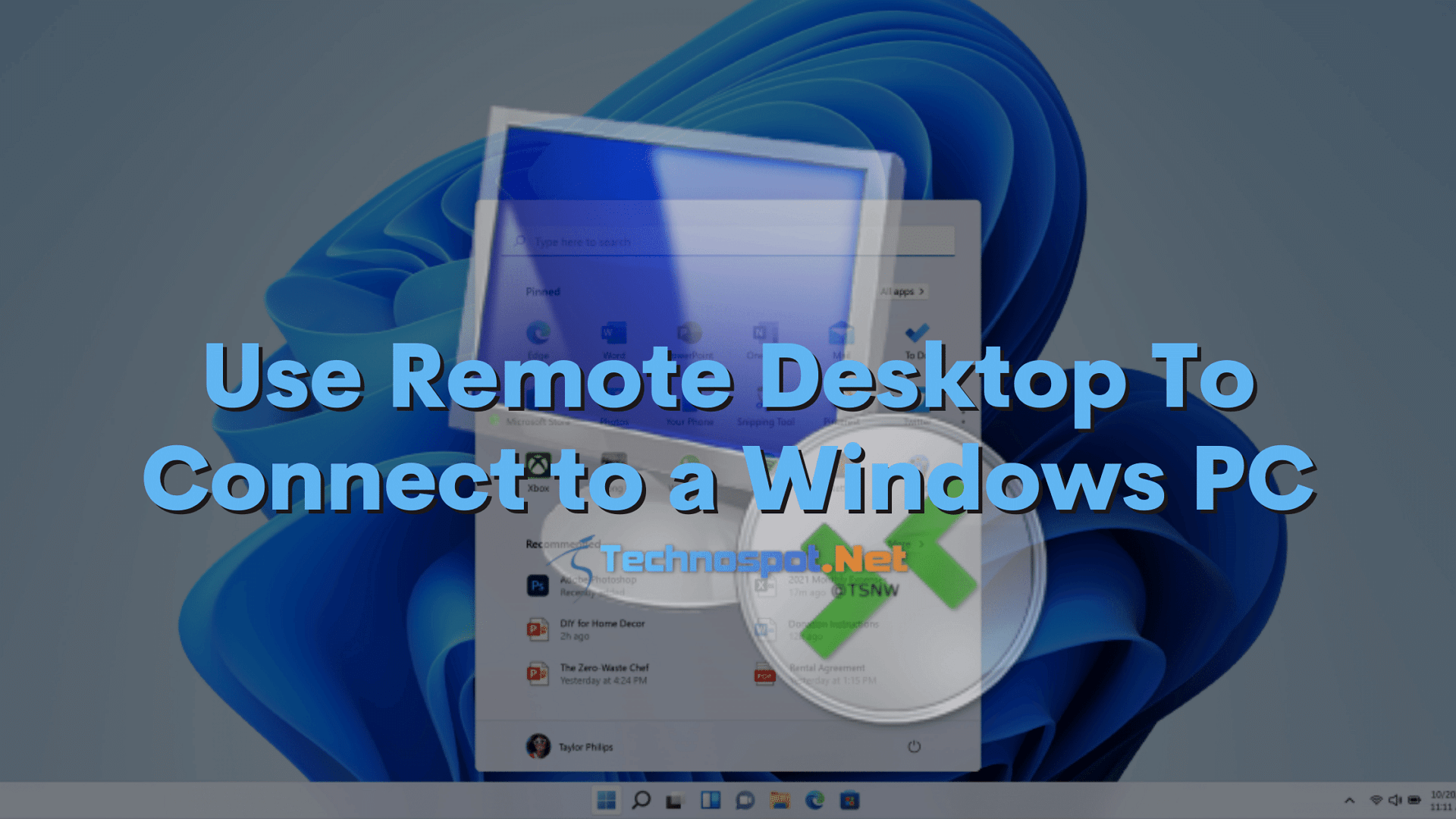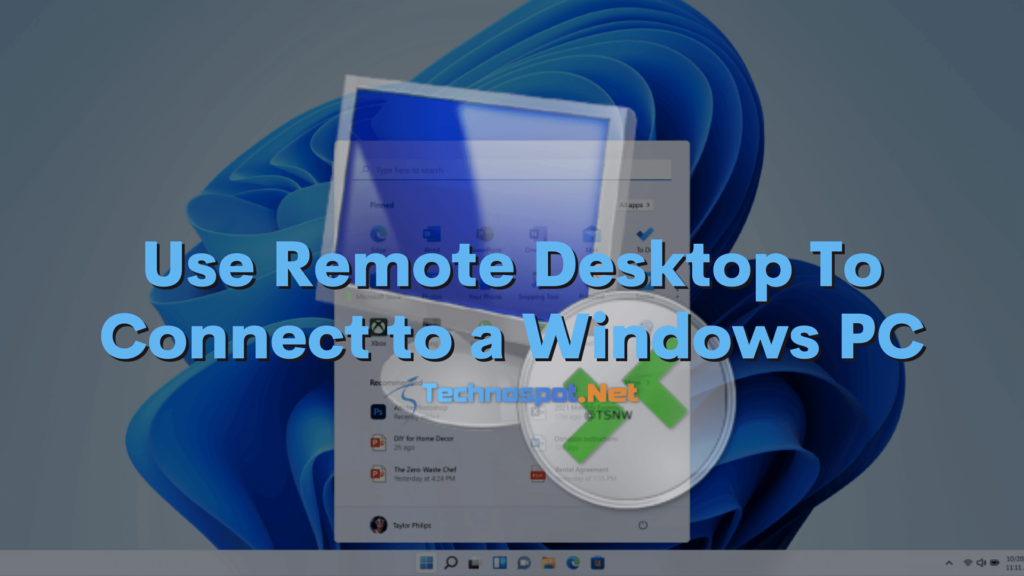 How To Use Remote Desktop To Connect to a PC (Windows 11/10)
In this section, we'll look at the steps you can follow to establish a connection between a remote desktop and Windows 11/10 PC(s). There are several approaches we can take to do that. However, we'll first learn about the default way of doing so. Yes, that's right. Windows offers an inbuilt method for connecting a Windows computer to a remote desktop. It allows the remote desktop to take limited control of the Windows PC and perform certain tasks.
Windows 11 brought a tonne of changes to the UI and features of Windows and also relocated some of the settings/options/features from their location in Windows 10. Here's how to connect your Windows 11 PC to a remote desktop using System Settings:
The first step is confirming that the version of Windows 11 installed on your PC is Windows 11 Pro. You can check that by navigating to Start > Settings > System > About > Windows Specification > Edition.
Once you've installed Windows 11 Pro, you can go ahead with the next steps.
Go to Start, and open Settings. Find System under Settings, navigate to Remote Desktop, and select it.
Turn the Remote Desktop toggle to 'On', and click on Confirm to finish.
You'll see a PC Name pop up. Save this PC name somewhere, as you'll be needing it later.
Now let's move on to the steps needed to be completed on the remote desktop.
On the remote desktop, go to the search box in the Taskbar, type Remote Desktop Connection, and click on it once it shows up.
Input the name of the PC you saved in Step 4 in Remote Desktop Connection, and then select Connect.
Install the Remote Desktop app from Microsoft Store for free on the remote device, and add the name of your PC that you wish to connect. Click on the name of your PC when it comes up, and wait for the connection to establish.
If you still cannot connect, then follow the troubleshooting steps to fix
Best Apps To Use Remote Desktop To Connect To A Windows PC
So far, we've discussed the Windows default method for connecting any Windows system to a remote desktop. However, depending on the purpose of connecting to a remote desktop, we may need to look for ways that provide us with more functionality. That's where third-party software and tools come in. Some of these tools require to be installed on both the remote desktop and the PC we wish to connect to, while some of them need to be installed on only the remote PC.
Here are some of the third-party software you can rely on if you need to connect your Windows PC to a remote desktop.
1] Advanced IP Scanner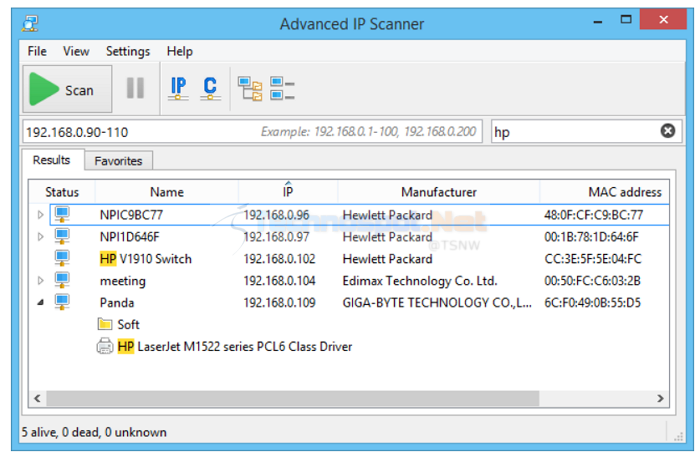 Advanced IP Scanner is a brilliant tool that lets you take control of all the computers available and/or connected to a local area network (LAN). All that you need to do is input the range of IP addresses, and the software will itself scan for available networks in between that range. You can remotely control computers available in that certain range of IP addresses, and Advanced IP Scanner provides you with all crucial functions needed.
2] Remote Utilities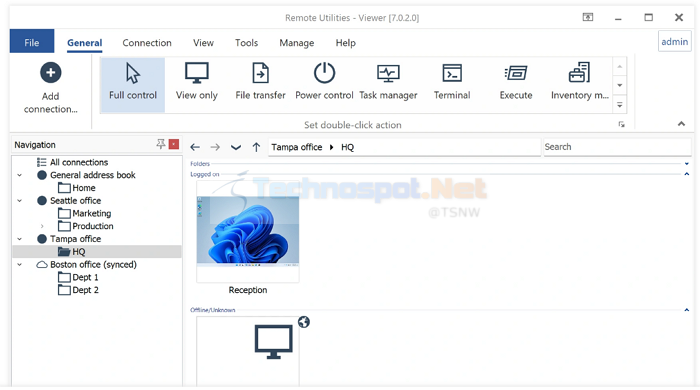 Equipped with almost all of the desktop management tools needed to remote control a desktop, you can use Remote Utilities to connect any remote computers to the viewer client using IP address, generated ID, or DNS name.
Full control of the computer, view only, a power control (shutdown), registry access, chat, screen recorder, ping, and remote software deployment are some of the must-have features in any remote desktop management software. Remote Utilities covers all of them and extra features like remote webcam access and voice & video chat.
3] LiteManager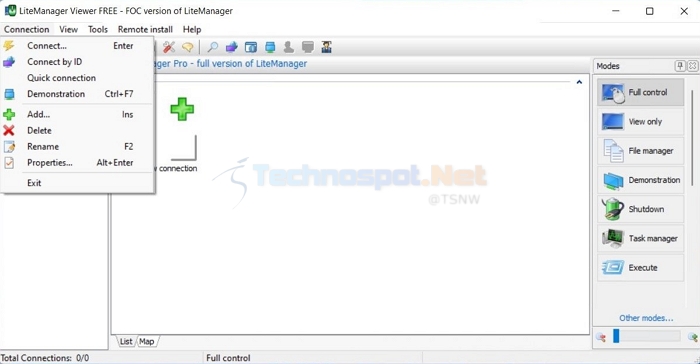 What makes LiteManager a great choice for remotely managing several desktops is that the viewing or controlling device doesn't necessarily have to be a computer. LiteManager allows you to take control of computers remotely using Windows, Mac, Linux, Android, and iOS devices.
LiteManager gives you full remote control and a bunch of other features that greatly contribute to its overall functionality. For Windows, there are two installation modules, one for the viewer and one for the server. The free version of LiteManager allows a total of 30 computers to be controlled remotely, and the access is unlimited.
Conclusion
In this article, we discussed a few ways to establish a connection between a remote desktop and one or more Windows 11/10 PCs. The method of doing so in Windows 11 and Windows 10 is pretty much the same, and it goes for the steps needed as well.
Though quite efficient, the Windows Remote Desktop Connection may not be enough for certain tasks, and that's when we can depend on third-party applications. With that being said, we'll be wrapping this article up, and we hope that this article was of help to you.
Is It Safe To Connect To My PC On A Remote Desktop In Windows?
Connecting your PC to a remote desktop will give the desktop unrestricted access to your PC, so whenever you are on a network, the user on the remote desktop can change and access everything on your computer. The remote desktop access should only be given to trusted systems.
Is It Safe To Use Software Like Anydesk or TeamViewer On My Computer?
AnyDesk and TeamViewer and much other software like these were created for the sole purpose of remotely accessing your devices. Tech support teams around the world use this software for troubleshooting. However, this software has also been linked to scams. AnyDesk and Teamviewer are entirely safe from being used the right way.