Windows has come a long way when it comes to accessibility. It houses the eye-tracking technology—Eye Control— that makes it easier for the users to control their mouse cursor and to write with the help of a screen keyboard. All this is done using eye movements. The guide will provide complete information about the eye control feature and how to use it on your Windows.
What Is Windows Eye Control Feature?
Eye Control feature is one of the finest and most advanced assistive features of Windows that is specially designed to assist people who are facing challenges in operating Windows 10/11 using an on-screen keyboard and mouse. So instead, they can use the Eye Control feature to control your mouse and keyboard with your eyes.
Users can easily keep a check on their screen whenever the launchpad appears to get assured that this feature has been activated or not yet. Once done, users can use the mouse and the keyboard from their launchpad. It is a revolutionary feature that works with the movement of the eyes. One thing you need to remember is that the feature doesn't work well in sunlight. It is a fantastic tool that will assist the different users with disabilities in handling their PC conveniently.
Eye Control Features:
The far-left feature moves the bar from top to bottom and vice versa.
The keyboard feature is provided to type in using your eyes.
The speech feature offers accessibility to type a sentence using a microphone.
The narrator feature narrates the text on the screen conveniently to the users.
The on-screen cursor, when activated, will help you look around and interact with the things on the screen conveniently.
How to Setup Eye Tracker Feature In Windows?
The Windows Eye Control feature lets you control the mouse, and type words using your eye movement. It is possible with a combination of special hardware which can track it. You can type, perform mouse actions, and also use text to speech to talk to anybody.

Setting Up Eye Tracker Feature In Windows 10
For setting up the Eye Tracker feature in Windows 10, you first need to enable the eye control, and for allowing the same, the things you ah ve to do are:
Go to the Settings option of your device and then proceed to the Ease of Access option.
Please tap on the Eye Control feature and then turn it on to toggle it.
Once done, a Control Bar will appear on your home screen, allowing you to interact with the PC using your eyes.
Setting Up Eye Tracker Feature In Windows 11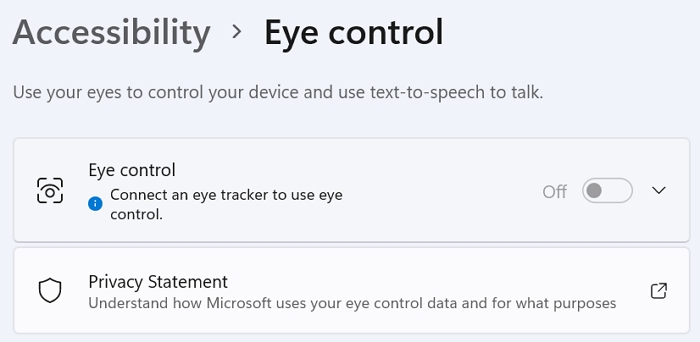 To enable the eye control feature successfully, here:
Go to the Settings option of your device and then tap on the Accessibility section.
Now tap on the Eye Control feature and then Tap on Toggle on.
To enable access to the features being provided in Windows 11, you need to download Dwell on it.
Once you do it, give it time to become active. Once done, Microsoft will call it Dwelling and notify you about the successful process.
Users are free to pause the eye control feature by activating the Pause eye control feature whenever required.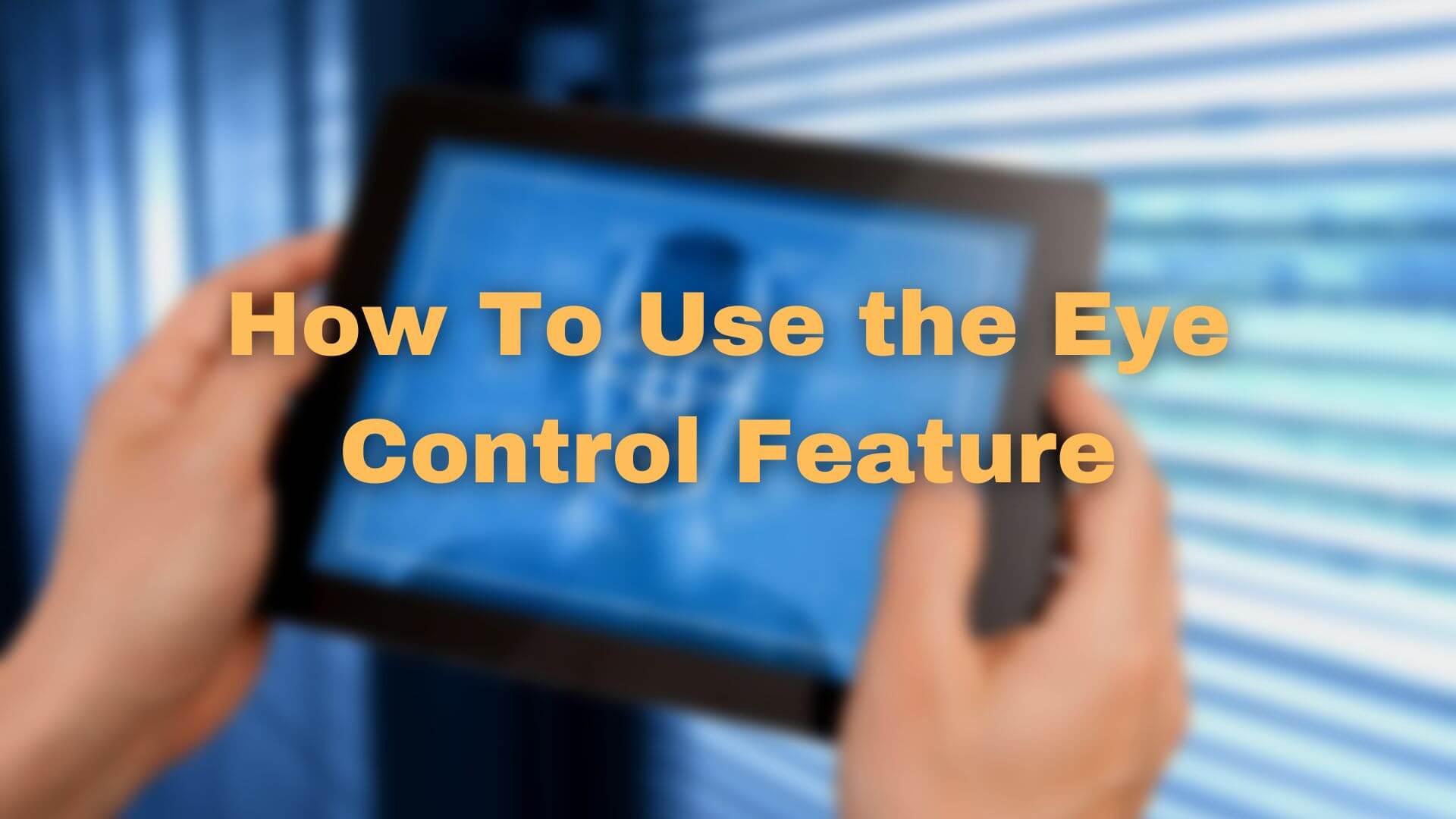 How To Use The Eye Control Feature In Windows 11/10?
If you are willing to use the eye control feature on your Windows 10/11, you must first set up Tobii and EyeTech eye trackers on your device. The integrated eye-tracking software of the app will make it easier for you to set up and calibrate things later.
For any of these features, you need to Dwell on it for some time to activate it. Microsoft calls it the Dwelling. When you want to keep your eye movement from interfering with a movie or video, you can disable the Pause eye control option.
Using The Mouse In Eye Control
Dwell to check out the Precise mouse button on the bar.
Stare at the screen where you are willing to get your cursor.
Once you get the cursor at the right place, select mouse actions to proceed further with the process.
Do reverse the actions for selecting the right and left-click options.
Look at the screen to cancel the action.
Typing (Keyboard) using Eye control
Dwell to get the keyboard on the bar.
Launch the software keyboard while using it.
Dwell on characters you are willing to type in.
Using Text-to-speech In Eye control
Dwell on Text to speech on the bar.
Type sentences using the keyboard.
Select the Play button to read out the same loud.
Change the settings as per your preferences by dwelling on them.
To get initiated with text to speech feature, configure your Speech settings by:
Go to the Start button, followed by tapping on Settings.
Now tap on the Time & Language option followed by Speech.
Tap on the text-to-speech button and select a voice from the given option.
Scroll/zoom through web pages and apps using Eye Control
Dwell on the Scroll button on the launchpad to activate.
Once activated, look down, and it scrolls accordingly.
If you keep dwelling for long, the scrolling speed increases.
To stop scrolling, look away from the screen.
Which Cameras Support Eye Control in Windows
Tobii Eye Tracker 4
Tobii EyeX
Tobii Dynavox PCEye Plus
Tobii Dynavox EyeMobile Mini
Tobii Dynavox EyeMobile Plus
Tobii Dynavox PCEye Mini
Tobii Dynavox PCEye Explore
Tobii Dynavox I-Series+
EyeTech TM5 Mini
How to Configure & Change Eye Control Settings
Dwell long enough on the Eye control settings to open it. You can then configure the following:
Gaze cursor. When you dwell on eye control features like the launchpad, you will see a cursor that indicates where your eyes are.
General dwell time: You can adjust the dwell time for function keys, word predictions, and mouse cursor controls.
Typing dwell time. The dwell time for letters, numbers, and symbols can be set.
Shape writing. You can turn on or off shape writing.
Conclusion 
So, Guys! Hopefully, you have understood the Eye Control feature better. It is an excellent initiative that will become a super blessing for the physically disabled.
What are the Disadvantages of Eye Control Feature?
Shadows and reflections at the beta stage can create a lot of confusion.
Eye trackers work differently for different eye colors, shapes, and sizes. It is also affected by the glasses we wear while working.
It supports US English Keyboards only.
Pricing is a bit higher.
What Is an Extra Device Needed For Eye Control?
Eye-tracking needs special hardware and software. These extra and special devices track eye movement and map it to the screen to predict typing and other movements.
Can We Only Use Eye Control For Typing And Moving Things?
Mostly yes, but it is similar to a pointing device so you can use it for almost everything. However, if you try anything exhaustive like gaming, this can be stressful. Instead using an accessibility-enabled mouse helps better.
I Have Two Screens, And I Am Not Able To Use It On My Other Screen. Why?
One can use the Eye control feature meant for one screen on another. It would help if you had more eye trackers on your screens to enable the same.
Does Windows 10 Allow Eye Control?
The earlier Windows 10 didn't support the Eye Control feature, but the updated versions do. While doing so, confirm the version is 1709 or higher by going to Settings > System > About and under Windows specifications.