Using Windows is an experience, and exploring what it can do is fun. To ensure everyone enjoys the features and functionality of Windows equivalently, Windows comes with an in-built screen reader known as Windows Narrator. Windows Narrator is an excellent feature that has a lot of thought and care put behind it. Let's learn about Windows Narrator, its primary purposes, and how to use it.
What Is Windows Narrator, and What Are Its Purposes?
We have seen smartphones with accessibility features. These accessibility features make using smartphones easier for people who might face problems when using a smartphone or are simply unable to do so due to impaired vision or blindness. Similarly, Windows comes with Windows Narrator, an in-built screen reader designed specifically for people with no or damaged vision.
There are multiple ways in which the Windows Narrator aids visually impaired people in using Windows. Windows Narrator lets users use their Windows PC without a mouse, making it easier for the visually impaired to navigate the system. It reads and interacts with elements like texts and buttons on the screen and lets you execute general tasks without a mouse.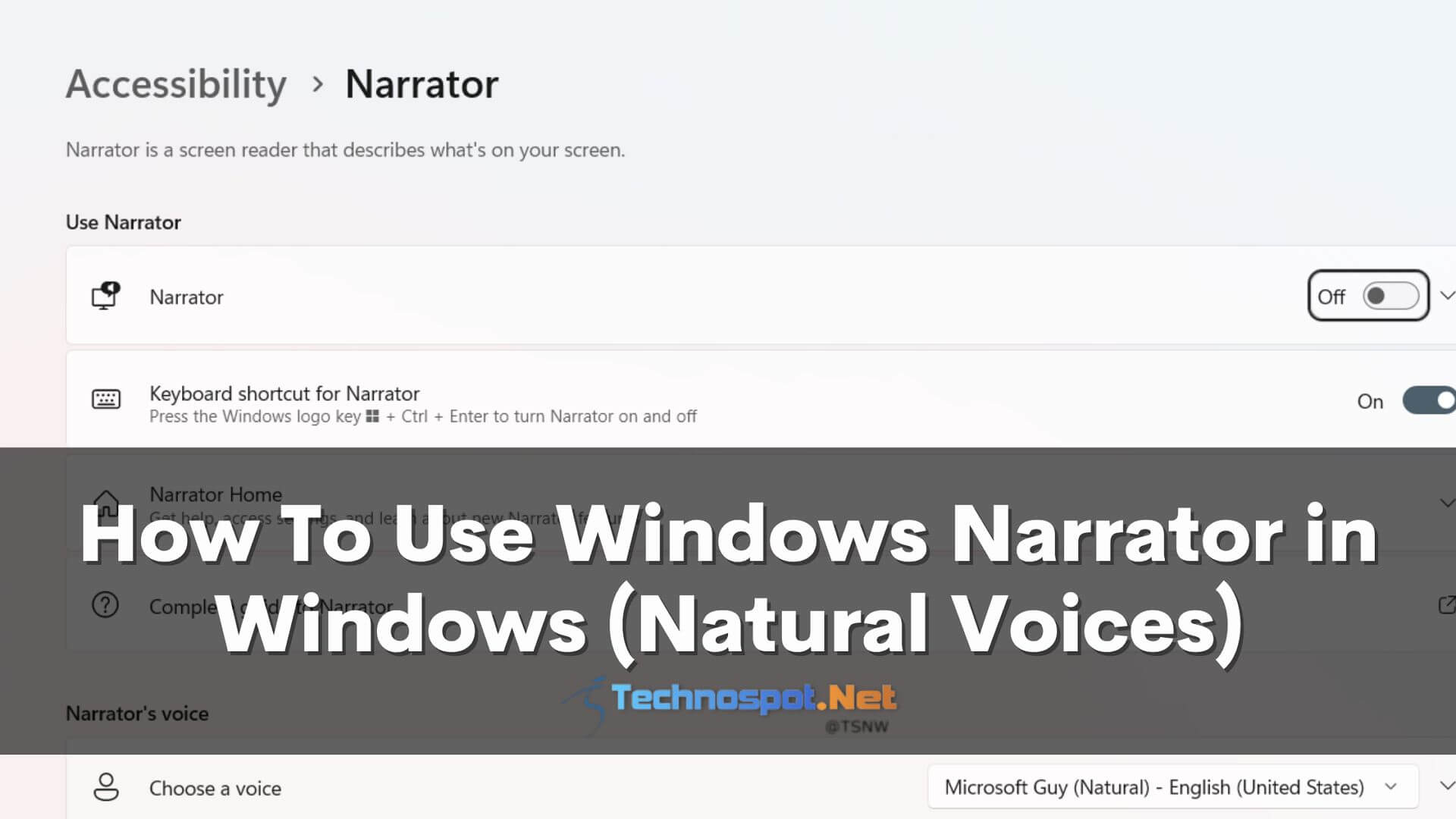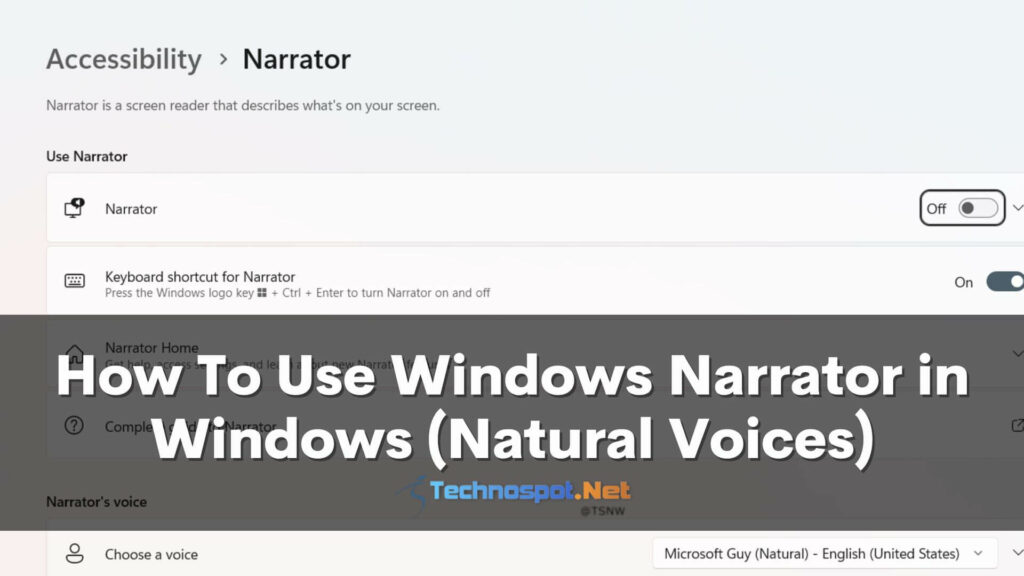 How To Use Windows Narrator in Windows
This section will discuss using Windows Narrator to do fundamental tasks like scanning, reading, navigation, etc. Here are all topics in this section of the article:
Setting Up Windows Narrator
Navigating In Windows Using Windows Narrator
Using Scan Mode In Windows Narrator
Using The Windows Narrator With Touch
Using Narrator With Braille
Customizing Narrator And Choosing Natural Voices
So without any further delay, let's begin.
1] Setting up Windows Narrator
Setting up Windows Narrator is relatively easy. Follow these steps to setup Windows Narrator on your PC:
Press the Windows key + Ctrl + Enter simultaneously to start Windows Narrator.
Press the same keys together again to stop Windows Narrator.
You can also press the Windows key + Ctrl + N to launch Windows Narrator settings and turn the toggle Use Narrator on and off. From the expanded menu of additional settings (next to the Narrator toggle), you can also set the Narrator to start before or after you sign in to your PC.
2] Navigating in Windows using Windows Narrator
A tutorial named QuickStart is always available on Narrator Home, which boots up automatically when you start the Windows Narrator. It can guide you through the very basics of using Narrator. You can use the arrow keys or the Tab to jump from app to app or transition between web pages, and you can use the Enter key to launch programs or open links.
Aside from these, the CapsLock and the Insert keys are the Narrator keys by default. You can customize your modifier key that'll serve in Narrator Commands.
You can always refer to Quickstart for a detailed tutorial. Also, there's a scan mode available when using Windows Narrator that gives even more navigation functionality, and we will go over it next.
3] Using Scan mode in Windows Narrator
Scan mode is primarily a mode that emphasizes reading and navigation. You can turn Scan mode on and off by pressing the Narrator (Insert and CapsLock by default) key + Spacebar. Once you've turned on Scan mode, you unlock a list of key commands you can execute on your Windows for navigation. Arrow keys are the primary navigation tools when using Scan mode. Here are a few basic Scan mode commands to get you going:
Up/Down arrow keys to navigate through applications and web pages.
Enter or Spacebar to open/launch/activate a link, a program, or a button.
Shift + Enter/Spacebar for secondary action.
Ctrl + right arrow for reading the next word
Ctrl + left arrow for reading the previous word
Ctrl + down arrow for reading the following line
P for reading the next paragraph
Shift + P for reading the previous paragraph
Ctrl to stop reading
You can check the complete list of Scan mode commands from here.
4] Using the Windows Narrator with touch
The narrator lets you use certain touch gestures on touch-supported displays in Windows.
To begin, drag one finger around the screen. You'll hear the names of items on the screen, and when you want to interact with one of them, stop dragging your finger after you hear its name and double-tap on the screen.
Flick left and right with one finger to move through items.
Flick up and down to change the Narrators view so you can move by characters, words, lines, and links.
Triple tap with two fingers to dismiss context menus. Double-tap to display them again.
Swipe downwards with three fingers to read continuously from the current position.
To learn more about touch gestures, you can use Windows Narrator to navigate and explore; you can visit it here.
5] Using Narrator with Braille
You can use Narrator with supported Braille displays that you need to install via a USB port.
 Installing Braille in Windows Narrator:
Open Narrator Settings by pressing Windows + Ctrl + N, navigate to Braille, click on More, and then select Download and install Braille.
When the download is complete, turn on the Turn Ok Braille toggle.
Click on Add a Braille display to add your connected display.
Uninstalling Braille in Windows Narrator:
Go to system settings by pressing Windows + I.
Go to Apps and select Optional features.
Click on Accessibility > Braille Support, and select Uninstall.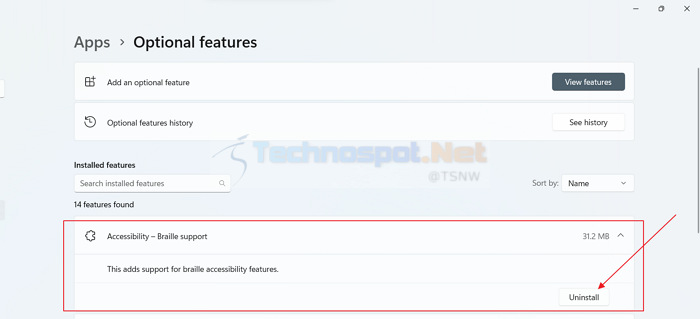 6] Customizing the Narrator and Choosing Natural Voices
In a recent addition to the Windows narrator, users can now use the narrator in Natural voices. It improves the user experience and feels and makes the language easier to understand. There are currently three natural voices available to download and use. In this section, we will go over how you can change the voice of the Windows Narrator and add natural voices.
The narrator offers a variety of voices in several languages that you can choose from.
The narrator can use these languages to voice 400-800 words per minute, depending on your chosen language.
You can also alter the speed, pitch, and volume of the Narrator's voice.
You can customize the Narrator to use one of three available natural voices. There are two female and one male natural-sounding voices.
To use the natural voices, click on the Add button, select the natural voice you wish to add, click on Preview to give it a listen, or you can proceed to install it.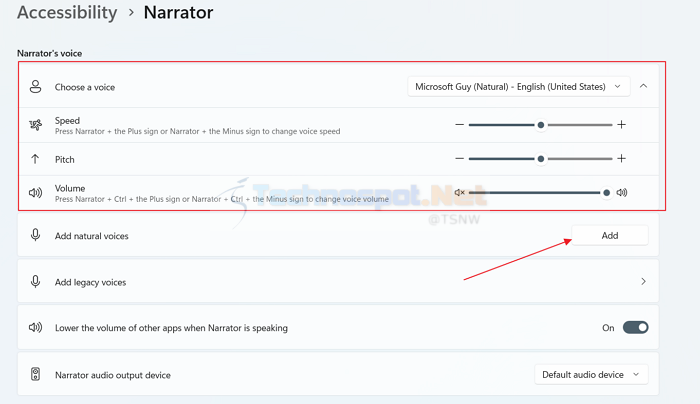 Conclusion: 
The Windows Narrator is an innovative feature that has proven to help people with impaired vision use Windows without a problem. It may take some time to memorize the commands and gestures, but doing so adds to the experience and makes it even easier. This article covered the fundamentals of the Narrator, its purpose, and how to use it. Windows Narrator provides exceedingly viable features that contribute to its overall functionality, and this article aims to give you a glimpse of that.
Can I Use Windows Narrator Without a Braille Display?
Yes, Anyone can use the Windows Narrator without a Braille display. The features are designed to work pretty well without a Braille display. And help visually impaired people understand the screen contents very quickly.
Can I Use Windows Narrator in Languages Other Than English?
Unfortunately, as of now, you cannot use Windows narrator in languages other than English. Microsoft is constantly working on improving the feature and adding more accents and languages to the narrator.