Task Manager is one of the most widely used monitoring utilities on Windows. It has been available from very early versions of Windows. It is still widely used for managing processes and tasks running on Windows PC. This article presents a detailed guide on how to use Windows Task Manager. Please ensure that you read this article until the end since we'll discuss each utility feature in detail.
Note: Windows 11 2022 has released a new version of Task Manager. This guide walks you through all the features.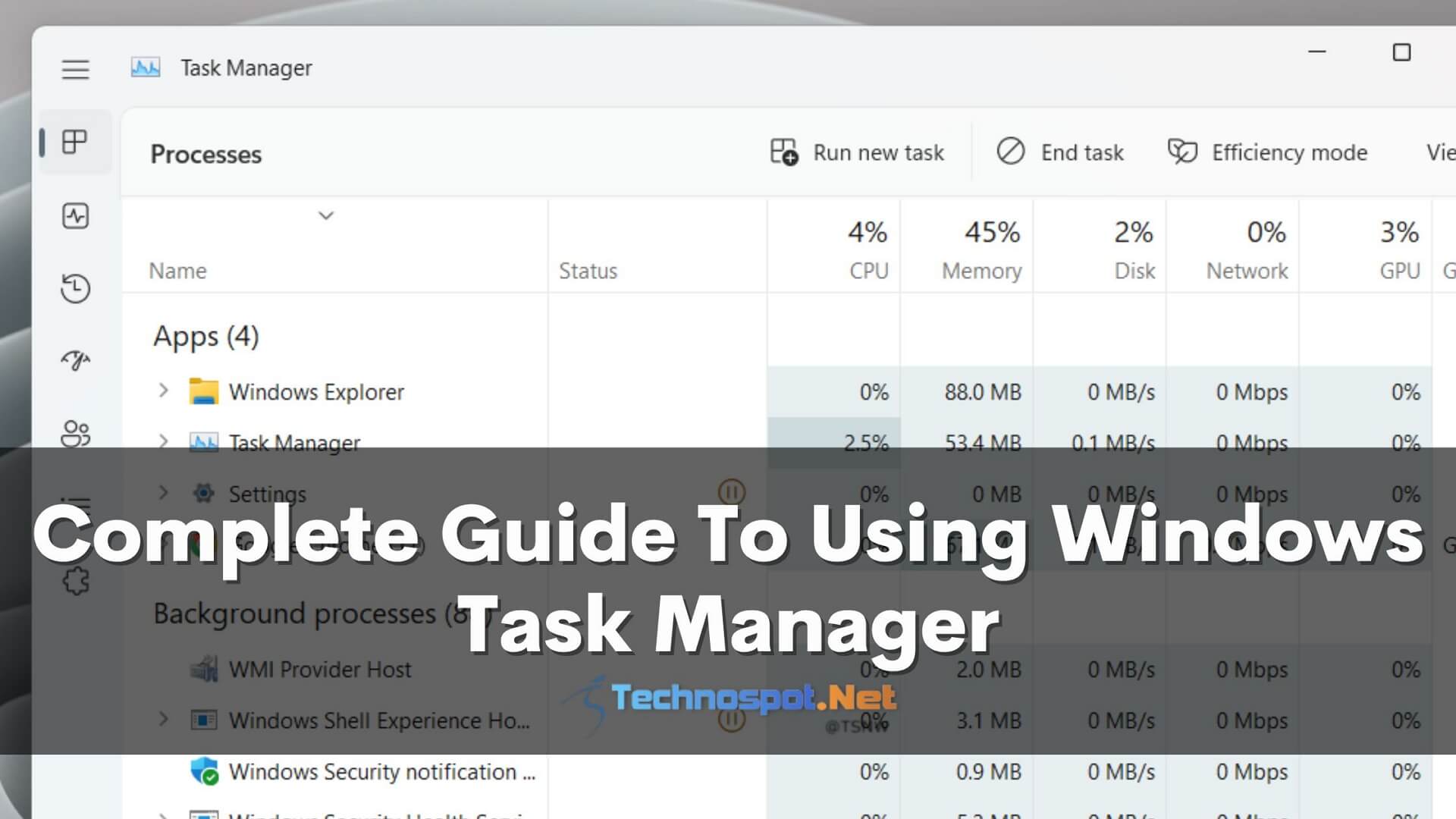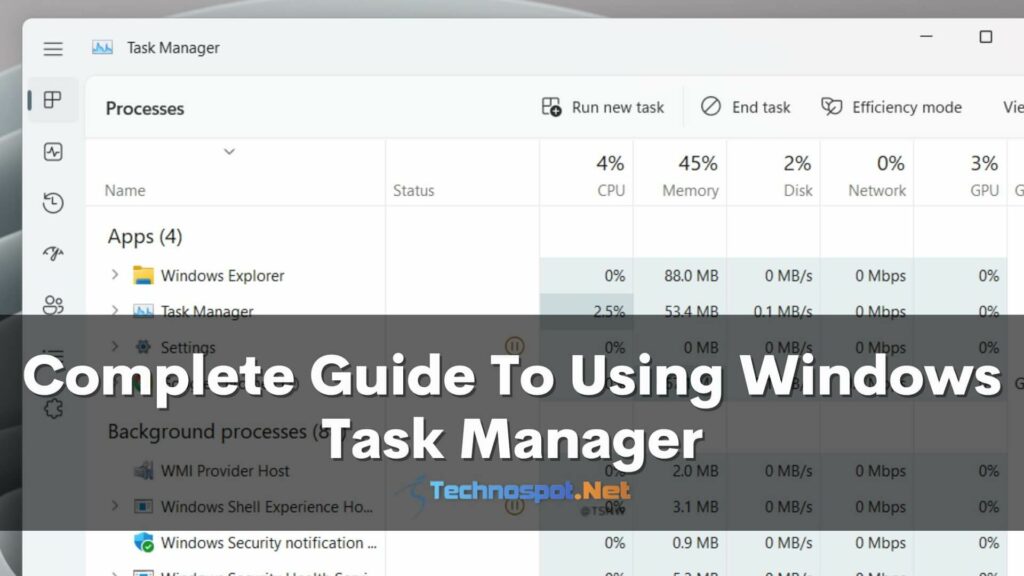 What Is Task Manager? What All I can Do With Windows Task Manager?
Task Manager is a utility built within Windows and used to manage Tasks, Processes, Services, and Users. On top of all this, you can also view the performance metrics of your computer, like CPU and GPU usage, Disk Usage, and Internet Usage. You can start new tasks and stop existing tasks from the utility. It also allows you to enable and disable startup apps and even users for your computer. The Task Manager also displays individual resource usage for each active process on your PC.
Well, now that you have a clear knowledge of what Task Manager is, let's proceed with our exhaustive guide on how to use Task Manager in Windows.
Complete Guide To Task Manager In Windows
We have compiled a comprehensive guide on using task manager. There are seven tabs in the utility, each of which serves a different function. We'll be covering the features of each one of them one by one. Here is what's ahead:
Launching Task Manager In Windows
Processes Tab
Performance Tab
App History Tab
Startup Apps Tab
Users Tab
Details Tab
Services Tab
Let's have a detailed look at all of these features.
1] Launching Task Manager In Windows
There are primarily two methods to do the same. Here they are:
Opening Task Manager Using Windows Start Menu: Open the Start menu by clicking the Windows icon in the taskbar or pressing the Windows button on your keyboard. Now, in the Start menu, search for the Task Manager from the search bar, and click on the first result to open the Task Manager.
Opening Task Manager Using Keyboard Shortcuts: You can launch the taskbar in Windows directly by pressing the Ctrl+Shift+Esc keys on your keyboard. Sometimes, your Windows might not respond due to an application. Then you can alternatively use Ctrl+Alt+Delete and then open Task manager from the screen that comes up.
2] Using the Processes Tab In Windows Task Manager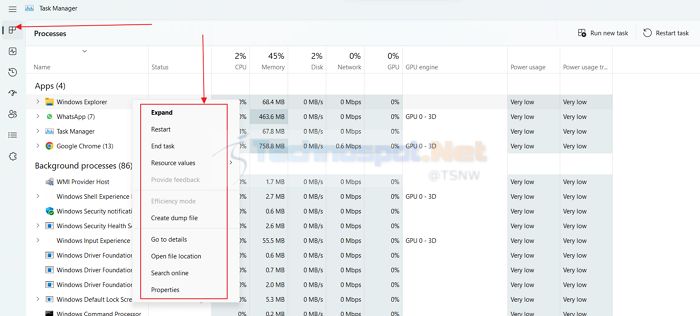 The processes tab displays all the currently running on the computer. It divides the processes into two categories, i.e., Apps and Background. Here's all that you can do with the Processes tab in Windows Task Managers:
You can Run New Tasks or End currently running tasks from the respective buttons in the top right corner.
You can view resource usage stats for each task. You can view stats like CPU Usage, Memory Usage, Disk Usage, Network Usage, GPU Usage, and Power Usage.
You can right-click any task or process to open the context menu, where you can end the task, restart it, view its location, and make other changes to it.
3] Using The Performance Tab In Windows Task Manager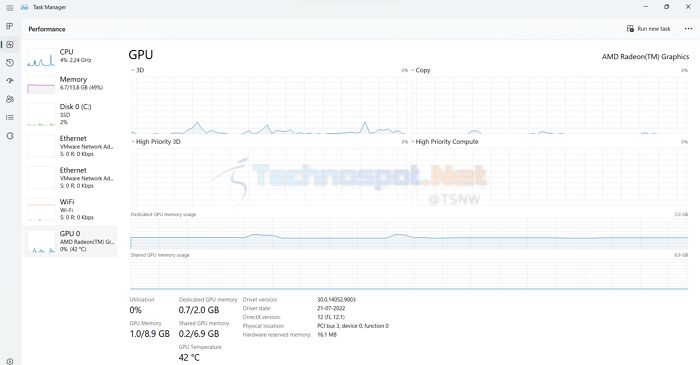 The performance tab in Task Manager offers performance metrics for each component, including CPU, Memory, Disk, Network, and GPU. Here are the details you can view for each component:
CPU: When you click on the CPU option from the left pane, you'll view a graph displaying the utilization percentage of the CPU and how it changes at each moment. Below the graph, you can view the utilization percentage, speeds, processes, threads, handles, and uptime. The section also displays the fixed specs for the CPU.
Memory: Like the CPU, you will view a Utilization graph for Memory. Below which, you can also view a figure for the memory composition. Under memory composition, the In-use Memory, Available Memory, Committed Memory, Cached Memory, Paged Pool, and Non-paged Pool will be available along with the Memory Specs.
Disk: For the Disk as well, first, a graph is displayed. You can also view the transfer rate graph below it. Under the transfer rate graph, you'll see the Active Time, Average Response Time, Read Speed, Write Speed, and Disk Specs.
Network: Each network adapter you've installed on your computer will be displayed separately. A send and receive speed graph is displayed first when you click on any of them. Below it, you can view the send and receive speeds in numbers along with the specs for the adapters.
GPU: It displays metrics for GPU. At first, you are presented with six graphs, displaying 3D, Copy, High Priority 3D, High Priority Computer  Dedicated GPU Memory Usage, and Shared Memory Usage. Below these graphs, you can view the Total Utilization, Dedicated Memory use, GPU Memory Use, Shared Memory use, and GPU Temperature, along with some other specs.
4] Using The App History tab In Windows Task Manager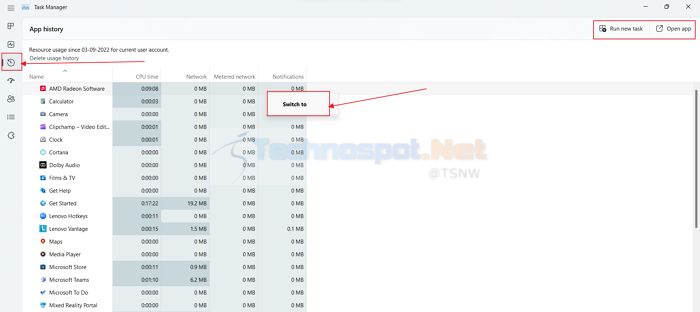 The app history tab in Task manager chronologically displays all the apps used on the computer. It also shows each application's CPU Time, Network Usage, Metered Network Usage, and Notification Usage.
You can right-click any application from the App History tab and click on the Switch option from the context menu to open the respective application directly from the Task manager.
5] Using The Startup Apps Tab In Windows Task Manager

The Startup apps tab displays all the applications that can run on startup and can be enabled and disabled. To Disable or Enable any app running on startup, right-click it, and then select Enable or Disable from the context menu that opens.
You can alternatively select the application and then head to the top right corner to enable or disable the app from running on startup. You can also Run a New Task and view the application properties and file location from the top right corner. You can also view the BIOS time in the top right corner.
6] Using The Users Tab In Windows Task Manager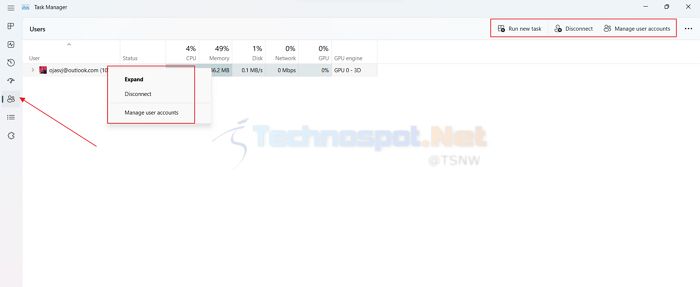 The Users Tab displays all the user accounts active on your computer. You can check each user's CPU Usage, Disk Usage, Memory Usage, Network Usage, and GPU Usage. Right-click the user name to disconnect the user or manage user settings. You can do the same by reaching out to the top right corner.
7] Using The Details Tab In Windows Task Manager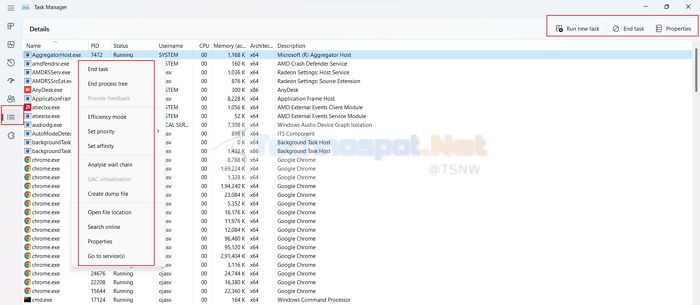 The details tab is one of the most functional tabs in Windows task manager as it allows you to control the processes currently running on your computer. You can view the Process ID, Status, Username, CPU, Memory usage, Architecture, and Description.
Right-clicking a process reveals a plethora of options. You can end the process or the entire process tree from the context menu. You can also turn on the Efficiency Mode to save power and resources, set priority and affinity for the process, create a Dump file, and do other customizations.
8] Using Services Tab In Windows Task Manager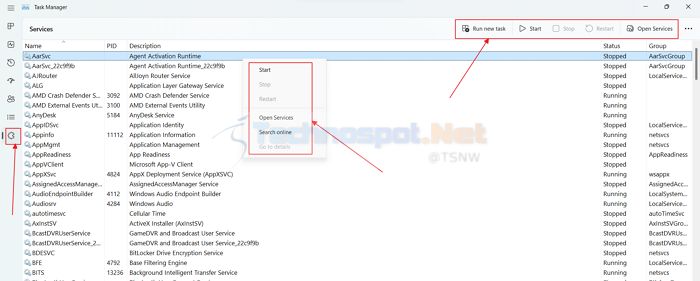 The Services tab in Windows task manager displays all available system services currently running on your computer. These services are attached to different components on your computer and are very important for its functioning. You can right-click each service to Start, Stop or Restart it and do the same from the top right corner. 
Conclusion: 
Task Manager is an essential utility in Windows. You can use it to make sure apps and processes on your PC are faster by reallocating resources to the critical processes giving them a priority. We hope you found the article to be insightful. Please make sure that you share it with everyone.
Is It Safe To Stop Any Service In The Windows Task Manager?
It is generally safe to stop services from Task Manager. Services, however, are linked to essential functions on your computer, so any service, if stopped, will result in the respective function not working entirely or partially.
Does Disabling Apps From Running On Startup Improve The Boot Time?
Disabling apps from running on startup will boost boot time by a tiny fraction if the application does not severely affect the startup time in the first place. You should, however, prevent unnecessary applications from running on startup.