Starting with Windows 8, and now in Windows 10, end-users like you and me can take advantage of the Server feature, called Storage Spaces. The concept allows you to merge multiple drives like USB or SATA or even IDE as one single logical drive instead of various devices. Using this feature, not only you can do better space management but also bring features of RAID. It will help you keep a mirror or backup of all the files, so if one of the physical drives fails, you have others to get back your data. In this post, I will show how you can Configure Windows 10 Storage Spaces.
This feature was exclusive to Windows Home Server users, name as Drive Extender. I had used the Home server for some time, and I would not be surprised if slowly all these get incorporated in the Windows version itself.
What is Storage Spaces Feature in Windows 10/8?
Windows 10 Storage Space now can provide a unified view of all the external storage added to it. The other part is those drives are then not available for immediate usage after the process. Secondly, it is possible to make pool sizes more significant than the size of the storage devices you included.
Storage Pool
It is a collection of real physical Storage Devices that can be of different sizes and different types, i.e. USB, SATA (Serial ATA), or SAS (Serial Attached SCSI).  You can have more than one storage pool, which can have N number of storage devices.
Storage Spaces
Inside every storage pool, you can create N number of storage spaces, which can be more than the size of the capacity of all the storage devices connected to a storage pool.
So how is this made possible? It works on the principle of thin provisioning, which takes up space only when it is required. When you reach the capacity of the physical device, you will be notified that you need to add more capacity to the pool.
The advantage you get here is by using the power of NTFS and Storage Space fundamentals. Space is managed efficiently. When files are deleted, storage space is reclaimed back. It can be used somewhere else. You do not have to worry about defragmentation or moving data from one to another drive. It forms a unified view of all your connected storage devices.
Secondly, when you use Resiliency, your file data are safer, which means, in case of drive failures, you still have another copy to get it back.
How to configure Windows 10 Storage Spaces
First, connect your USB drive or external storage, which can be, hard drive to your main computer. If you have data on it, back it up.
Next, type in Storage Spaces on your start screen, and you will have two option Manage Storage Space and Storage Spaces under Settings. You can also find it under Control PanelSystem and SecurityStorage Spaces.
Click on the option which says Create New Pool and Storage Space. Next, it will detect all the connected storage device, and then you can choose which one to add to the pool you are going to create in the next step.
Pool Configuration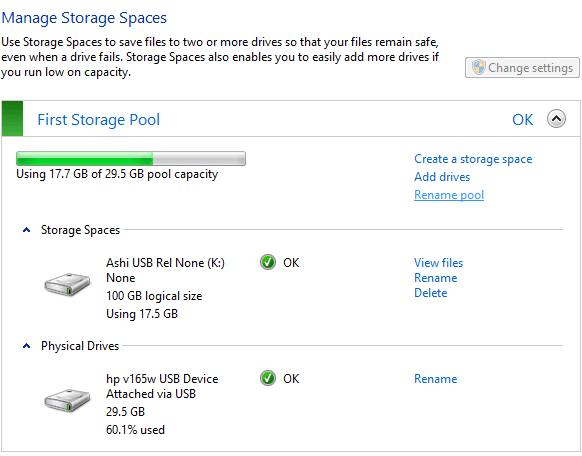 Here, you can see the total storage device capacity and then choose to set the Pool Capacity. It can be way more than what is available. Also, make sure to select the type of Reliance. You can always create another storage space in the existing pool by adding additional drives.
Once done, you will see the first pool created, which you can rename. Also, you will have an option to Add Drives, Create Storage Spaces, Delete Space, etc.
When you run out of space on any of the pool, you will get notification of Low Disk Space. You can add additional drives or delete files to get rid of it. In case there is no space at all, and a copy is in progress, it will be stuck forever.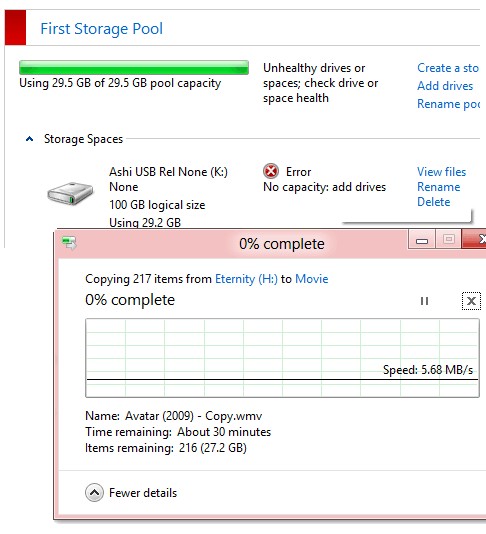 Video: How to configure Storage Spaces
Few things you should know about Storage Spaces
Storage Spaces are optimized to work with consumer devices like USB like devices. It means you don't have to think to get RAID drives to increase the performance. They both differ from each other.
In case of a hard drive failure, you don't have to do anything manually to get your data back. Just disconnect drives which are marked as degraded, and add new drives. If you have created mirrored or parity spaces, you will have your data in no time, as it will sync automatically.
Any device, which is included in the storage space of Windows 10, will not be visible to another computer. It will treat it as an unfamiliar partitioning scheme. So you will need to use third-party software to format it and make it usable.
I hope the tutorial was easy to follow, and you were able to configure Storage Spaces in Windows 10. Make sure to use the spare hard disk to keep expanding it further.