Youtube has recently added support which enables users to watch the videos in 3d, of course the uploaded video should have been taken from both left and right angels so that it can work with 3d. You can watch this video for example but you would also need 3D glasses to find if it really works.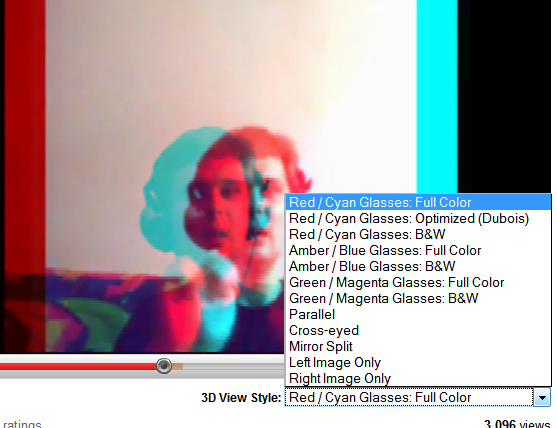 Like you can see the snapshot of the image above, you would see double images without any 3d glass.
How to enable 3d in You tube ?
This was answered by one of guys in You tube forums and this is how it goes like :
&yt3d:enable=true Enables the view mode. (obviously you've already discovered this)
&yt3d:aspect=3:4 Sets the aspect of the encoded video.
&yt3d:swap=true Swaps the left and right sources.
You will need to add this at the end of the url in address bar of the browser you are using i.e. http://www.youtube.com/watch?v=ihvhIPHiDNg&yt3d:enable=true.
This also enables few more options for choosing different colour scheme, parallel, cross eyed, mirror split along with left and right views only.
Now lets see if the You tube videos come up with a 3D icon like it came for HD videos. This will make it easy for users to find if they videos is available in 3D also.
Want to create a video in 3d for you tube ? Readon