Phones have eased up connecting and accessing essential documents on the go. Therefore, you might have them on your Android, not your Windows PC. Apart from crucial files, there are photos, videos, and such stuff you want to view on a bigger screen. You think of sending them to your laptop but don't have an adapter. In such a case, you can wirelessly transfer files from Android to Windows PC using Nearby Share.
Yes, the popular Android feature has recently launched software for PC, which is in its beta version. After knowing this, we have covered you all if you were looking to copy files, links, videos, etc., from Android to PC using Nearby Share wirelessly!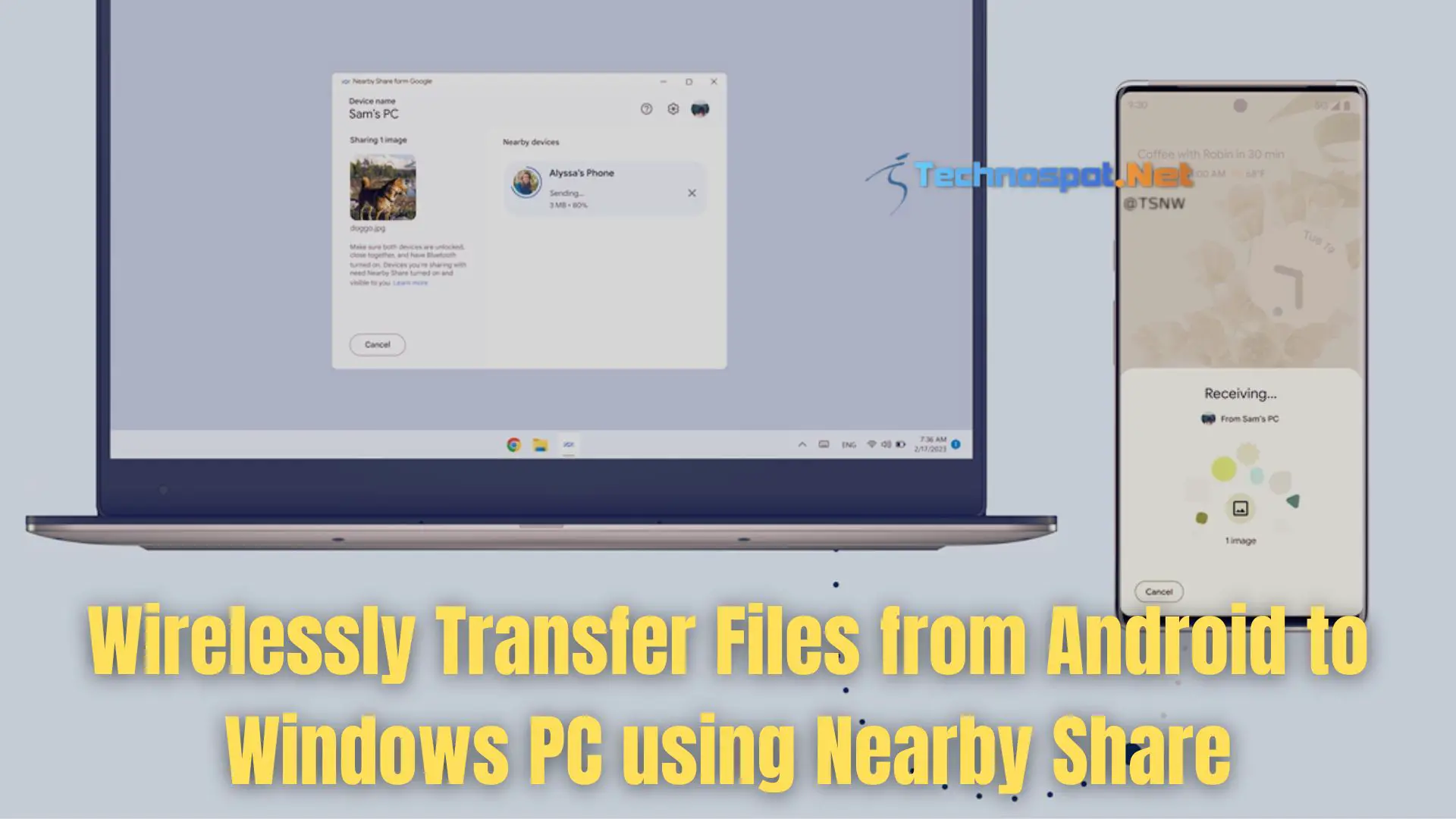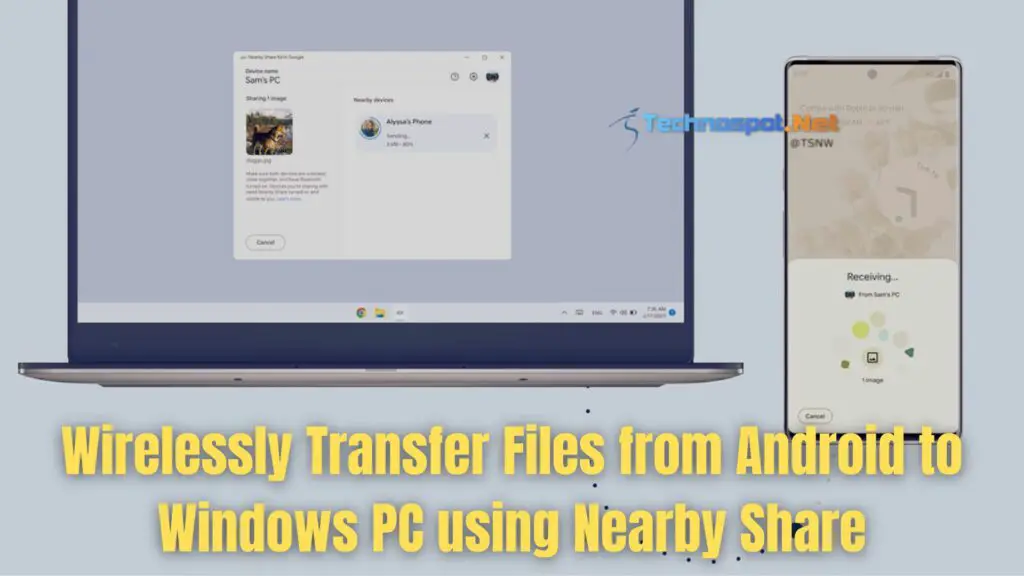 How to Wirelessly Transfer Files from Android to Windows PC using Nearby Share?
You need to follow a few easy steps accurately to quickly and wireless transfer files from your Android device to your PC that are as follows:
How to Setup Your PC for Nearby Share?
To begin with, you need to download the Nearby Share app on your PC from the Android website. Using it, you can transfer files to Nearby Android devices, depending on your device visibility preferences.
Sign in to Nearby Share Beta with your Gmail account and ensure your sign-in is successful. The advantage of signing is that you can receive it only from your contacts or your devices.
In the next screen, you can choose from whom you can receive the files when the Nearby Sharing is turned on. By default, the Contacts option is enabled. Click on Done to proceed.
It will show that your device is ready to receive files from your contacts. Please tap on the arrowhead next to it and select Receive from everyone from the drop-down list.
Turn on your Bluetooth, and your PC is ready to receive files.
You have control over who can discover your device and send files, whether it's everyone, only your friends and family, or just your own devices. The next step is to set up your phone so both devices are ready to pair.
How to Setup Your Phone for Nearby Share?
Similarly, you must set up your phone's Nearby Share. The best part is that you don't need to install anything for Nearby Share; it's built-in. I am sure many of you have already seen this feature whenever you use the Share feature. Make sure to turn it on from the Action Center, along with Bluetooth.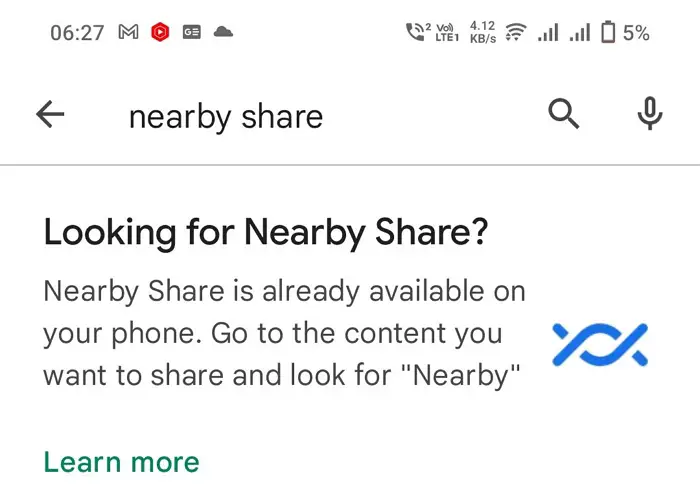 Bluetooth is needed as the app uses it to discover new devices around it. If you keep it off, the feature will not work.
Further, if you press the NearBy in the action center, it will show up a quick configuration where you can choose the device visibility to Everyone, Contacts, or Your Devices. If you are signed up using the same Google account on both devices, it will make discovery much faster.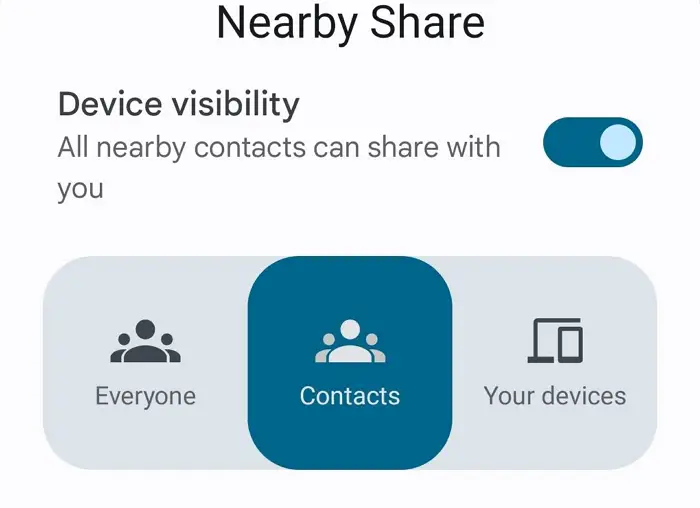 How to Share or Transfer Files Using Nearby Share?
There are two ways of doing this. The first uses Android's built-in NearBy Share feature, and the second uses Google's File App.
Native Nearby Android to PC
Select a file, folder, link, SMS, or anything that can be shared through the native Share menu of the Android.
The Share menu will appear, and you will see the Nearby option upfront
The Nearby Share menu will show a preview and search for the devices supporting it. In our case, it's the PC.
Since your PC is in receive mode, it will appear in the list, and when you tap on it, the data will be sent to the PC.
Nearby PC to Android
To send links or files from PC to Android using Nearby, turn on NearBy from the action center. It will ensure the phone is discoverable and ready to receive. You can long press to configure it further.
Open the Nearby App on your PC, select the file you want to send, and wait for the phone to be discovered.
Once the phone appears, click on it, and it will instantly share the file with the phone.
On your Android phone, a pop-up will appear notifying the file has been received, and you can choose to open it or open the download location.
Files by Google App
Download, and install the Files by Google app
Launch and tap the Nearby Share tab at the bottom right corner.
Press the Send Button
Your phone will start detecting any Nearby devices in the vicinity; tap on your PC to pair.
Next, choose the files which you want to share and click on Next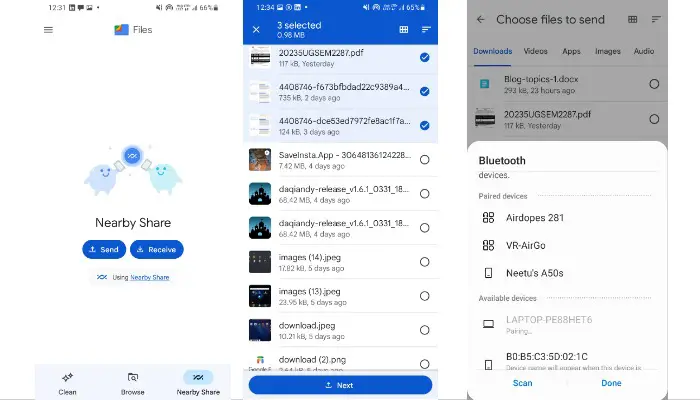 The app will then start transferring files from your Android to your PC. Don't disable Bluetooth until both devices prompt you that the process is complete. The file sharing will continue even when the screen is off as the process continues in the background.
Conclusion
While sharing files from Android to PC is not new, the Nearby App by Android for Windows makes it super easy. It is not limited to sending files but SMS, links, or text. It is also well-configured to maintain your privacy by allowing you to choose the discoverability setting. On top of that, the option to Sign-in using the Google account makes sure all my devices can discover each other.
Why Does Nearby Share Not Work on PC?
The most common reason why Nearby Share does not work on a PC is when you don't enable Nearby Share on both your devices. Other than that, it would be best if you made sure the discovery of the devices is possible and Bluetooth is turned on.
How Do I Share Files Over WIFI?
You can share files over WIFI using the WiFi direct option and connecting your device with other devices. While Windows supports the protocol, you must use a third-party app to make the transfer happen. Instead, you can use Nearby sharing and select "share from receive from everyone" to transfer files.