Ever wanted to know, what or how will you look like if you reduce those few extra pounds from your weight. Probably your reply will be a 'Yes', if it's a 'No' this isn't something for you.
Weight Mirror is the tool, which allows you to have a look at what you will look like if you reduce your weight.
Here is how to do it, simply upload a photo; it should be a front faced one for a better outcome.
As soon as uploaded the photo will appear on front of you, it will show you a frame around your face, set the corners of frame so as they overlap the corners of the face in the photo. Also adjust the Current weight and current height.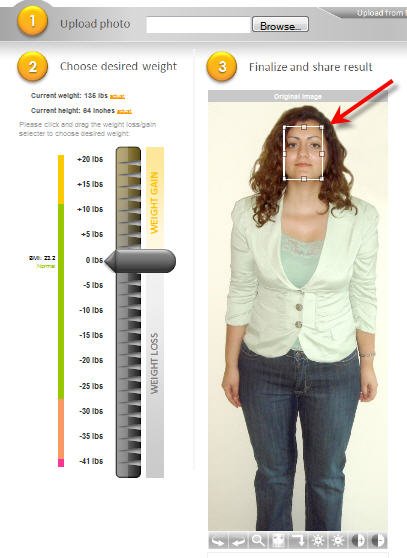 Once done with this, simply drag the bar in 'WEIGHT LOSS' or 'WEIGHT GAIN' directions to get results.
Here is the image available for sample on the Weight Mirror, after losing 41lbs of weight; the output is as shown above.
There is a 'Review your makeover' button which opens before and after the weight loss/gain images for better comparison in a new window, you can also share this makeover with anybody you want by entering their email address.
Sounds good?   Try Weight Mirror