In this post I have talked my experience of using HP Envy X2 running Windows 8 Pro. Instead of talking all about hardware and boring specs, I have only talked my experience using it using it as Tablet, Laptop, build quality and battery life. If you have any questions apart from these please do put it in comments.
Design & Build:
HP has done an impressive job when it comes to the Design and Build Quality. It is very clear that this ultrabook is designed with lot of thoughts and keeping in mind how user will feel using it.
Envy X2 has two components. First is the tablet like monitor which has touch interface and works smoothly with Windows 8. Second part is the Keyboard. These two are connected with each other using a slot.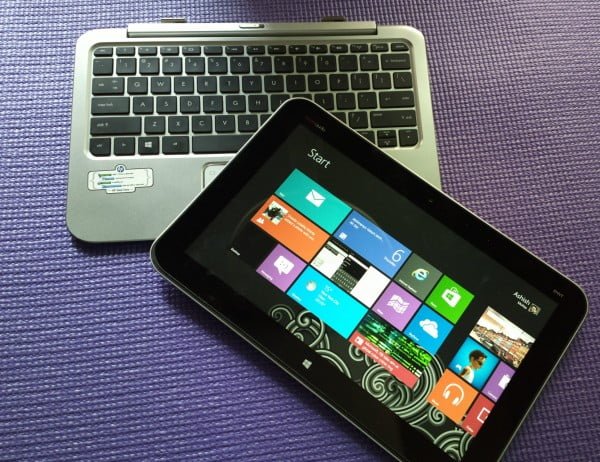 That said, Its lightweight so you don't carry a brick in your bag or in your hand and the material on the outer side is such that it gives you a very strong grip. It's all metallic with smooth finish but because it is light, it gives you a strong grip. Plus its only in length so it make sure you wont drop it.
Key Features:
Detachable display which makes sure if you want to use just the touch interface for media or casual browsing, it comes handy.
Since its detachable, both the keyboard and display panel has separate batteries.
Taking off the display panel is very easy, just slide the button at their junction and pull upwards.
Buttons to reduce volume and power is the back of display panel which is easily accessable..
Display Panel comes with SD card slot so even when you haven't docked with keyboard, you still have access.
Envy X2 is metal build which IMO you need to careful that you don't slam it anywhere. That's true for any laptop but being metal the scratches will be more visible than anything else.
Apart from this caution, the look comes out great with the metal finish and the curves are just done right. Never had a problem holding it with one hand or even moving it from one place to another with lid open and single-handedly.
Battery Life:
We are happy to share that this has left has me so impressed that I would love to get one for myself. It comes with 2 set of battery. One is with the tablet or the screen while the other is along with keyboard. When used along with keyboard, the battery of keyboard gets consumed first followed by the screen battery.
On record the battery lasts for 8 to 10 hours on regular usage for 6 hours if media consumption is high and 4 hours when used along with gaming. From a normal consumer perspective, I have used it almost all day and only set to charge at night which is just great. You will almost worry free of battery if you plan to take it without the cable.
Charging time is almost 1.5 to 2 hours from zero to 100%.
Using as Tablet:
Even though the size of the separable display panel is not the right size for a tablet, I found it convenient for casual browsing and multimedia consumption.
It's a 11 inch display panel which responds good to touch. When not using with physical keyboard, you will be using touch more often and you wont be disappointment. The volume knockers and the power button is right at the edges which gives you quick access for lowering down the volume or turning off the display when you need it.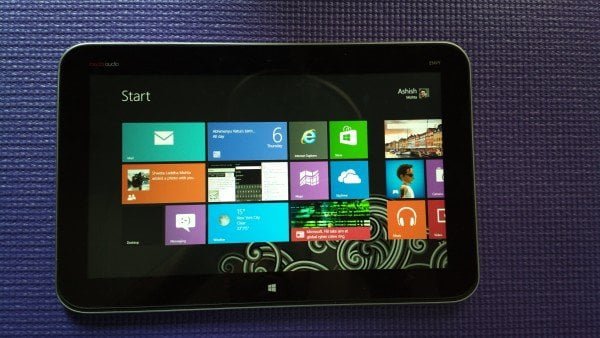 The virtual keyboard comes in different style which  includes default, split, handwriting. The best is to use split if you want to use both the hands for typing. The default keyboard just doesn't work so well with this wide display.
Using as Laptop (Keyboard & Touchpad Experience)
Desktop with Touch:
Since this is a touch enabled desktop, when you start using the touch, you will feel very odd. As an example, I have never used a touch display before and was pretty awkward when I started using touch for almost everything. I was tapping for opening links, publish posts, closing apps, etc.
Envy X2 uses Windows 8 Pro which means you get both touch experience and desktop experience. You can use all the desktop application and the Windows Store Apps as well.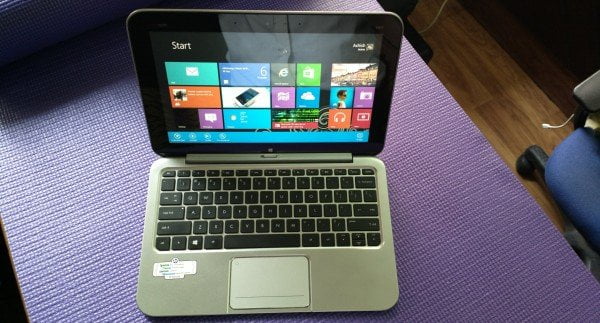 The respond to touch is without any delay and you will feel like you been clicking. The display not only shows vibrant display but when use it as tablet you get smooth operating experience.
Touchpad
Touchpad experience did not turn out to be so good. I had used a Dell laptop from last 6 years and when I compare that with HP's touchpad, I think there is a lot of room for improvement.
First the material with which the laptop surface is made up was giigling me all the time I had my thumb or finger over it. It took me like 3 weeks to get used to it and my mind to get away of that feeling.
Second, even though the touchpad area is pretty big, the controls aren't smooth. For example I often used to get more of right-click than left and there s no way to scroll from there. Though you will get used to touch behavior and will use touch for even clicking a link.
There is also a lock option for touchpad which can be set right from the touchpad interface.
Keyboard:
It's an ultrabook which means its compact and hence you don't have a full keyboard. If you been using a desktop it will take you a week or two get used to it completely. Lout of functions like Home, Function Keys, etc are combined in with other keys. What is odd here is that for using regular keys like home, you need to use the function key along with it.
Apart from what I sad above everything was smooth. Once you get to used to the keyboard you will be able to type on very fast. The keyboard is strong and responds well.
Performance :
It comes with ATOM processor. This straight away means that this ultrabook was never built to do heavy work. Even though I have played games, converted videos, audio editing, etc but they take more time compared to a powerful PC.
Apart from these I never had a problem with browsing, application launch and usage. Though I had to restart the laptop once every day as it gets slow at the end of the day when used heavily.
When it comes to RAM,  it has 2GB of RAM and the 1.8 GHZ processor which is 32Bit.  Total hard disk space is 57 GB of which 10Gb goes for recovery. There is microSD card support which  you can use to expand memory for movies and songs.
Camera:
The specifications are impressive here. The Front facing camera is 1080P HD which makes sure when you go for video calling, you get  the best look. The camera is true vision webcam with integrated digital microphone to get the best audio.
Though taking a picture with your tablet in hand looks very odd but if you do so, HP Envy X2 has 8MP camera. Though I am sure most of you will like to use it to show up what's in front of you when doing a web chat.
Sound Quality:
When used without headphones, it failed to impress me because overall volume was on the lower side.  The Speakers are located on the lower part of the screen which do get blocked when used with keyboard. Don't be surprised if it sounds better without the keyboard.
When tried with the headphones, there was no problem at all but if you kind of person who wants to use it media only purpose, then best is take the screen off, relax and plugin your earphones.
Gallery:
Verdict
This ultrabook is priced at 60K which changed my verdict a lot. If I have to ignore the pricing, its an amazing ultrabook which gets you a tablet, light weight factor, best battery life, full HD camera and amazing touch experience.
So if you have that kind of money, its an amazing deal for you. I hope HP can cut down the pricing by around 10K to make it even more successful.