HTML Kit is a full-featured free editor for HTML, XHTML, XML, CSS, JavaScript, PHP and other text file type. It not only allows you to create web pages quick but you can also understand the lay out of any site and create standards-compliant HTML/XHTML pages.
This is one of the best editors I have seen till now as it supports so many standards and has over 400 plugins available which can be used to make web pages within minutes.
Features of HTML Tool Kit
A) HTML Tags Wizard: Allows you to create tags without manual editing.
B) Check and Correct valid HTML/XHTML syntaxes.
C) List of HTML Attributes like href etc. Now you don't need to remember which tag has what attributes.
D) Insert Objects directly like "script" or attributes "onload" in one click.
E) Complete Formatting options which include meta tags, header, h1 , h2 and others.
F) One click CSS : Creating a CSS is very quick with this. All the elements are listed and you just need to pus one button.
Here are set of images you would like to see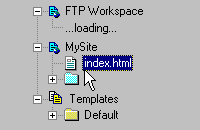 These images explain you how useful this tool can be to create web pages quickly and more accurately. There are lot more features available and too long to cover. I would suggest to download it which is free and use it. I am damn sure you will like it.