iBall announced Cobalt Youava 5.5 F this February, and we have it a try for 2 weeks. While the phone looks good enough for daily use, there are good, and bad about it. We discuss in this review:
Video :
iBall Cobalt Youava 5.5F Review
Build, Design, and Display
After using the phone for first 2-3 days, where I usually spend time to notice the quality, iBall Youava turns to be a like any other regular phone with plastic build, but then comes the rear case. The package includes two cases, one is matte finish, while other is shiny purple. They both look really good, and the usage experience i.e. holding it, using it when typing feels great.
When it comes to display, the screen is  5.5 inch IPS LCD with 720P display & 267 PPI. The display is 2.5D curved touch panel with full lamination. The catch here is that is Gorilla Glass protection and daylight readability is average. You will have to either keep the display high all the time or use the in-built outdoor brightness boost the display when you are on the field.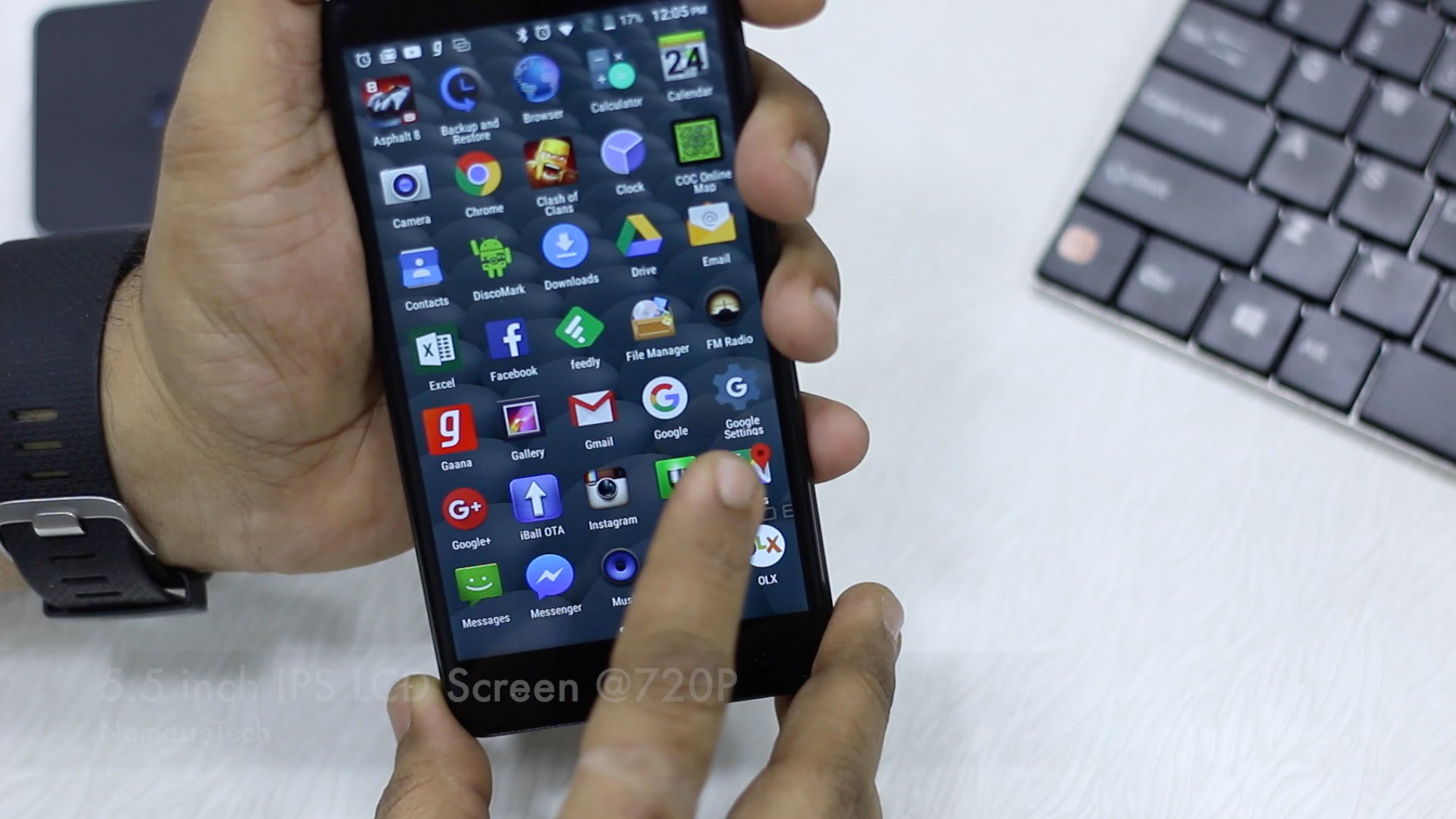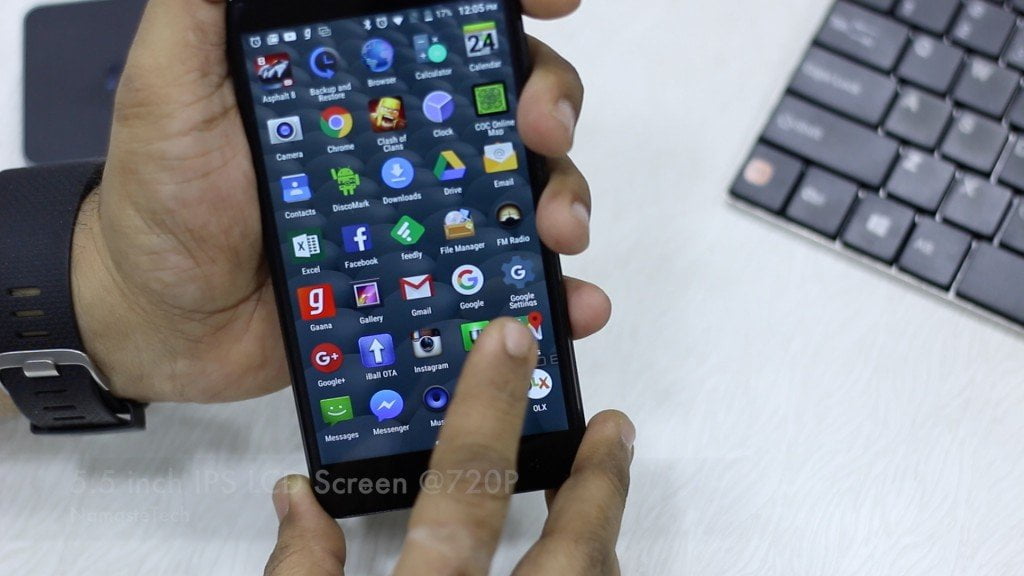 That said, how does the display look in real life? It actually looks good. Its bright, icons are sharp, and the gaming experience was smooth from display perspective. Honestly, I don't have anything to complain about here.
One drawback here is about touch experience of the phone. It's not as smooth as I have experienced on other device. Not only its a fingerprint magnet, but it also feels little sticky to swipe sometimes.
Performance:
The phone houses a 1 GHz Quad-core 64-bit processor, with Mali T720 GPU. You get 2 GB RAM, 16 GB internal storage with microSD support upto 32 GB, a 8 MP rear camera and a 5 MP front camera. This version  supports 4G. The phone runs on Android 5.1 Lollipop 64 BIT OS.
After using both light weight and heavy apps, with lot of them running in the background, the phone performs decently. At any point of time, I had more than 10 apps in the background.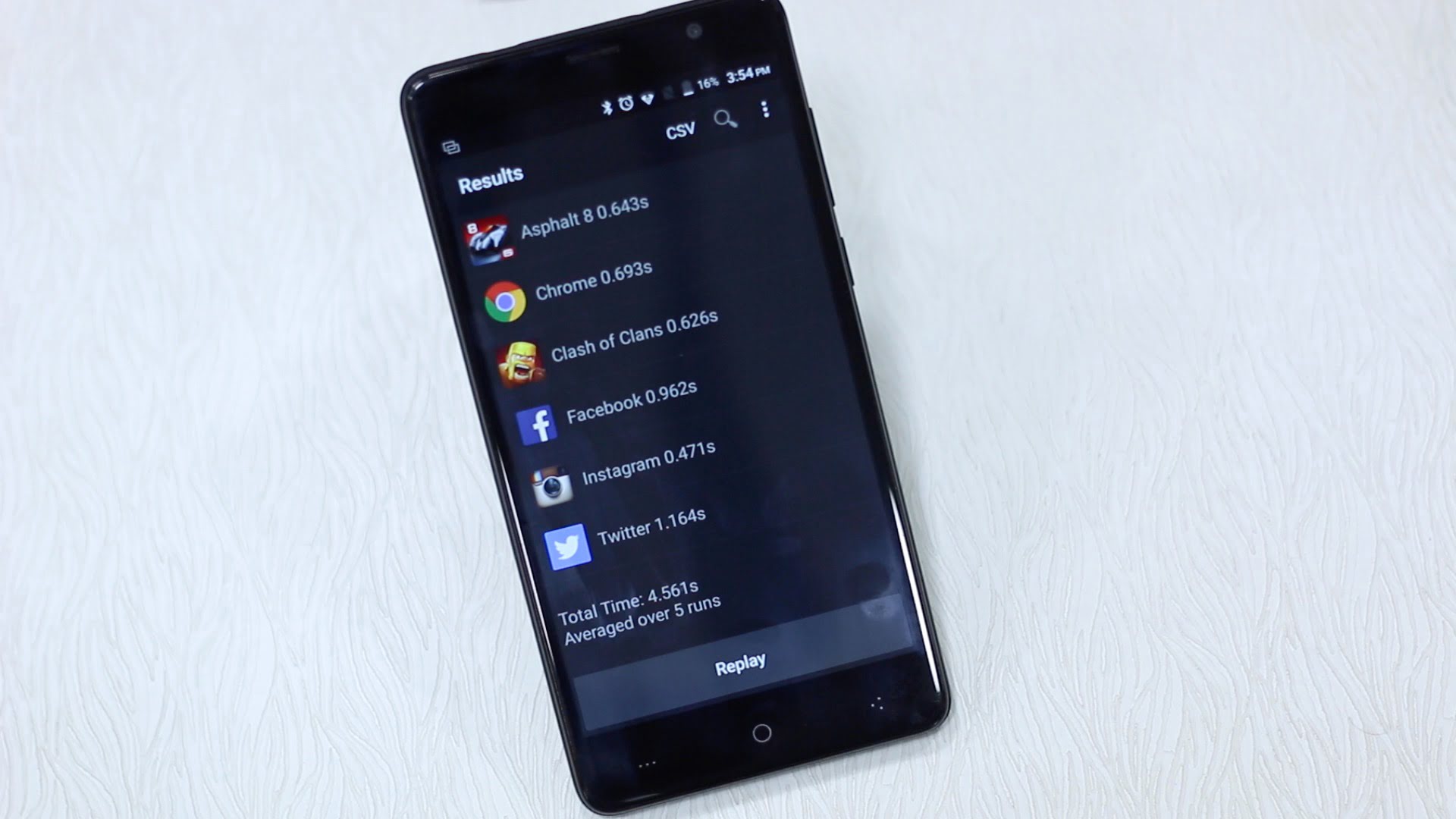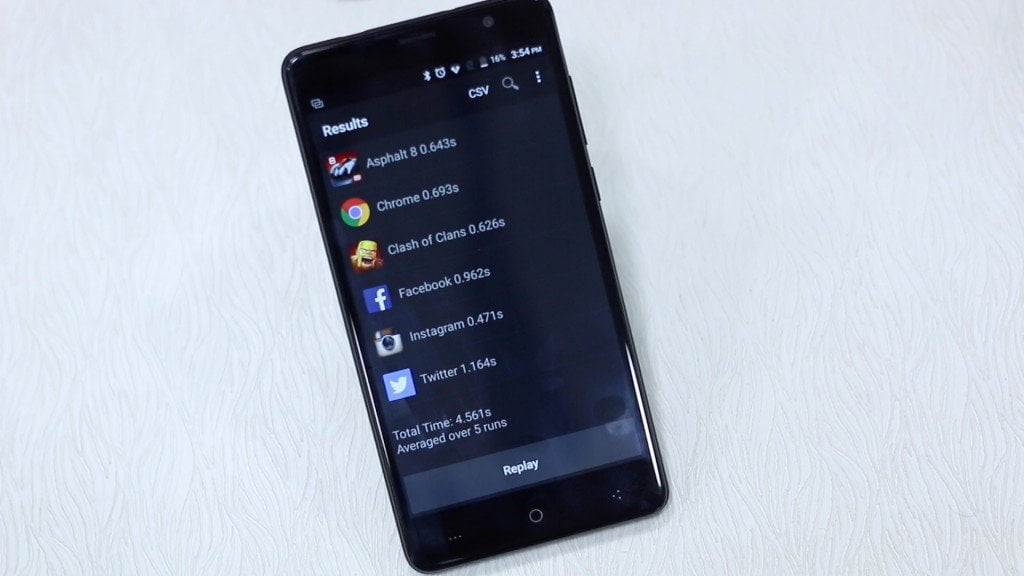 When run through Speed Test using the DiscoMark App, using around 7-8 to heavy-medium weight apps, the total time was 6.38 second. The app launches these apps from zero, and then switches between them from RAM. This gives a fair idea on how apps will perform.
Gaming Review:
I tried a lot of casual games and then high-end games like Asphalt 8 : Airborne. When played with high-end settings, it was very clear that it was hitting hard on the GPU. We could see the graphics blurring out in the rear and it wasn't that sharp. When switched to medium, the game response was much better.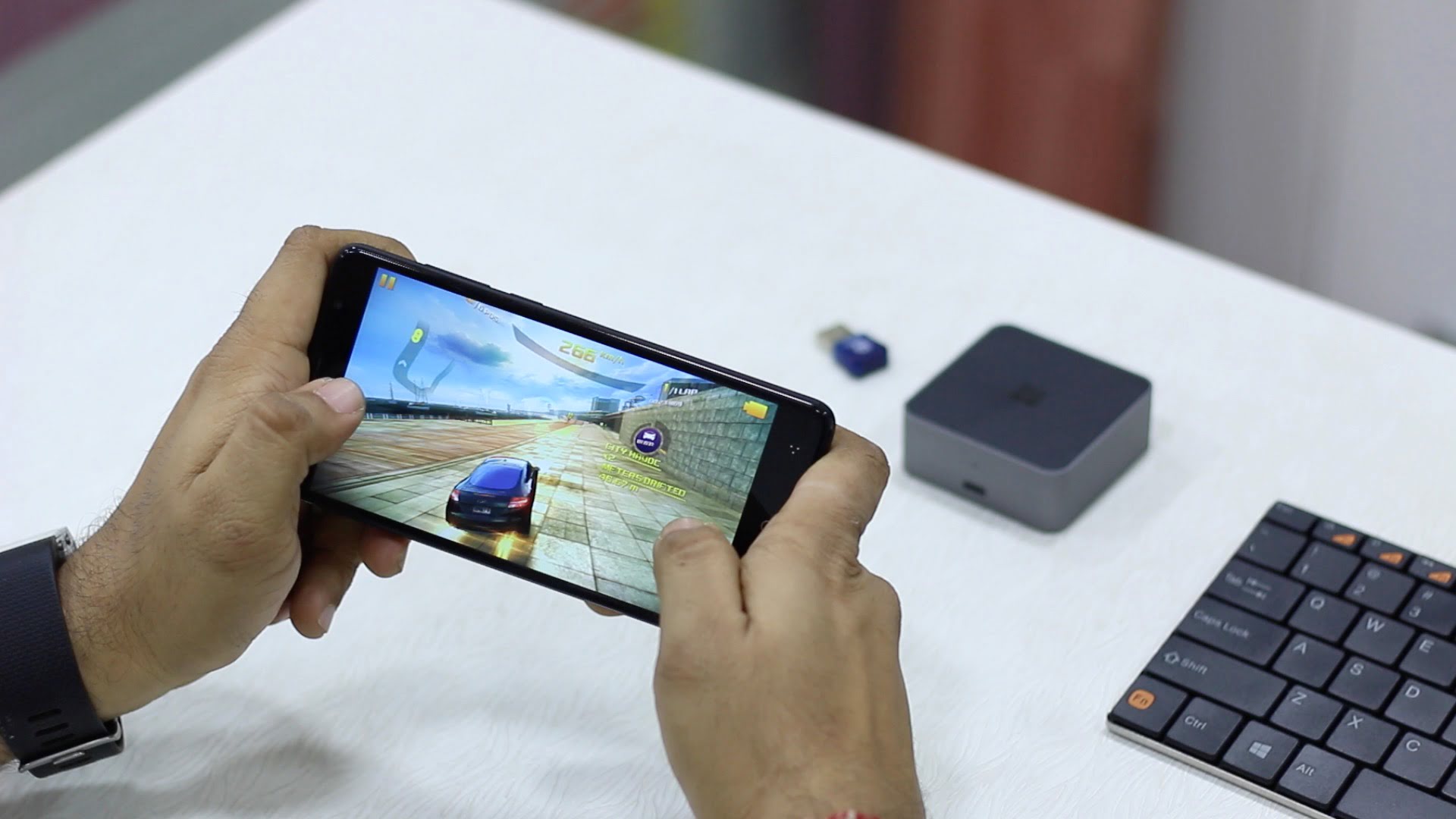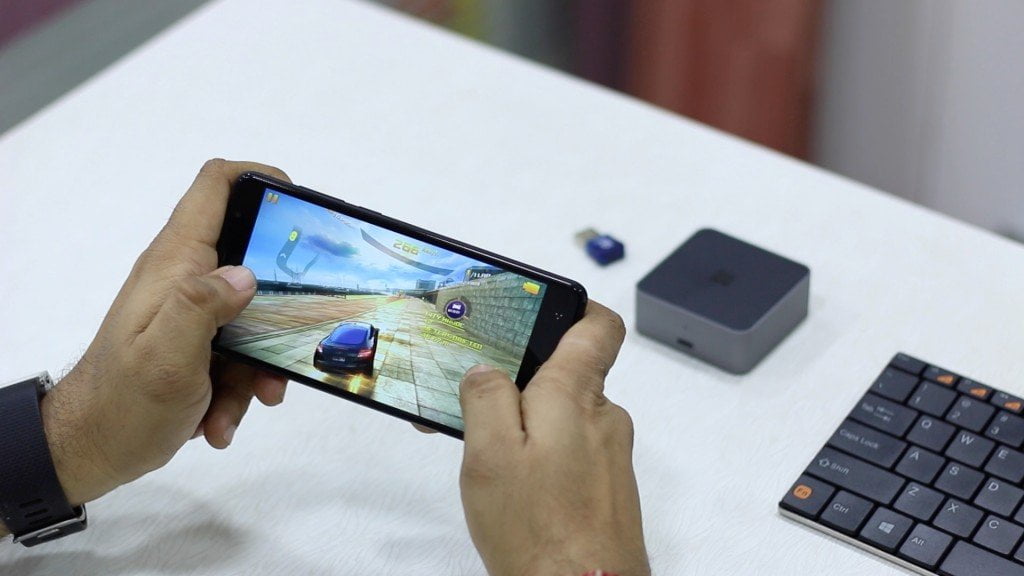 The good part is that heating part is on the lower side which I really appreciate. I have played games on this for hours and the heating was something you don't really notice. Overall, the phone should handle graphic intensive game to an extent.
Camera :
The phone houses a 8 MP rear camera with LED flash, and a 5 MP front camera. While taking pictures, there is no lag between shots, and comes with sone nice tricks under its sleeve.
Live Photo Mode : This lets you shoot a small clip.
Motion Track Mode:  If you want to capture a moving object, but want to make sure to keep the best shot in place., this is the mode.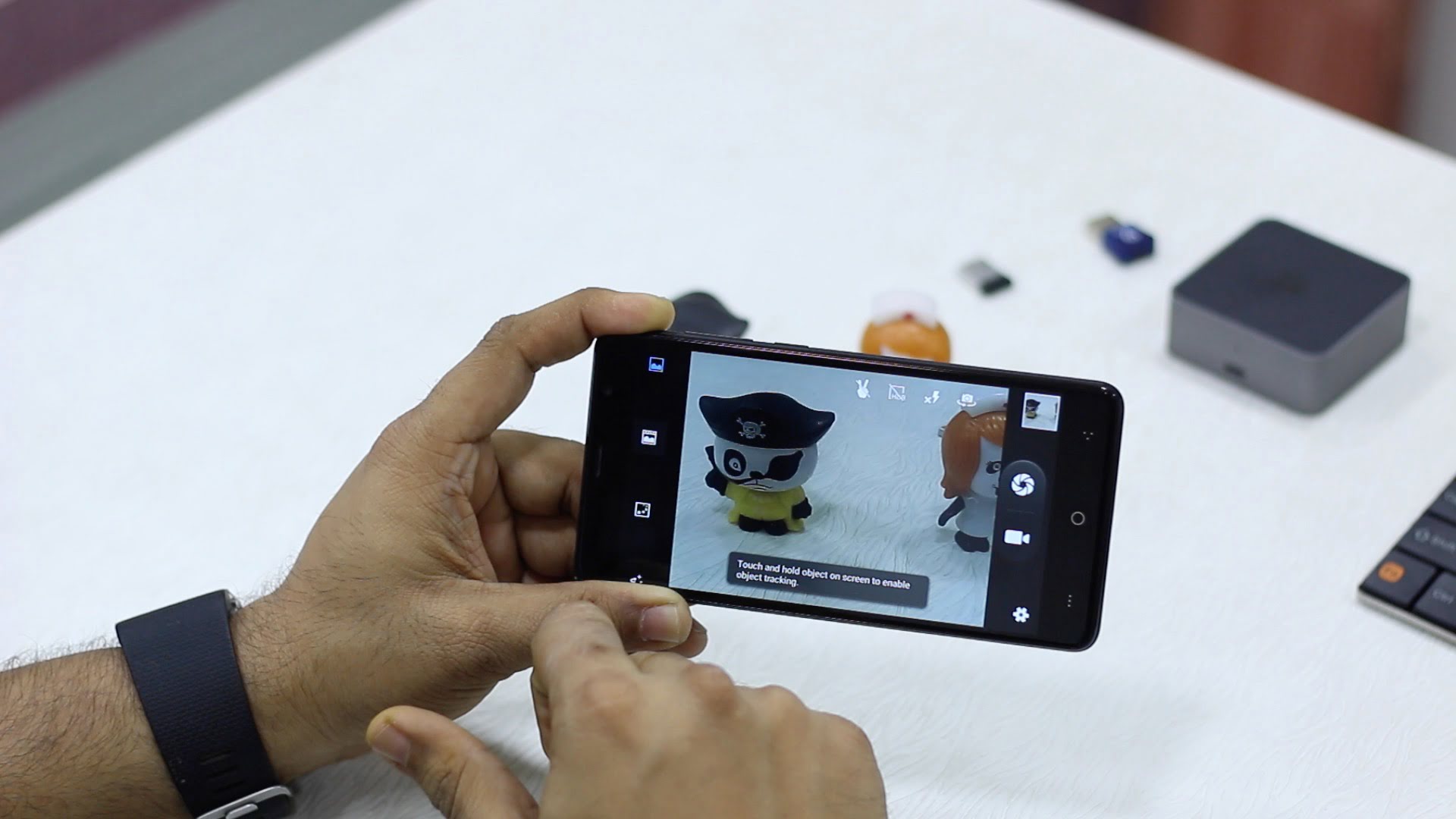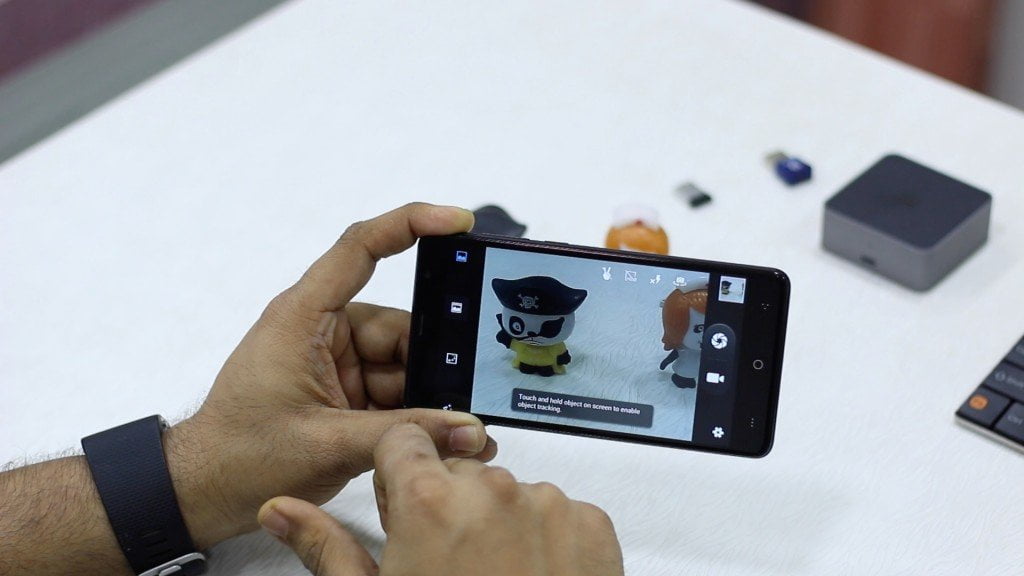 Apart from this, you have gesture support to take picture, HDR mode, colour effect, self timer, continuous shot mode and so on. One thing you should know about the camera is that even though sensor is an 8 MP camera, but uses software algorithm to make it 13MP. The same goes for the front camera which goes to 8 MP.
Check out the picture samples here.
Software :
The phone runs on Android 5.1 Lollipop (64 Bit), and doesn't come with any kind of skin or theme from iBall. After using it for almost 10 days, I found the experience to be pretty good.  There are hiccups here, and there but nothing on major side. iBall should be able to fix them with their next OTA Update. Some noticeable features:
Wake Gesture
HotKnot to allow data exchange when the screen touches another device.
Smart Motion to unlock, answer calls, turn to silence, smart switch, and so on.
Audio Playback & Music:
This phone packs in an incredibly loud-speaker, and even when kept on flat bed, it doesn't drop. When trying music, I tested it with local playback, online streaming services like Gana, and Saavan.
Call Experience:
The call experience is great as well. No hiccups, no call disconnects if network is strong. I had used two SIM in the phone, and it worked well. One thing that iBall has done differently here is that one of Sim slot supports the regular slot, while the other uses a Micro SIM. Since 4G is supported in both the SIM, you can use the way you want.
Battery:
The phone lasts for max of  15 to 16 hours with 3 hours of screen time when used on 4G, 3G WiFi and on moderate usage. The phone houses 2600 mAh power, and it's not on the lower side. One thing that surprises me a little is that the phone charges up quickly compared to phones at similar range even though it doesn't have fast charging or comes with high-powered charger.
Value for Money:
At a price of Rs 8,999 the phone looks decent for the kind of performance, and hardware it has. However, the phone will face the competition. The current scenario has few phones offers better camera, and come with fingerprint sensors. However, iBall being a local player has their advantages.  Service Centre, Brand Name, etc is known.