Tracking customers was always important regardless of what business you are in. The benefit is to understand what their interests are and hence help them buying the right products. The same applies to online business and customers and users are tracked as they visit websites looking for something. Though it is required but many customers don't want to be tracked like in real world. For example if they I like pizza, I would hate to get a call or hoardings around me of pizza discounts.
Coming to the topic, IE 9 RC was released to public recently and it came with an important feature called as Tracking Protection. This allows you to "not to get tracked" from various sites. It comes with a defined list and it is also possible for you to add new websites if you have any.
However tracking is not enabled by default and users will need to enable it.
Click on the Configuration Button which is last of three buttons available in Top Right of IE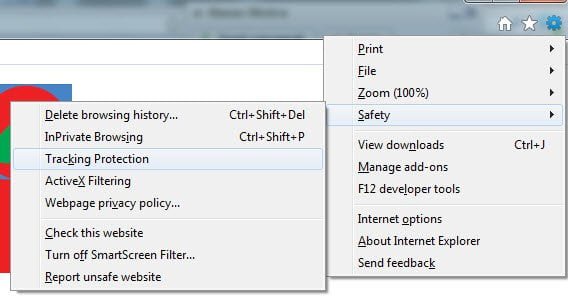 Go to Safety > Tracking Protection
Select the default list which says Your Protection List.
Before enabling you can view whats in the list by clicking on Settings.
Here you can choose which one to block and which one to disabled.
It says "When you visit multiple websites that contain content from the same provides, such as map, advertisement or web measurement tools, some information about your visits might be shared with the content provider. If you choose to block portions of the websites you visit might not be available." This does not mean that you cannot read anything on websites but only parts which are used to track you.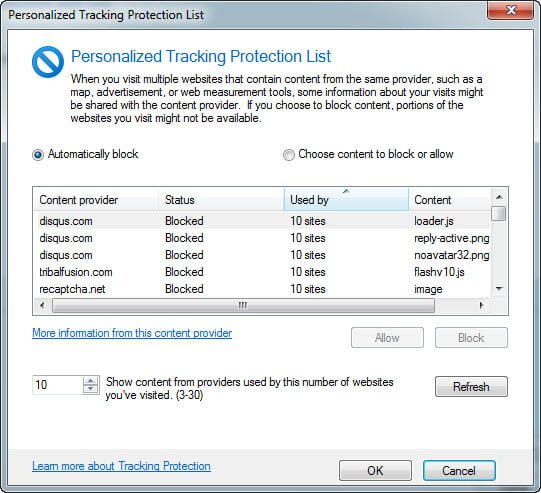 Also here you will notice that you can control which visitors are displayed in the list depending how many times they were tracking you when you visited a number of websites. So you can increase it a bit i.e. from 10 to 25 to make the list much more accurate.
Video Demo ( Direct Link )
Overall this is a very useful feature which should not come with all browsers which is available in Chrome and FF with add-ons. What do you think about this feature ? Would you like to block or love to see ads or offers which interests you ?