We all love to transform our existing Windows OS to something else like a Mac or even Windows 8. So if you are one those guys who love to change experience, here is something new to try for you. Immersive Explorer, a beautiful metrosih application, which gives you Windows 8  Like experience to browse files, folders, view drives and do some simple operations, all in Metro Style on Windows 7.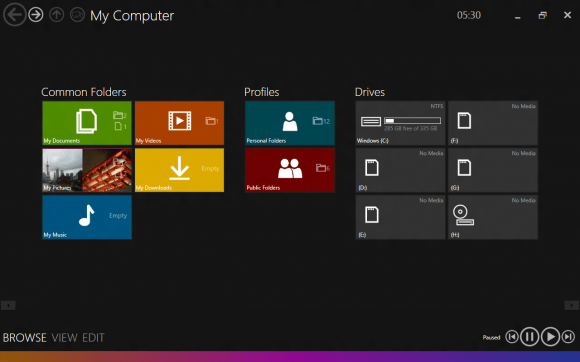 This application works both on Windows 8 and Windows 7. I am sure Windows 8 users might not be interested but this is worth a try because its not just traditional Windows 8 looks but it does more than that. Also its in the first version or in fact a beta, so you can try it and keep track as its get update.
Below are the list of features :
Browse File System.
The menu is at the bottom of the view. So if you want to see menus for Browse, you need to select browse and so on.
Supports Picture Viewing with Zoom in and Zoom out.
In future release i.e it will support the following features :
Video Playback.
Touch Screen support
Allow to edit pictures similar to picture viewer.
Basic file system operations like move, copy, delete & rename
Support Filter and Sorting.
For developers, this app will go open source at some stage. This is developed using WPF /.net and Win32. You may want to keep an eye on this.
For Users : To run this application, you need to have Windows 7 or Windows 8 with 1GB ram and .Net Framework 4.0. Download from here via Ghacks