Many of us use the browser for saving username passwords of different websites. Firefox also offers inbuilt password manager, and it can sync it across devices. While they are encrypted and locked down with your account, if you ever wanted to export username and password from Firefox, here is an extension that can get the job done for you.
Instead of using an addon, we will be using software which can export the passwords saved locally. If they are locked down with a master password, you can provide in the software input, and it will use it to unlock the database. The software works on Windows, macOS, and Linux.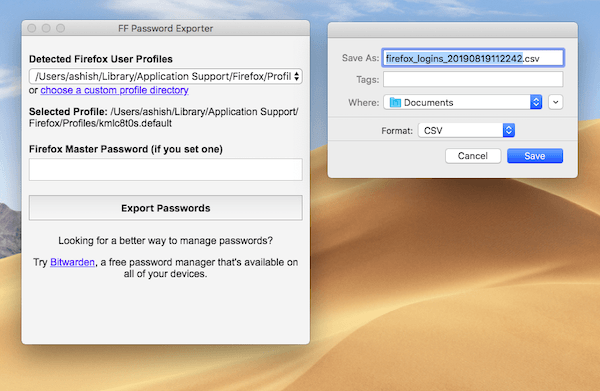 Export User name & Password from Firefox
Download and install/run FF Password Exporter.
Double click to launch it, and it will automatically detect the Firefox user profiles.
Choose the Firefox user's profile directory from which you want to export passwords.
If you have set a master password to protect your Firefox passwords, enter it.
Click the export button.
Choose your file format (CSV or JSON), and save the file to your device.
Once exported, open the file in a notepad or excel. You can then view and use it anywhere you want. There is no way to import the username password. So if you want the passwords to be available on another device or computer, create a Firefox Profile. Then use the same profile on all devices. It will sync extensions, passwords, and settings across devices and computers.
However, if you still want to go ahead manually then copy the files key4.db and logins.json, and paste the files into the other profile to use them there. It will work if the master password does not lock them, and they will overwrite the existing set of passwords on that profile.
We hope the software was easy to use and useful to export username password from Firefox.