When importing images from  Camera or Video camera Windows Live Photo Gallery  has some excellent configuration which you should make use. It not only helps you doing it right but also saves a lot of extra work you spend time in rearranging all the stuff.
Launch the Import configuration which you can find under options. Here you would see that import has kind of profile included which can be used differently for different devices.  The import tool in Windows Live Photo Gallery takes advantage of few factors which are available in your import source and images. Below are common factors :
Folder Name : In some camera you are allowed to configure to store images in folder structure.
File Name : You can change the name of the file from boring IMG_XXX to Rajasthan-DATE such as.
There are four inbuilt profile : Camera, Video Cameras, Album Download, Cd's and Dvd's. Lets have a look at them one by one :
Camera Import Profile :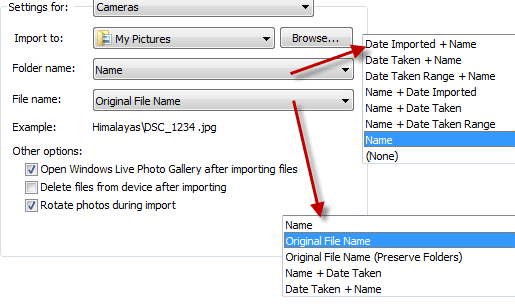 Specific features :
Date Taken range : If you are on a trip for a week this will help you get the images sorted in one folder.
Delete files after importing.
Rotate Images which are taken keeping the camera vertical.
Video Camera Profile :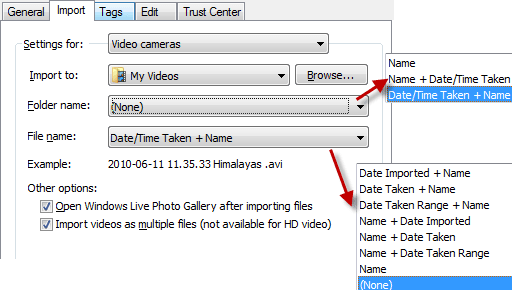 Specific Features :
If your videotape has several consecutive clips, each clip can be imported as a different file. This is required as you don't want to save them as one file and then take pain to part it.
Album Download Profile :

Specific Features :
Owner Name and Album Name is used here which helps you to find out from where you downloaded the album at later point of time.
I remember doing this when I was in college and had all songs distributed under friends name so I can get it back in case my system crashes.
CD / DVD Import Profile :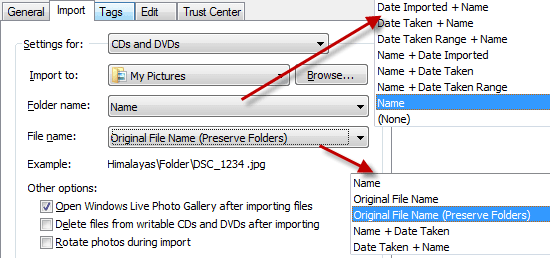 Specific Features :
Erase files from rewritable CD once import is done. I find it handy as I need not to worry about my photos going into someone else hand if I forget to do so.
Rotates photos which are taken keeping your camera vertical. 
Overall import tool of Windows Life Photo Gallery is very useful. Even if you aren't using this for managing your photographs, you can use this feature to neatly import all your images. Download it from here.