Ever though of  improving your one minute speech when all of a sudden you get a topic and you need to talk on that something. Well its not easy because you need a lot of presence of mind but there is one saying "Practice makes a man perfect"
If you have ever encountered those free speech sessions, you can understand the use of this service well, where on the spot, a topic is allotted and all you have to do is speak about it for some 2-3 minutes, this exercise is very helpful in developing a good command over the sentence formation and improving on your grammar.
Oneword is a nice new concept which helps you in doing so. It randomly generates word and aks you to write something. As soon as you hit the 'go' button on the homepage you get word, and a time slab of 1 minute (60 seconds) is allotted to you to write on this word as a topic.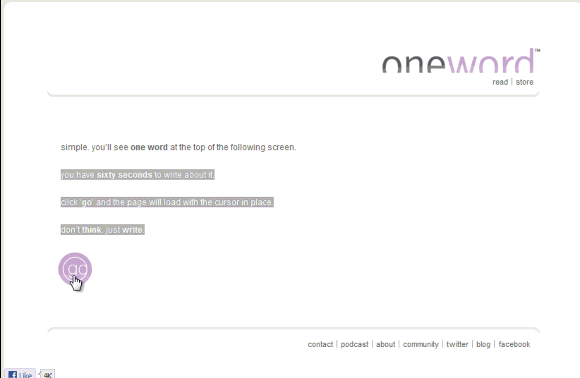 Oneword can also be used, where everyday you get a new word to write upon, just write and submit, they don't provide you with any assessment but you are redirected to a page where you can read the entries written by others on same topic, which will help you in making a self assessment.
The real purpose of this exercise is to alleviate  our natural tendency to edit everything—and learn to flow. To understand the purpose of this service you can visit here.
Since I came to know about this service I have been using it almost daily to write on a new word, yet I don't go and read the entries by others so no chance of any improvement as such, but moreover, its fun to write on a topic in just 60 seconds.  Try it, hope you too like it as I did.