PayPal included the transfer of money to Indian Banks' accounts directly. That was a piece of great news, but you will need the IFSC code of the particular bank branch where you wish to transfer money in the transfer process. On request of one of the guys MRINAL KANT BALODI in the comments, I was able to find the listed ifsc code on ICICI bank sites.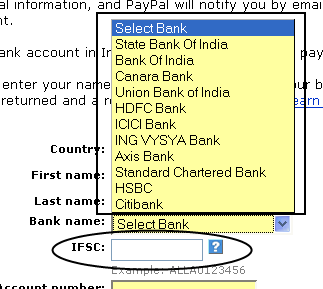 Here are the details:
Follow the Receiving Funds via ICICI Bank RAPID Remittance: (click to open).
At the end of the page, you will see "Please Click here to view a list of Banks and Bank Branches enabled for RTGS transactions and their IFSC codes."
That links will start a download process of a 6MB excel file that contains RTGS and IFSC codes of Indian Banks.
However, a word of caution., Please call your bank branch and get the code from them directly or if you are using this file, again verify it. I don't think these codes will change but when it comes to money, be cautious.
What is RTGS?
Real-time gross settlement (RTGS) system, designed to make inter-bank payments and receipts safe, transparent, and efficient
What is IFSC?
Indian Financial System Code (IFSC) is an alphanumeric code designed to identify the bank branches in India uniquely. This is an 11 digit code with the first 4 characters representing the bank's code, the next character reserved as control character (Presently 0 appears in the fifth position), and the remaining 6 characters to identify the branch. The MICR code has 9 digits to identify the bank branch.
Disclaimer: I hold no responsibility for the numbers listed in the files. Kindly confirm with your bank branch on the first hand.