Getting out of the topic we cover here, today we are sharing an Infographic on Indian Digital Advertising which was shared by SVG Media with us. This infographic gives a bird eye view of how the operation takes place, major players in each category and how the funds flow across along with services ( From Advertiser to Publisher via different media)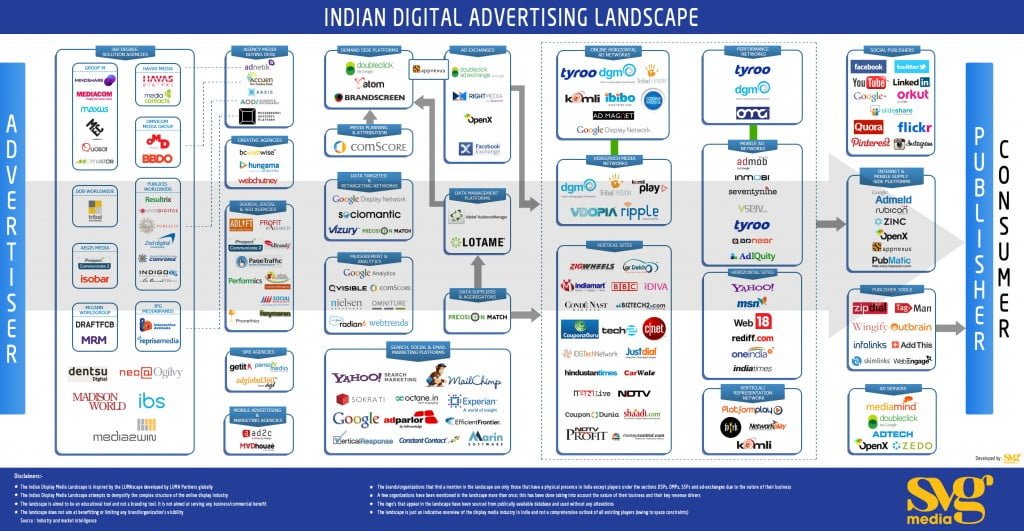 The major players, rather categories include:
Agencies (360 degree solutions provider, creative, SEO, search, social and mobile),
Demand-Side Platforms,
Retargeting networks, measurement and analytics firms,
Search/social and email marketing platforms,
Ad-exchanges,
Data Management Platforms,
Data suppliers and aggregators,
Ad- networks (horizontal, rich media, mobile, performance, vertical representation)
Publishers (vertical, social and horizontal)
Supply Side Platforms,
Publisher tools,
Ad-servers etc.
Also in the Infographic, the companies or the players that has been mentioned is based on their physical appearance in India and sometimes they appear in more than one category because they have presence in multiple categories.
I had a word with Rahul Sharma, the Marketing Associate and he shared that this infographic is directly inspired by LUMAscape (developed by the LUMA Partners globally) who have done similar infographic for US and they wanted to do something similar for India and hence the result.  It has been done best to map every category in the Indian digital advertising landscape.