After waiting for at least two days when I did not get any updated on Android 4.0 or the Ice Cream Sandwich for my Nexus S, I finally moved to this forum thread of XDA Forum which lists down all the OTA Updates of Nexus S which came along with your handset. Very handy if you want to roll back to stage where you got the phone.
Installing is very easy and is done by using the recovery mode which comes in when you hold down power and volume up button together when the phone starts.
First Find which Update is for you depending on your version i.e. I9020T / I9023 which can be seen in Settings > About Phone > Baseband Version. You should see a number starting with I9020T / I9023 woyj extra digits appended to the end.
There is no update found for I9020A version but keep an eye on the thread. So now download it and move to your phone using storage mode.
Next Shutdown your phone, reboot into recovery and select Power and Volume button to bring the recovery mode. If you have CWM installed, you will not have any issues as much nicer options are there.
Next you need to select Apply Update from SD card and then navigate to the Zip file you want to update from.
Done this, ICS will be installed on your Nexus S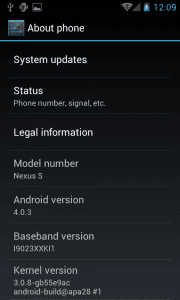 One thing which I see here is if you have CWM installed prior to the update, it goes off from the recovery mode as the update re writes everything. SO bring it back you can use the same setup you used for rooting.
Download the Rooting Package from here which allows you to root from your desktop.
Unzip and Run PdaNetA300 for 32 bit OS  or PdaNetA300x64 for 64 bit OS, choose Sasmung when option comes in. This will install the drives, if you already had similar method followed, skip it.
Next Run then "Run.Bat" and follow the instructions which includes going into recovery mode, selecting zip file to update and so on.
Though everything is very easy to follow make sure you only hit enter key for every "Click Any key to continue" when you are done with the prior steps and not before it.
Once done, you will have CWM recovery mode back in place with Super USER.