My office computer has a 64 bit Windows and Office 2010 installed and all in excitement when I went to install the Office 365 Home Premium, I was thrown up with a sweet office error which said :
We found a problem!

We're sorry, Office (32-bit) couldn't be installed because you have these 64-bit Office programs installed on your computer:

Microsoft Office Professional Plus 2010
Microsoft Office Office 32-bit components 2010

32-bit and 64-bit versions of Office programs don't get along, so you can only have one type installed at a time.

Please try installing the 64-bit version of Office instead, or uninstall your other 64-bit Office programs and try this installation again.

Go online to look for additional help.
That seems to be making sense because if you had checked on the download file which you get from Office 365 Home Premium Preview / Office 15 / Office 2013, its has X86 prefixed over it which means Microsoft did a poor job finding what is your current OS architecture but then since 32 bit of office installation works on 64 bit, it might have made it slip.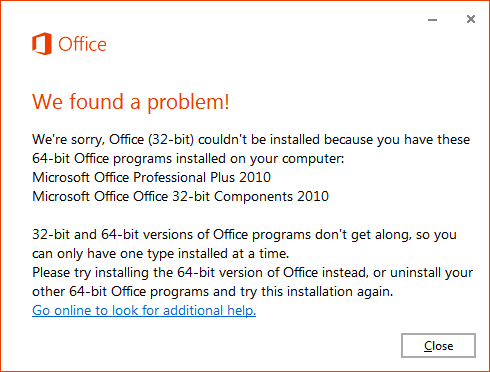 However there is a solution hidden right in-front of our sharp eyes  and there are two ways to fix it :
Geeky Way :
Open up your browsers download manager,
Right click on the downloaded file and copy the download link
Paste it on your browsers address bar, just don't hit enter.
look for a text which says platform=X86, change it to platform=X64 and hit enter.
It will download the required file, not follow the installation process.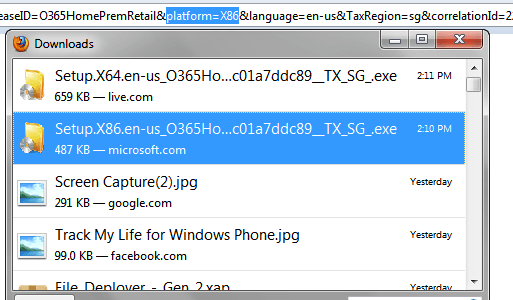 The Boring but the usual way :
Just before you hit the green install button, after signing up for the Office 15 preview, Look for a option which says Language and Install Options. Select this and you will get option which you can choose which language of Office 365 Home Premium Preview you want to install and option to choose between 32 but and 64 bit.