This new experimental Firefox add-on named as invertColors as the name speaks itself inverts the color of html and all color-related rules in CSS style sheets, and changes the html background color to black.
Once installed, can be accessed under the Tools tab of Firefox, as soon as you install it and restart your browser, it will open the pages in front of you with its magic done.
This is something great for people who love to see things in black color, any website whose look doesn't impress you much try viewing it with invertColors, moreover websites with very dull or very light colors can be seen using this add-on, to make them suit your taste. The image below shows our site, Technospot.net with invertColors.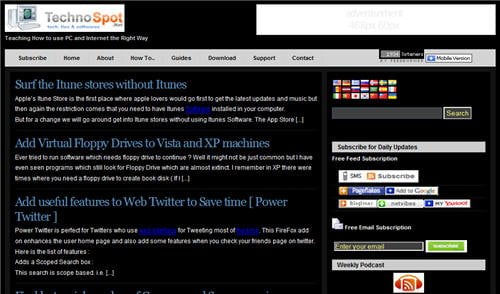 There are a couple of other options to customize invertColors for you, like hiding the images on background of page, or restoring them, always turn on/off the invert colors for particular website etc.

I came across this article on gHacks according to which
The problem here is that the developer of the extension added the means to disable the add-on for selected websites but not the other way round. This means that there is no option to turn the add-on off globally and only activate it for specific sites. It is only possible to turn it on globally and deactivate it for specific websites.
and that is definitely an issue with this add-on.  According to me, Developer should try giving a button or a key combination to instantly invert the colors of particular site which you are browsing at the moment and a method to remember this as setting for particular website.
Well, try installing invertColors, and view the sites with inverted colors, feast your eyes, the add-on is worth a try. Install invertColors